In 2015 we learned a lot about our carnal instincts, mostly that our carnal instincts didn't have us craving barbecue as much as we thought. Sure, we're all proud omnivores here on the Food Republic editorial staff — and are not likely to pass up a 30-day dry-aged rib eye or hefty piece of hot chicken. But we all made some pretty spectacular vegetarian meals this year, and apparently you did, too. With that in mind, here are our top 20 most-read vegetarian recipes of 2015.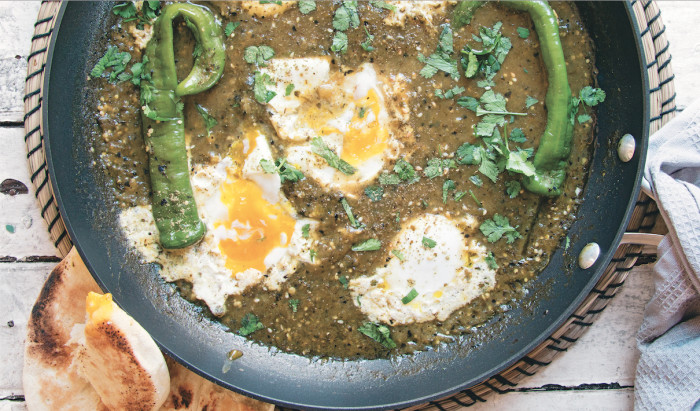 Roasted Tomatillo And Poblano Shakshuka
Every blogger is making it, and there's a reason for it: IT'S THE BEST BRUNCH DISH ON EARTH. If you break it down, shakshuka is a dish of eggs poached in (usually) a spiced tomato sauce. This version is made with a few changes to the classic-style shakshuka. The main difference is that I use tomatillos instead of tomatoes, which makes the whole thing green instead of red. I char them under the broiler with a poblano pepper to give more flavor depth in a matter of minutes. This will become a favorite of yours.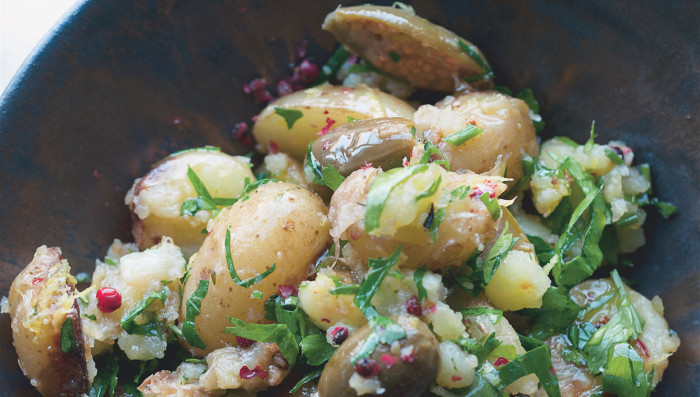 Crushed New Potatoes With Caper Berries
This is a side dish that really delivers on flavor, needing little more than some simply cooked meat or fish alongside. It's common to put all the effort into the main thing on a plate and let the sides provide the supporting act. It often works well, though, to switch the balance around: Pull out the stops on the starch, for example, and keep the main ingredient on a plate very simple.
Roasted Whole Leeks With Tangerine Vinaigrette
Whole leeks roasted over coals, or in the oven, reveal a deep, soulful side of their character — charred on the outside, soft and tender within. I like to use citrus and vinegar to add brightness to their mellow flavor.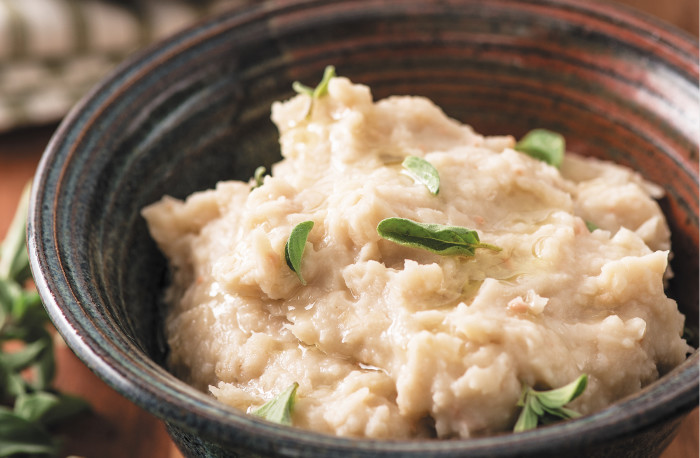 Refried Cannellini Beans With Saffron
I like the idea of refried beans made with just about any bean or legume. For this recipe, I rely on cannellini beans, which are especially creamy, a characteristic that other beans often lack. You have to cook them correctly because God knows there's nothing worse than tough, undercooked beans. I add a little saffron to kick this dish up a few notches, but you can toss in some fresh thyme if you prefer.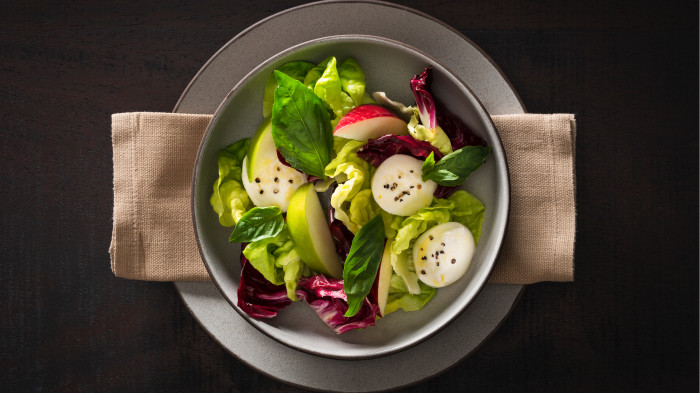 Radicchio With Granny Smith Apples And Mozzarella
It'll take dedication, but you can pull off Michelin star–quality meals at home with the help of (and solid commitment to) award-winning chef Daniel Humm and restaurateur Will Guidera's third cookbook. The culinary and creative minds behind Eleven Madison Park (plus legendary mixologist Leo Robitschek) come together once more for The NoMad Cookbook, a collection of recipes from the beloved New York City hotel restaurant. And hey, just because the food's fancy doesn't mean a relatively simple fruit and cheese salad can't make an appearance.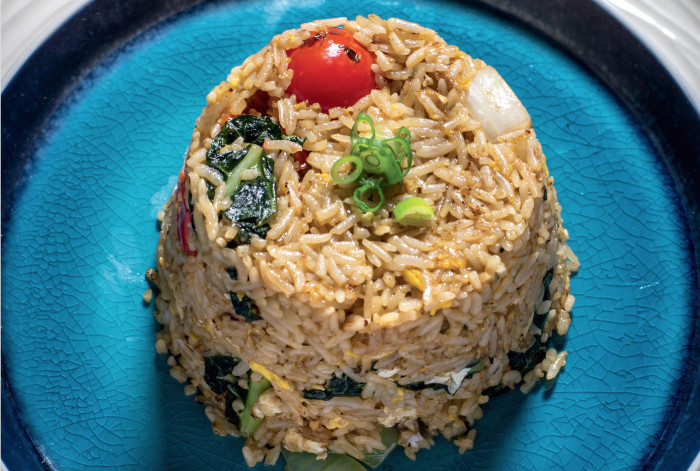 This recipe is Thai with a twist. It's inspired by khao pad kana, or fried rice with Chinese broccoli. As a proud New Yorker, I love to introduce local flavors and ingredients into traditional Thai dishes, and here kale from the Union Square Greenmarket steps in. We live in a global world but can eat like locals. Support local farms!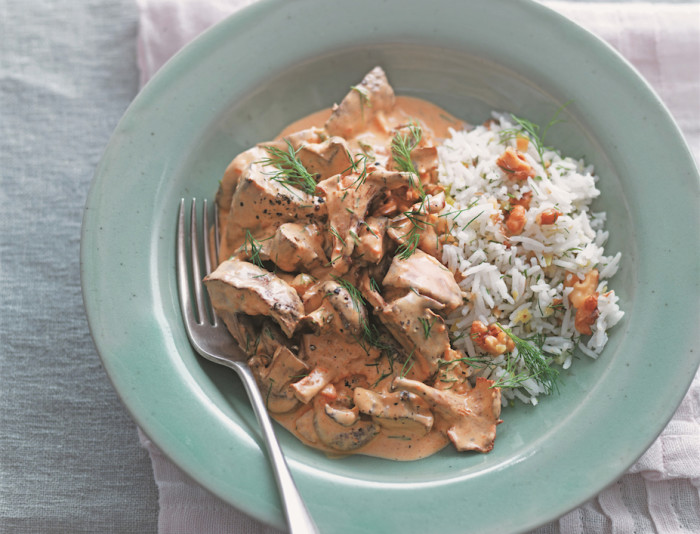 Lapsang-Scented Mushroom Stroganoff
Traditionally, this much-adapted Russian recipe is made with beef, but here we have changed the filling for a mixture of earthy mushrooms along with the rather unusual addition of lapsang souchong tea to give this dish a slightly smoky taste. Seeking out a variety of mushrooms including ceps, cremino, and meadow mushrooms will definitely help give the stroganoff more punch.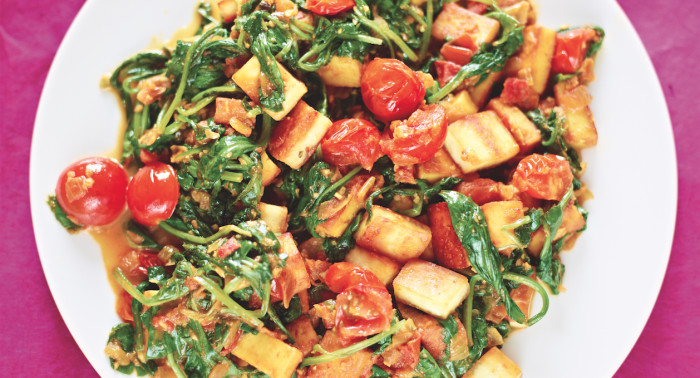 My grandfather was an eccentric man. He wore polished patent shoes and a sharply cut suit and smelled of jasmine behind his ears. The week he retired, he signed up for a three-month round-the-world cruise to celebrate. Before he left, he received a courtesy call from the kitchen head of the ship to see whether he had any dietary requirements. "I really like Indian vegetable curries," he said, and sent over a whole shipping container of Indian greens to travel with him until his return.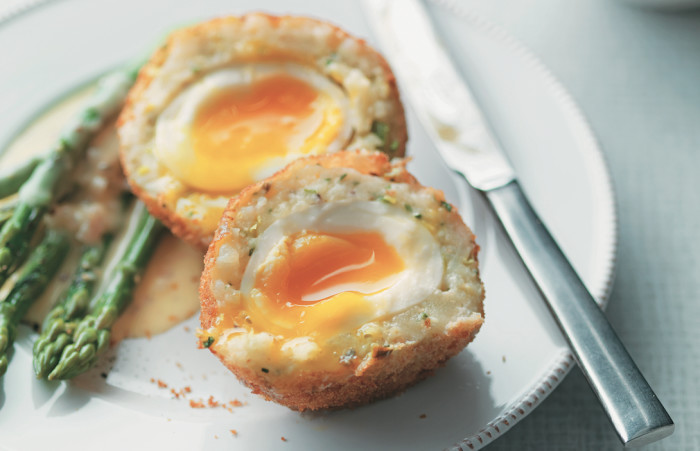 Leek, Chive And Caper Scotch Eggs
The Scotch egg is not, as its name suggests, from Scotland; it was invented by the London department store Fortnum & Mason in 1738. Despite its popularity, the egg's reputation has deteriorated over the years due to the proliferation of poor-quality supermarket varieties. It's a shame because, if cooked fresh with the yolks left slightly runny, they are unbeatable.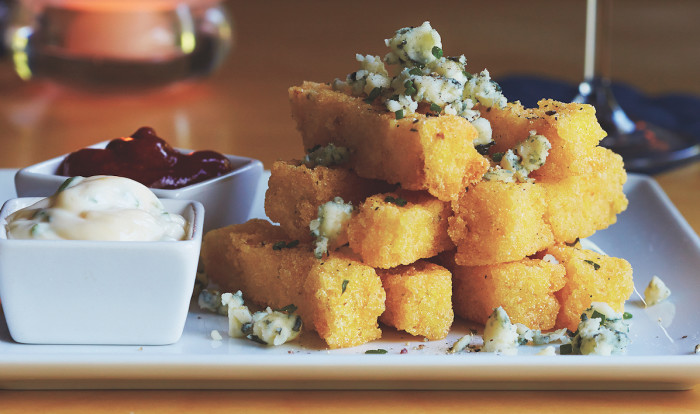 Blue Cheese Polenta Fries With Curry Ketchup And Garlic Aioli
Polenta is good luck for me — my very first cookbook was all about polenta — so when I saw this dish on the menu at A'Town Bistro in funky-licious Anacortes, Washington, I was immediately sold. Sure, you have to make the polenta ahead of time, but that just means less prep time on the night you'll be serving. And don't try to serve more than four people, or everyone will wish they had more. This is insanely good!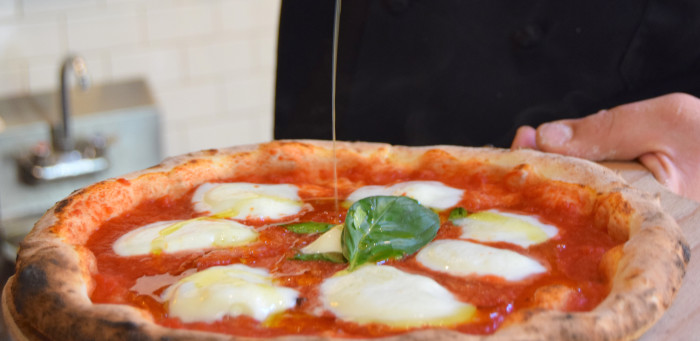 We recently spent a day in the kitchen with Rossopomodoro's master pizzaiolo Rosario Granieri, learning why our homemade pizza was only "pretty good." Try this recipe for one of his prized pies, Le Verace, starring fresh, creamy buffalo mozzarella and a simple three-ingredient sauce.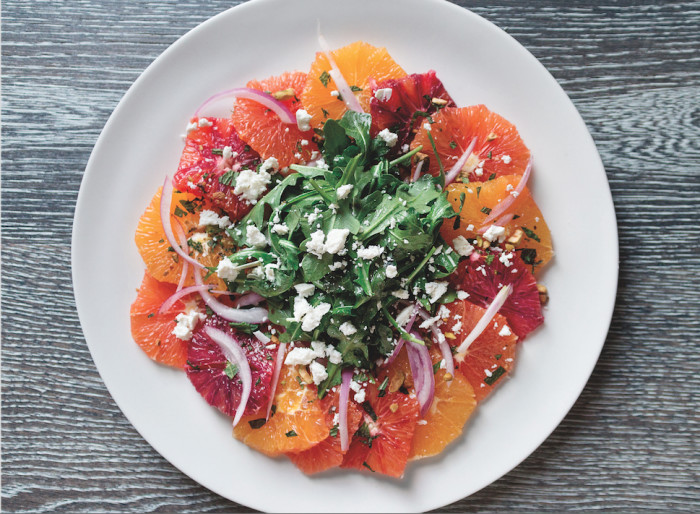 Citrus Salad With Arugula And Ricotta Salata
This has to be one of the prettiest salads I've ever seen. It was inspired by my brother-in-law Peter, who made it for us right after proposing to my sister — smart man! While it's best made in the winter, during blood orange and Cara Cara orange season, the rest of the year, feel free to use navel oranges.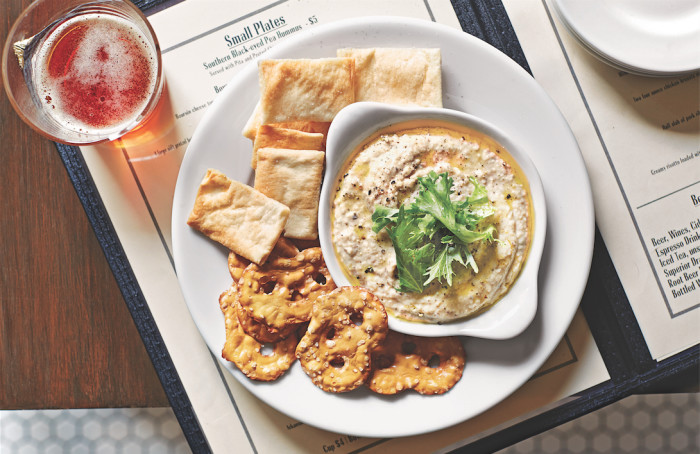 When you're dining in a restaurant in which the chef calls the local farmers by name, you know you're in for a good meal. Food writer, critic, author and all-around awesome person Morgan Murphy's latest book, Southern Living Off the Eaten Path, puts the dishes he's learned on the road to the test in Southern Living's renowned test kitchens. You're not going to find black-eyed pea hummus up North.
Fried Cauliflower With Sheep's Milk Feta Fondue 
I love cauliflower. I grew up eating it in many different preparations, from fried to sautéed to pickled. I'm a fan. For this recipe, I thought, let's pack as much flavor into this fairly bland vegetable, so naturally I gravitated toward the pungent sheep's milk cheese and heady North African spices and herbs. When the regulars at Saffron heard that I was working on a book, the most commonly asked question was whether the recipe for the fried cauliflower would be included. It is hands down the most popular menu item at the restaurant — eat your heart out, chicken! So without any further ado, here it is: the glorious fried cauliflower.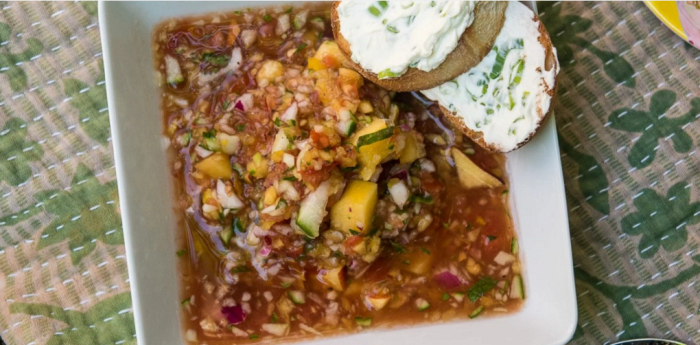 Tomato-Nectarine Gazpacho With Scallion Cream Cheese Toasts
Gazpacho, a chilled soup served in Spain and Latin America, is perfect to make with whatever's in your summer garden. The sweet, juicy burst of ripe nectarine provides a welcome extra layer of flavor. Stone fruits and tomatoes really do get along so nicely when they're in prime season, though I wouldn't fault you for subbing in ripe cantaloupe if that's what you have handy. I like my gazpacho extra-chunky because I like to look my perfectly ripe summer produce in the eye and hear it crunch. Who said vegetarian food couldn't be a little animalistic?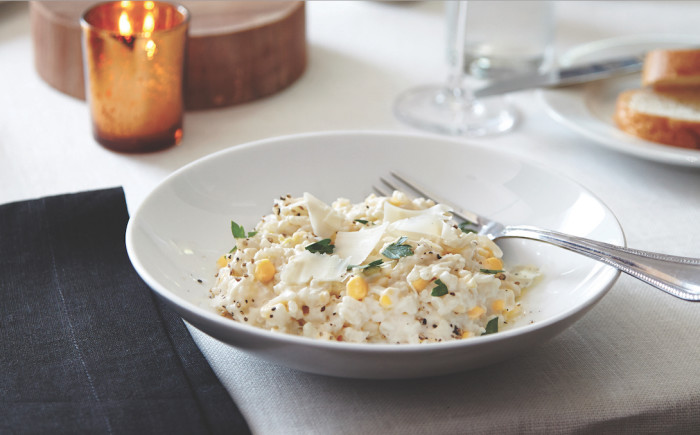 When you're dining in a restaurant in which the chef calls the local farmers by name, you know you're in for a good meal. Chef Sean Wight speaks about his suppliers as if they were rare coins or stamps — he's a collector of farmers. It's a difference you can taste in his posh Southern dishes. From the sweet corn risotto to the peach carpaccio, everything on the restaurant's menu is made from scratch and with beautiful attention to detail. Frog Hollow Tavern is housed in what was once a shoe-repair store and is named for an old Augusta neighborhood; charming photos of both line the walls. Tip: If you want a reservation during the Masters, you need to call weeks (if not months) in advance.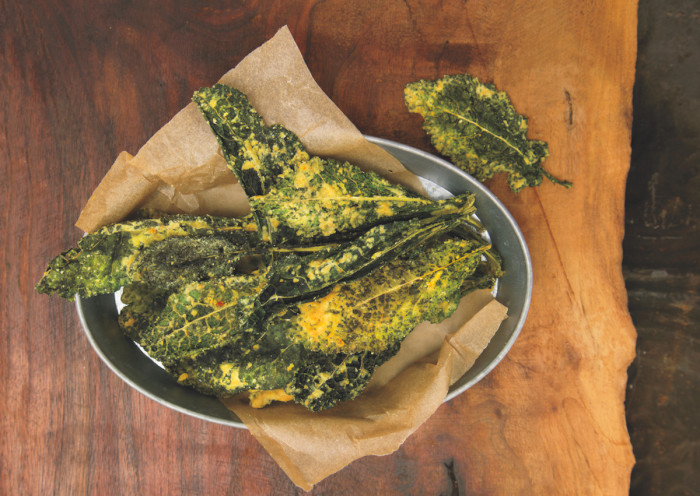 If you are searching for an extra-extra-simple kale crisp recipe with lots of flavor, look no further. Truth be told, even before cooking it, the kale in this recipe is so delicious that I sometimes end up just eating it raw — it's an incredible salad! But snacks are our subject matter here, so for now, let's get crispy!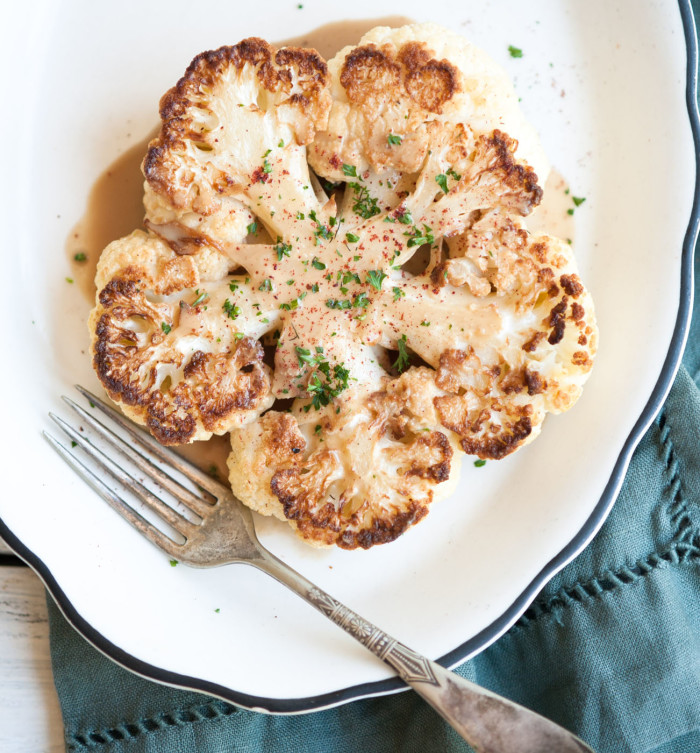 Cauliflower Steaks With Tea Umami Sauce
My impulse visit to Blue Hill in New York City left an indelible imprint. The crown jewel — surpassing even the dessert course — involved a cauliflower steak the size of a dinner plate, crisped on the edges and luscious under the weight of my fork. This recipe is my homage to that evening.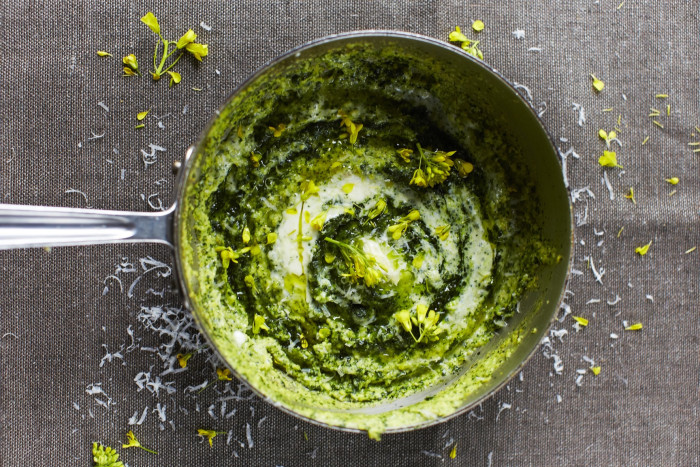 This take on polenta is a showstopper in its own right: Its striking green color is beautiful and unexpected. It's so stunning, you can skip the board and just haul the pot to the table. The healthy dose of kale puree that colors the cornmeal adds lots of flavor, too. You taste the sweetness of the corn polenta first, then a hint of garlic and finally that green minerality of kale at the end.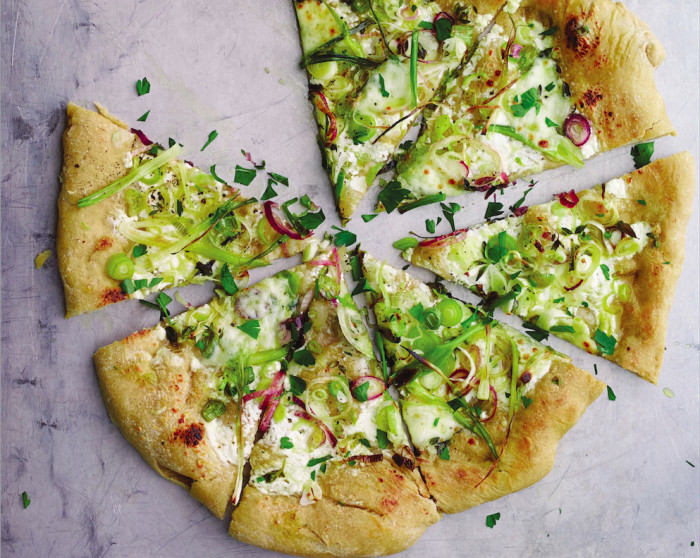 Pizza is the ideal showcase for the green onions of spring. It cooks quickly, allowing these tender shoots and their bulbs to meld with oozing mozzarella and fresh garden herbs. A pizza stone allows for the ultimate crispy crust, whether you're using your grill or oven. I like to make my own half-whole-wheat crust, but there are plenty of good premade versions available if you don't have the time to make pizza dough from scratch.