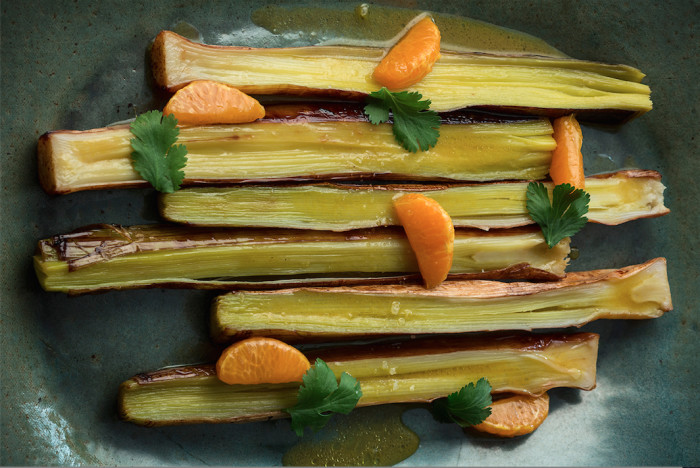 We look forward to vegetable cookbooks for months in advance, so the launch of V Is for Vegetables, from Gramercy Tavern executive chef Michael Anthony, is a big deal for us. Wave your magic wand-knife over a bounty of chef Anthony's favorite vegetables and transform produce into extraordinary dishes that will have you cooking through the colors for months. A great veggie book is worth its weight in turnips, or in this case, leeks.
Whole leeks roasted over coals, or in the oven, reveal a deep, soulful side of their character — charred on the outside, soft and tender within. I like to use citrus and vinegar to add brightness to their mellow flavor.
Ingredients
4

tablespoons

olive oil

4

leeks, trimmed

Salt and pepper

4

tangerines, peeled and quartered

1/4

small onion, thinly sliced

1

clove

garlic, smashed

Pinch

crushed red pepper flakes

Juice from 1 orange

2

tablespoons

sherry vinegar

Small pinch

saffron

sea salt

1

tangerine, segmented

Small handful

fresh cilantro leaves
Directions
For the leeks
Preheat the oven to 375°F. Heat 1 tablespoon of the oil in a large ovenproof skillet over medium-high heat. Add the leeks and salt and pepper, then turn the leeks in the oil to coat. Transfer the skillet to the oven and roast, turning once, until brown and tender, about 30 minutes.

Meanwhile, make the vinaigrette. Heat 1 tablespoon of the oil in a small saucepan over medium heat. Add the quartered tangerines, onions, garlic, and red pepper flakes and cook until the onions are softened, about 5 minutes. Add the orange juice, vinegar, and saffron and simmer for about 5 minutes.

Strain the mixture over a bowl, pressing the liquid from the solids. Return the liquid to the saucepan and reduce to about ¼ cup.

Pour the liquid into a small bowl and whisk in the remaining 2 tablespoons oil. Halve the leeks lengthwise, arrange on a platter, and top with the vinaigrette, sea salt, tangerine segments, and cilantro.