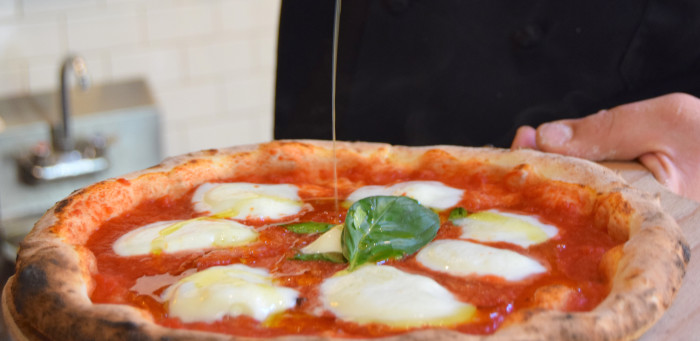 We recently spent a day in the kitchen with Rossopomodoro's master pizzaiolo Rosario Granieri, learning why our homemade pizza was only "pretty good." Try this recipe for one of his prized pies, Le Verace, starring fresh, creamy buffalo mozzarella and a simple three-ingredient sauce.
Says the chef:
"This is a recipe adapted from our dough recipe for the home kitchen, but keeping the advantages of a long, double-rise dough. Most New York–style pizza leaves the eater bloated because they use so much yeast to reduce the rise time, which means you're eating still active yeast — and a lot of it to boot — when you enjoy the pizza. This recipe allows the yeast to run its full life cycle, so that all you're enjoying after baking is the magical effects of the yeast, not the yeast itself. You do, of course, have to prep the dough at least one day in advance."
The dough will keep in the refrigerator for up to two days, so create a topping plan and make it happen!
Ingredients
Dough
13 1/2

ounces

water

22 1/2

ounces

00 Caputo flour

2 1/2

tablespoons

extra-virgin olive oil

1 1/2

tablespoons

sea salt

1

teaspoon

dry yeast
Tomato sauce
1/2

pound

good quality imported San Marzano tomatoes, peeled (not crushed)

a generous sprinkle of

sea salt
Pizza
1/2

pound

mozzarella di bufala

fresh basil

extra-virgin olive oil for drizzling
Directions
For the pizza
Begin by mixing the yeast and salt into the room temperature water. Slowly incorporate the flour, mixing well for 7 minutes. After 7 minutes, add the oil and mix/knead for another 3 minutes, until the dough has a shiny appearance.

Place dough in a bowl or a flat surface (cutting board, plastic sheet, etc.) and lay a moist towel on top. Let the dough rise for 4 hours at room temperature.

Next, divide the dough into four equal portions. Take each portion and roll it into a ball. Then turn it "inside out" the way you stuff your socks before putting them away. You should end up with 4 tight balls of dough. Replace the portions into individual bowls or a single large, flat Tupperware (the kind you bring your cookies to the office in during the holidays) so each can spread out and rise a bit. Cover, and place in refrigerator overnight.

You should also cut your mozzarella the day before so that it properly drains. Too much moisture will make a soggy dough while baking. Start by cutting the ball in half (straight down, not like a bagel) and then cut each half into 6 slices. Place into a Tupperware and refrigerate until you're ready to cook the next day.

Two hours before you want to dig in, preheat oven to 550°F for one hour. At t-minus 1 hour, take the dough out of the refrigerator to come to room temperature. If you have a pizza stone, place into the oven to preheat for the last hour. If you don't have a stone, oil a baking sheet and set aside until you're ready to spread the dough.

If you're using the stone, then spread your dough on a floured work surface to 12" in diameter and place onto a cookie sheet, cutting board, or a pizza peel if you have one. If you're going to be cooking on a baking sheet, spread the dough ON the baking sheet.

Crush the tomatoes thoroughly using your hands, then season with a generous sprinkle of sea salt.

Ladle 1/4 cup of tomato onto each spread-out dough. Leave 1" unsauced for crust. Carefully transfer the dough to the pizza stone (without removing the stone from the oven rack) or place the baking sheet into the oven.

Bake for 4-5 minutes, and THEN add 6 slices of the mozzarella to the pizza. Bake for another 2 minutes.

Remove the pizza, slide onto a plate, garnish with basil and a drizzle of extra virgin olive oil. Slice into six slices and mangia! Buon appetito!