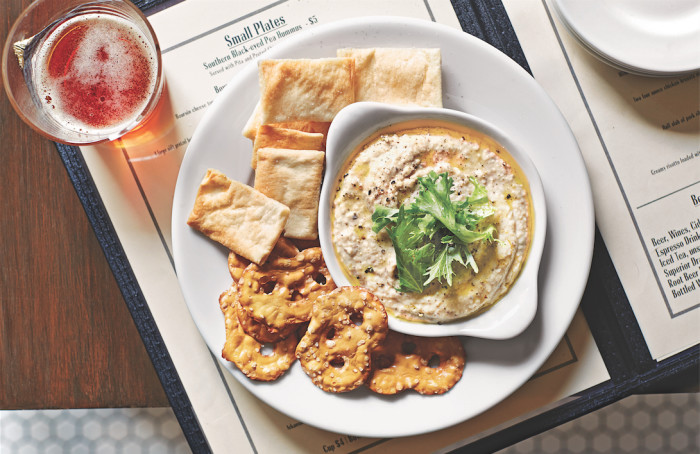 When you're dining in a restaurant in which the chef calls the local farmers by name, you know you're in for a good meal. Food writer, critic, author and all-around awesome person Morgan Murphy's latest book, Southern Living Off the Eaten Path, puts the dishes he's learned on the road to the test in Southern Living's renowned test kitchens. You're not going to find black-eyed pea hummus up North. 
I'm a big fan of this Southern twist on a Middle Eastern classic.
Reprinted with permission from Southern Living Off the Eaten Path
Ingredients
1 1/2

cups

dried black-eyed peas

1

garlic bulb

2

tablespoons

olive oil

1/2

cup

fresh lemon juice (about three lemons)

1/2

cup

extra-virgin olive oil, divided

1/4

cup

tahini

1

teaspoon

table salt

1/2

teaspoon

onion powder

1/2

teaspoon

freshly ground black pepper

1/4

teaspoon

dried crushed red pepper

Garnishes: arugula, olive oil, freshly ground black pepper
Directions
For the hummus
Soak black-eyed peas in a bowl in water to cover for 20 minutes. Drain.

Place black-eyed peas and 3 cups water in a Dutch oven. Bring to a boil; cover, reduce heat, and cook 35 minutes or until very soft. (Black-eyed peas are done when they can easily be mashed with a fork.) Drain and cool completely (about 1 hour).

Meanwhile, preheat oven to 400°F. Cut off pointed end of garlic; place garlic on a piece of aluminum foil; drizzle with 2 tablespoons olive oil. Fold foil to seal. Bake at 400°F for 40 minutes; cool 20 minutes.

Squeeze pulp from garlic cloves into a food processor. Add peas, lemon juice, next 6 ingredients, and 1⁄4 cup water; process 2 minutes or until smooth. Serve with pita wedges, pita chips, pretzel chips or fresh vegetables.