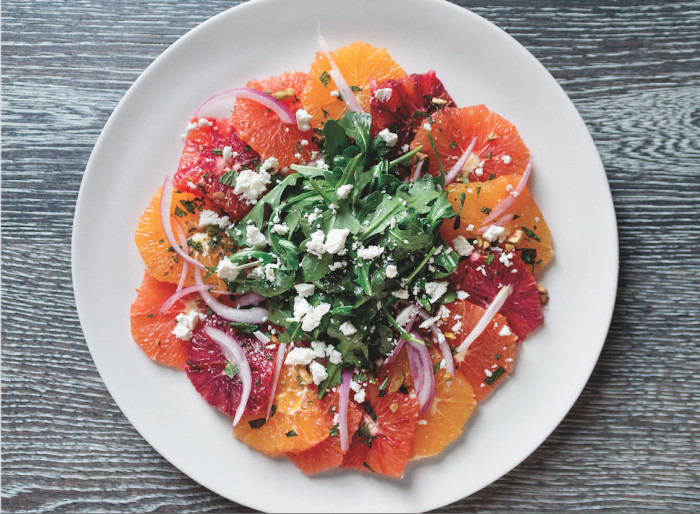 Food writer and chef Anna Watson Carl's book, named after her blog, the Yellow Table, is a dinner party host's best friend. Whether it's an informal gathering of friends or a full-on event, boost your confidence with expert tips and spectacular recipes that are sure to help you pull it off like a pro. Can you imaging setting this beauty down on the table? 
This has to be one of the prettiest salads I've ever seen. It was inspired by my brother-in-law Peter, who made it for us right after proposing to my sister…smart man! While it's best made in the winter, during blood orange and Cara Cara orange season, the rest of the year, feel free to use navel oranges.
Ingredients
1/2

small red onion, halved and thinly sliced into half-moons

1/4

cup

white balsamic vinegar, divided

2

Blood oranges

1

cara cara orange

1

navel orange

3

packed cups

baby arugula

2

tablespoons

extra-virgin olive oil

Fine sea salt and freshly ground black pepper

2

tablespoons

roughly chopped fresh mint leaves

2

tablespoons

roughly chopped, roasted, salted pistachios

2

tablespoons

crumbled ricotta salata
Directions
For the salad
Place the onion and 3 tablespoons of the white balsamic vinegar in a small bowl and let sit for at least 15 minutes and up to 3 hours. Drain the onions and set them aside; discard the vinegar.

Using a sharp knife, cut the ends off each orange so they can sit flat on a cutting board. With smooth, downward strokes, cut the skin off 1 orange in sections — you want to remove the white pith and see the orange flesh beneath. Repeat with the remaining oranges. Turn each orange on its side and cut crosswise into thin round slices.

Place the arugula in a medium bowl. Pour the remaining 1 tablespoon vinegar into a small bowl. Add the olive oil in a slow, steady stream, whisking constantly. Drizzle over the arugula, season to taste with salt and pepper, and toss to combine.

Arrange the orange slices in alternating colors on a large plate or platter. Sprinkle with mint, pistachios, and the marinated red onions. Pile the arugula in the center of the oranges and sprinkle with ricotta salata. Serve immediately.