Cauliflower Steaks With Tea Umami Sauce Recipe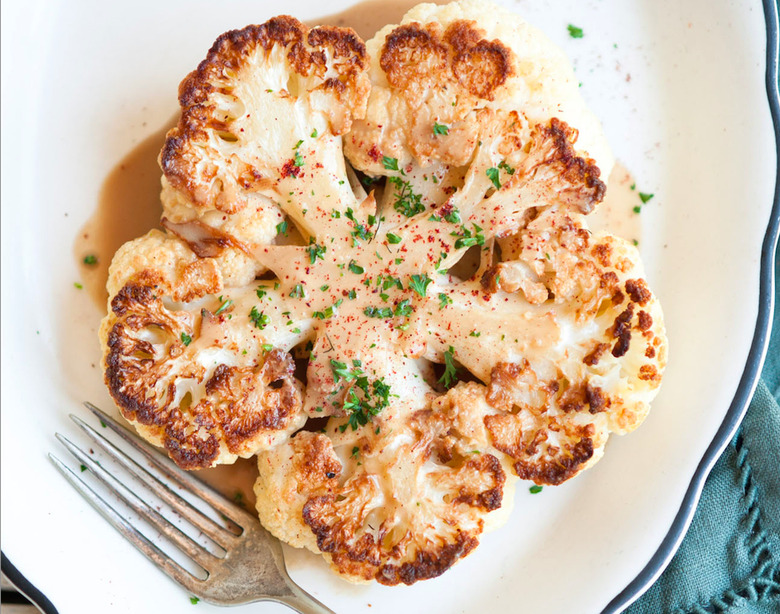 cauliflower steaks with tea umami sauce
We may receive a commission on purchases made from links.
Food writer and blogger Annelies Zijderveld enjoys a strong cup of tea and a cookbook. No, really, her new cookbook, Steeped, is filled with tea-infused recipes. When was the last time you brewed a cuppa to enjoy with dinner? Break out the loose-leaf and enjoy an extra layer of complexity in this delicious recipe for cauliflower steak, inspired by New York's legendary Blue Hill. 
My impulse visit to Blue Hill in New York City left an indelible imprint. The crown jewel — surpassing even the dessert course — involved a cauliflower steak the size of a dinner plate, crisped on the edges and luscious under the weight of my fork. This recipe is my homage to that evening.
Reprinted with permission from Steeped: Recipes Infused With Tea
Cauliflower Steaks With Tea Umami Sauce Recipe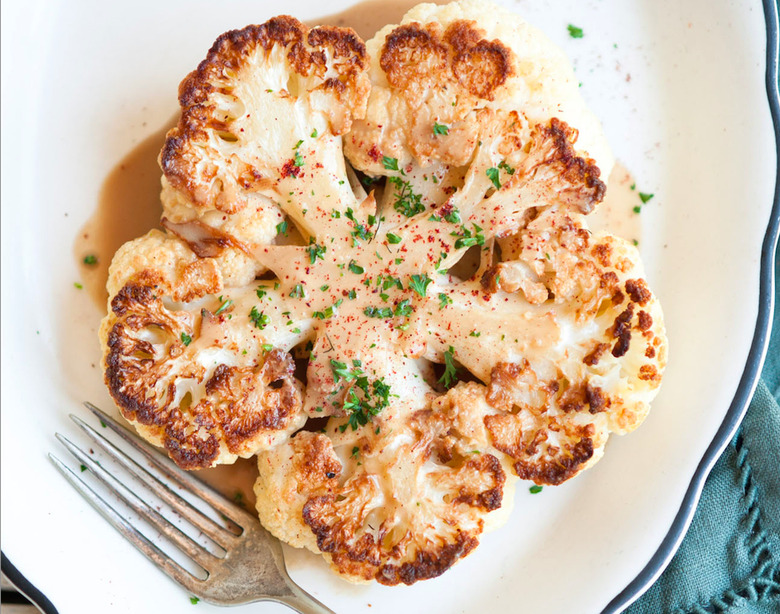 Ingredients
2 heads cauliflower
4 tablespoons safflower
sumac
2 tablespoons chopped fresh parsley
1/4 cup lapsang souchong tea
1/4 cup tahini
1 tablespoon liquid aminos or organic soy sauce
1 tablespoon maple syrup
1/2 teaspoon coarsely ground black pepper
Directions
Place an 18-inch sheet pan on the middle oven rack. Preheat the oven to 450ºF. Position a foil tent on a plate near the stove.
Place a 2-quart fry pan over medium-high heat for 1 minute. Swirl in 2 tablespoons of oil to coat. When the pan begins smoking, use tongs to carefully place one steak in the hot oil (it may splatter). Sear for 2 minutes. Turn and sear the flip side for 2 minutes. Transfer the steak to the plate and cover with the foil tent. Repeat with the other steaks, adding oil as needed.
Once all the steaks have cooked, arrange them on the preheated sheet pan, making sure no sides of the steaks are touching. Bake for 10 minutes.
Whisk the tea with the tahini, liquid aminos, maple syrup, and pepper to make the tea umami sauce. Pour the sauce over the steaks.
Sprinkle with sumac and chopped parsley, if using, and serve.
An Israeli Cauliflower Recipe That Basically Everyone Loves
Cauliflower, Chickpea And Chard Curry Recipe
Seared Cauliflower With Honey And Harissa Recipe