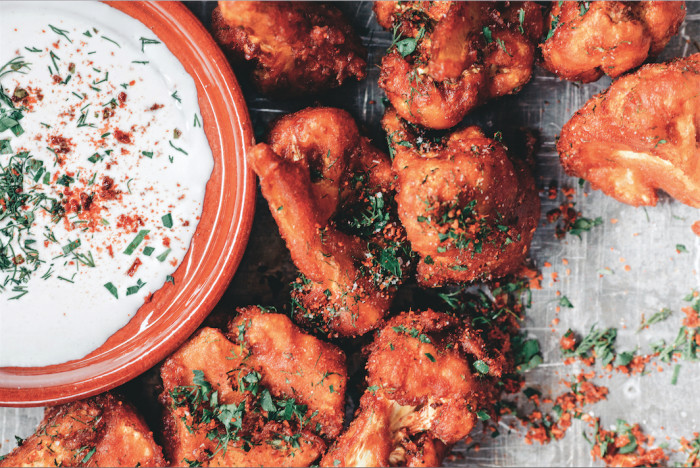 Sameh Wadi is chef and co-owner of two of Minneapolis's top restaurants — Saffron and World Street Kitchen — and recently released his first cookbook. Pick up a copy of The New Mediterranean Table for a journey through the incredible wealth of delicious cuisine throughout the region.
I love cauliflower. I grew up eating it in many different preparations, from fried to sautéed to pickled. I'm a fan. For this recipe, I thought, let's pack as much flavor into this fairly bland vegetable, so naturally I gravitated toward the pungent sheep's milk cheese and heady North African spices and herbs. When the regulars at Saffron heard that I was working on a book, the most commonly asked question was whether the recipe for the fried cauliflower would be included. It is hands down the most popular menu item at the restaurant — eat your heart out, chicken! So without any further ado, here it is: the glorious fried cauliflower.
Ingredients
Feta fondue
6

ounces

Bulgarian sheep's milk feta
Cauliflower
sea salt

1

teaspoon

ground turmeric

2

tablespoons

fresh lemon juice

1

head

cauliflower, halved, cored and cut into 1-inch florets
Batter
6

tablespoons

cornstarch

1 1/2

cups

cake flour

1

teaspoon

baking soda

1/2

teaspoon

sea salt

3

tablespoons

Sriracha

1 1/2

cups

soda water
North African spice
3 1/2

tablespoons

cumin seeds, toasted and ground

1 1/2

tablespoons

Spanish sweet smoked paprika

1/2

teaspoon

citric acid

1

teaspoon

cayenne

1 1/2

teaspoons

fresh dill, finely chopped

1 1/2

teaspoons

cilantro, finely chopped

2

tablespoons

kosher salt
Finish
canola oil

sea salt

2

tablespoons

flat-leaf parsley, finely chopped

2

tablespoons

fresh dill, finely chopped
Directions
For the feta fondue
In a food processor, puree the feta until it becomes very smooth, scraping down the sides as necessary, about 5 minutes. It should have a pourable consistency similar to heavy cream. Add 1 teaspoon of the feta brine or water if the fondue is too thick.
For the cauliflower
Bring a large saucepot with about 12 cups of water to a boil. Season liberally with salt, then add the turmeric and lemon juice. Cook the cauliflower in the boiling water until it starts to become tender, about 2-4 minutes. Set a large colander in the sink, drain the cauliflower and discard the poaching liquid. Cool the cauliflower on a parchment-lined baking sheet in the refrigerator.
For the batter
In a large mixing bowl, combine all of the dry ingredients and whisk to combine. Add the Sriracha and soda water, and whisk until combined. The batter should have the consistency of honey; add an extra 1 tablespoon of soda water if needed.
For the North Africa spice
In small mixing bowl, mix all the ingredients thoroughly. Place on a parchment-lined baking sheet and let dry overnight in a cool place. Place in an airtight container and store for up to 2 weeks.
For the finishing
Fill a large, heavy pot (or a deep fryer) no more than halfway with oil and heat the oil to 350°F. Working in 3-4 batches, dip the cauliflower in the batter, shake off excess batter and carefully drop in the oil; cook for 3-5 minutes, stirring occasionally, until they are golden brown. Use a slotted spoon to remove the cauliflower from the oil, place in a large mixing bowl and season with a liberal amount of the North African spice, salt, parsley and dill. Repeat with the remaining cauliflower and serve with the feta fondue on the side for dipping.

Chef's Tip: You must use a very soft feta with higher water content for this recipe. A French or an Egyptian feta may also be used.