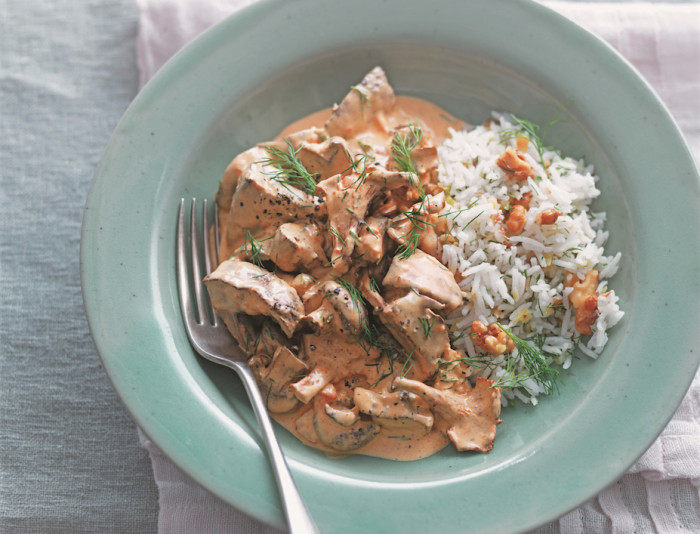 We've been anticipating a cookbook release from London's beloved vegetarian restaurant Mildreds for quite some time. It's not that we don't love the animal protein–heavy cuisine of the Brits; sometimes you just need a little roughage, and that's what Mildreds: The Vegetarian Cookbook aims to do. 
Traditionally, this much-adapted Russian recipe is made with beef, but here we have changed the filling for a mixture of earthy mushrooms along with the rather unusual addition of lapsang souchong tea to give this dish a slightly smoky taste. Seeking out a variety of mushrooms including ceps, cremino, and meadow mushrooms will definitely help give the stroganoff more punch.
Ingredients
2

pounds

mixed mushrooms (such as ceps, cremino and meadow mushrooms), trimmed

Light cooking oil (such as canola, peanut or sunflower)

2

lapsang souchong tea bags

2 1/2

cups

boiling water

2

tablespoons

butter

2

onions, finely sliced

6

garlic cloves, minced

1

tablespoon

smoked paprika

2

tablespoons

corn flour

1 3/4

cups

heavy cream

2

tablespoons

Dijon mustard

2

tablespoons

tomato paste

1

cup

sour cream

1

bunch of

dill leaves, chopped

Salt and pepper
Directions
For the stroganoff
Preheat the oven to 375°F.

Cut the mushrooms into even, bite-size pieces. Drizzle a little oil into a roasting pan, add the mushrooms, and toss together thoroughly to coat. Roast for 10 to 15 minutes, or until the mushrooms are tender but have not yet begun to shrivel. Set aside.

Put the lapsang souchong tea bags into a bowl, cover with the boiling water, and let stand to infuse for 4 minutes. Remove and discard the tea bags and set the tea aside.

Melt the butter in a large saucepan over medium heat, add the onions, and cook, stirring, for 5 minutes, or until soft. Add the garlic and paprika and fry for another 2 to 3 minutes. Then add the corn flour and stir together well. Pour in the tea and heavy cream and stir in the mushrooms, mustard, and tomato paste. Bring to a simmer and cook gently for 15 minutes, stirring occasionally, until the sauce has begun to reduce and thicken slightly.

Add the sour cream and cook for another 5 minutes, or until the stroganoff is thick and creamy. Season with salt and pepper to taste. Divide between serving plates, scatter with the chopped dill, and serve.