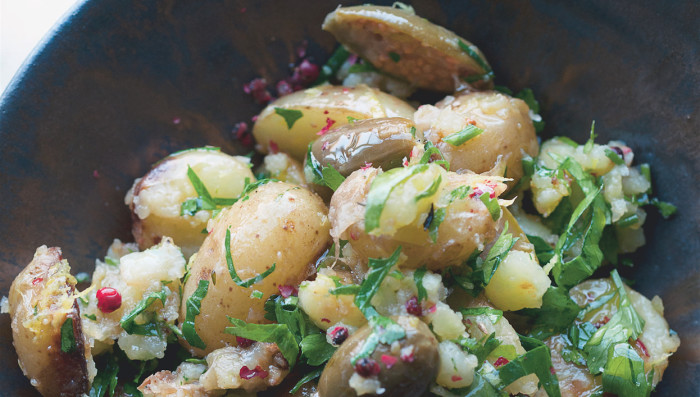 Head from the Middle East to the Far East with the newest book from famed chef Yotam Ottolenghi. Penned with chef Ramael Scully of London hot spot Nopi, this collection of inventive recipes hits every sweet spot along the flavor trail. 
This is a side dish that really delivers on flavor, needing little more than some simply cooked meat or fish alongside. It's common to put all the effort into the main thing on a plate and let the sides provide the supporting act. It often works well, though, to switch the balance around: Pull out the stops on the starch, for example, and keep the main ingredient on a plate very simple.
Caper berries are large brined berries from the caper bush, which come with their stem attached. They are milder than the smaller caper bud, with a slightly lemony flavor. They are widely available, but use regular capers if that's all you have.
Pink peppercorns — sweet, fruity, and with just a little heat — are almost as much about how completely pretty they look on a dish as how good they are to taste. Few fava bean or braised artichoke salads now escape our kitchen without some lightly crushed pink peppercorn confetti. They are also lovely stirred into mayonnaise and served with some salmon or trout.
Ingredients
1

head

garlic, cloves separated and peeled

1/3

cup

olive oil

1

bay leaf

2

teaspoons

fresh thyme

2

teaspoons

fresh rosemary

2 1/4

pounds

new potatoes, unpeeled

1 1/2

tablespoons

mint, whole stalks and leaves, plus 2 teaspoons mint leaves, finely chopped

4

tablespoons

caper berries, stems removed and cut in half if big or 4 tablespoons regular capers, rinsed and left whole

5

teaspoons

unsalted butter

Finely grated zest of 1 lemon

2

tablespoons

lemon juice

1 1/2

tablespoons

parsley leaves, finely chopped

2

teaspoons

pink peppercorns, lightly crushed

coarse sea salt
Directions
For the potatoes
Preheat the oven to 375°F.

Place the garlic cloves in a small ovenproof frying pan or in a small baking pan with the olive oil, bay leaf, half the thyme and half the rosemary. Place in the oven and roast for 15 to 20 minutes, basting the garlic once or twice during cooking. Remove from the oven and, once cool, strain the oil into a large frying pan. The garlic cloves need to be set aside, but the thyme and rosemary can be discarded.

Place the potatoes in a large saucepan along with the whole mint stalks and leaves and the remaining thyme and rosemary. Add a tablespoon of salt, cover with water, bring to a boil, and cook for 15 minutes. Drain, discard the mint, rosemary, and thyme, and cut the potatoes in half.

Place the pan with the garlic oil over high heat. Once hot, add the potatoes and fry for 8 to 9 minutes, stirring from time to time, until they start to break apart and are golden brown all over. Add the capers, roasted garlic cloves, and butter. Cook for a further minute before adding the lemon zest and juice, parsley, shredded mint, 1 1/2 teaspoons of salt, and the pink peppercorns. Stir everything gently together, cook for a final minute and serve.