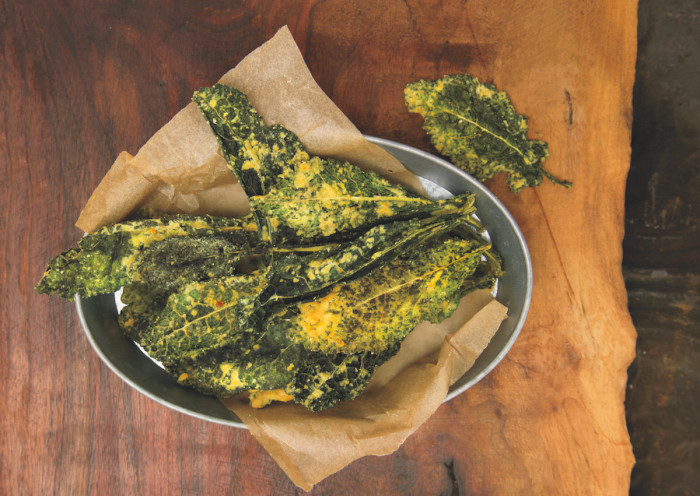 Good snacking takes more than knowing which foods are healthy. Take charge of snacktime with Julie Morris's Superfood Snacks, a follow-up to her ultimate juicing guide (try the honeydew mint chia fresca!). Her tried-and-true crunchy, salty and sweet bites are as delicious as they are packed with vitamins and antioxidants. Bake up a batch of these these savory kale chips spiked with earthy curry spice.
If you are searching for an extra-extra-simple kale crisp recipe with lots of flavor, look no further. Truth be told, even before cooking it, the kale in this recipe is so delicious that I sometimes end up just eating it raw — it's an incredible salad! But snacks are our subject matter here, so for now, let's get crispy!
Reprinted with permission from Superfood Snacks
Ingredients
1

large bunch

curly kale or Latigo kale

1/4

cup

coconut butter

1/2

tablespoon

curry powder

1/4

teaspoon

sea salt
Directions
For the kale crisps
Preheat the oven to 200°F. Line 2 baking sheets with silicone mats or parchment paper. You can also use the dehydrator method for this recipe (see page 39 in Superfood Snacks).

Strip the kale leaves away from the stems, and place them in a large bowl. Tear any especially large leaves into halves or thirds.

In a small saucepan, melt the coconut butter into a liquid over moderate heat. Whisk in the curry powder and sea salt.

Pour the coconut mixture over the leaves and toss well, massaging them by hand to ensure that the ingredients are well distributed. Spread the leaves onto the prepared baking sheets and bake for 70 to 90 minutes, tossing once after about an hour into baking, or until the leaves are dry and crispy. Kale crisps may be stored in an airtight container for up to 2 weeks and recrisped by placing them in a 250°F oven for several minutes before serving.

Variation: Make it spicy! Add 1⁄8 teaspoon cayenne powder (or more!) along with the curry to amplify the heat.