The 20 Wildest, Weirdest And Most Delicious Recipes Of The Year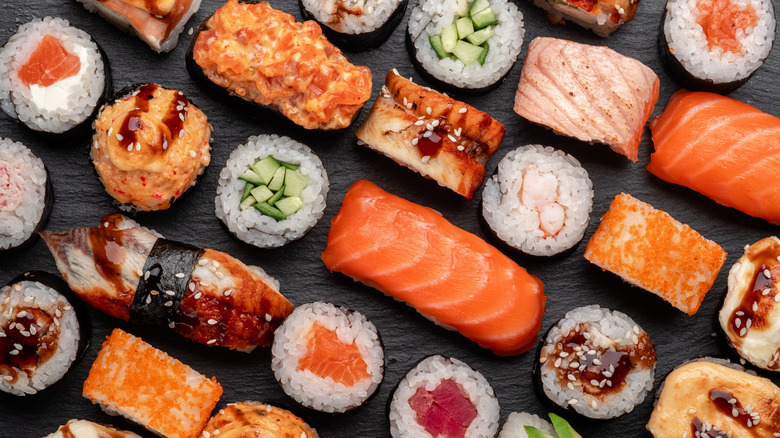 Andrei Iakhniuk/Shutterstock
Lordy, I ate a lot this year, particularly since experiencing FR recipe developer Paul Harrison's patented In-N-Out grilled cheese. It's not actually patented — you can't patent a grilled cheese, let alone one that someone else created. Below are Food Republic's top recipes of 2015, from the trendy (hot chicken) to the highly unusual (Everything Bagel Nigiri) to the just plain awesome (Ukrainian garlic bread). The selections span contributions from A-list chefs like Daniel Humm and Jamie Bissonnette to our own recipe developer team.
Boiled Pork Belly With Spicy Garlic Dressing
Pork belly is beloved by the Chinese. This is the dish that truly serves up the natural fresh taste of pork — except in Sichuan, they just can't help but add a garlic and chile sauce to kick up the taste and heat!
Everything Bagel Nigiri
While my desire to eat with the utmost authenticity was a great way to learn, it wasn't always very fun. Somewhere along the way, I realized that "fun" is just as important as "fine" when it comes to eating and even more so in cooking. With this in mind, I present this highly sacrilegious snack, a tricked-out sushi-bar version of a bagel and lox.
Spicy Moroccan Carrot Salad
This recipe has sentimental meaning for me — it is an ode to my childhood nanny, Sol. Both of my parents worked full-time, so for the first eight years of my life, my sisters and I were like Sol's adopted children. Sol came to Israel from Morocco in the mid-1950s, and years later, thankfully, she found her way to the Ronnen household. Her cooking was so different from the food we knew. Sol's was laced with chilies and spices, and her carrot salad was a mainstay on the table.
The Humm Dog With Bacon, Black Truffle And Celery
The culinary and creative minds behind Eleven Madison Park (plus legendary mixologist Leo Robitschek) come together once more for The NoMad Cookbook, a collection of recipes from the beloved New York City hotel restaurant. And hey, just because the food's fancy doesn't mean a bacon-wrapped hot dog can't make an appearance... as long as it's smeared with truffle mayonnaise and topped with Gruyère and a meticulously prepared celery relish that involves both celery and celery root.
Sea Urchin Guacamole Tacos
This taco was born out of a shared opinion among my cooks and friends that a tortilla is as worthy of precious ingredients as any piece of Raynaud china. When I thought about making a sea urchin taco, I knew that working it into guacamole would magnify the briny sweetness the spiky creature is known for — the fat in an avocado can help stretch and carry flavors just like a knob of butter. Its lobes (sometimes called "tongues") show up three times in this taco: mashed with avocado, piled on top of the guacamole in a bright orange heap, and combined with chipotle and lime juice in a simple salsa.
'Nduja Avocado Toast
James Beard Award–winning Toro and Coppa chef Jamie Bissonnette knows his way around the vast world of preserved meat and fish. He's a master of charcuterie (coppa is Italian cured pork neck) and an avid collector of canned Spanish seafood — an enviable hobby if you've ever loved a smoked mussel or glistening sardine in your life. Equally praise-worthy: his faculty and creativity with 'nduja, a spicy, spreadable, melt-in-your-mouth fermented sausage.
"I eat this all the time," says the chef. "I mean, I don't necessarily start off my day with that much pork fat, but I love avocado toast, and I love the way this avocado mash gets really sour and flavorful from the 'nduja and lime juice."
Peeping Mushroom Pasta
Creamy sauce and earthy mushrooms are a tried and tested combination that never fails. Some might think it's a little boring and old-school, but I've discovered a fun way of pepping up a classic. Replace boring button mushrooms with some exotic Asian mushrooms and the recipe gets an instant face-lift; pair them with lots of bubbling cheese and you are on to a winner.
Buttered Toast Ramen With Bacon And Eggs
Even though my restaurant Talde is far from an omelet-your-way kind of joint, I knew toast had to make an appearance on the brunch menu. So why not in ramen, my favorite breakfast food? And boom, a new staple was born: perfectly chewy noodles doused in a broth infused with the flavor of buttered toast. Bacon and soft-boiled egg are the obvious extras.
Ukranian Garlic Bread
The word pampushka can be used to describe a gorgeous plump woman and is one of my favorite words. Pam-poo-shka! These pampushki are traditionally served with red borscht. In Ukraine, we would use regular garlic, so if you can't find wet (new) garlic, it will still be delicious. I have used wild garlic and its flowers.
Nashville-Style Hot Chicken
André Prince Jeffries gave me strict orders: no sugar in the hot chicken. But I also believe part of the fun of cooking your own hot chicken comes from figuring out the spice blend you like best. And following the lead of the folks at Hattie B's, I do like a touch of brown sugar to balance out the heat. I use red pepper flakes for texture and an added layer of spice, and I like a touch of cumin for woodsy depth. Applying the spicy paste after the chicken has been fried keeps the cayenne from scorching, and it allows the cook to customize the degree of heat per piece of chicken. Go ahead and experiment to make your own blend. And apologies to Ms. Jeffries. I'll always visit Prince's to taste the original.
Chorizo And Cheese-Stuffed Grilled Bell Peppers
Bell peppers are one of those things that people love to throw on the grill, but they usually end up as part of some skewer. That might have been exciting the first time you tried it, but not anymore. And if all the stuff is pressed together tightly on that skewer, the inner part of the pepper might not get cooked through by the time the steak on there hits medium. So I decided to do pepper on the grill a little bit differently.
Filipino Beef Jerky Skewers
If you want to be super-extra authentic, you can track down some Filipino-style fish sauce, known as patis, for this recipe. It's on Amazon! Otherwise, use what you can get your hands on (nam pla, colatura, etc.). Some types of fish sauce are saltier and more concentrated; some are sweeter and some are stinkier. Use what you can find. The idea is just to add an extra layer of umami-laden flavor.
Beet Pickled Devilish Eggs
Deviled eggs are having a moment in the culinary spotlight. Like other Southern home foods, they've moved to upscale restaurant menus and are getting makeovers all across the South. This version, from Shamille Wharton of Nashville, Tennessee, gets a beautiful, brilliant pink exterior from beet juice.
Taiwanese Three Cup Chicken
The eponymous "cups" of this recipe denote equal parts soy sauce, sesame oil, and rice vinegar. It's a potent, salty, and savory braised chicken dish with these ingredients, but the dish really gets its signature from the sheer volume of garlic cloves, thick pieces of ginger, and fresh basil leaves for flavor. This recipe's name might underscore the fact that most recipes were passed orally in Taiwan, rather than written, until recent generations.
Grilled Tandoori Chicken Wings
Indians don't glorify chicken wings the way Americans do, so I'm stepping in to bridge that inexplicable gap. When faced with a chicken and the possibility of high-heat smoky cooking, such as any ol' charcoal grill, there's only one preparation on my mind. I've tandoorified and char-grilled everything from pork loin and tofu steaks to more traditional fare, like shrimp and lamb chops. Brine and baste all you want, but tandoorification (my word for marinating overnight in heavily spiced yogurt) is the way to go if your end game is "juicy and flavorful."
Brisket Patty Melt On Cornbread
Every once in a while we just have to pat ourselves on the back for doing something we haven't seen in other cookbooks. We aren't entirely sure we're the first to make a brisket patty melt using cornbread, but we are sure this is the best version out there. A vast improvement on the close-to-perfect patty melt is enough to make us feel pretty good about this recipe. When you start seeing this on the menu of every chain restaurant in America in five years, just remember who thought of it first.
Fettuccine Bolognese
"I add chicken liver to my sauce for depth and flavor," says Chef Ed Cotton. "Most people can't put their finger on the flavor profile, but when I tell them it's chicken livers they are usually like, 'Ahh, okay.' It needs to be caramelized with the meats and really cooked out well. The addition of the chicken livers was shown to me by Barbara Lynch years ago when I was her sous-chef in Boston at No.9 Park."
Kare Kare Chicken Wings
"This dish was inspired by my love for chicken wings and a popular Filipino dish called Kare Kare [pronounced kar-eh kar-eh]," says the chef. "The traditional Kare Kare dish is a stew made with slow-cooked oxtail in a peanut sauce. This dish works great as a snack or even a main course."
Tangerine Sticky Ribs
Except for the time in the oven, everything for this quick-and-easy recipe happens in a blender. And don't miss the freshly chopped tangerine peel garnish to zest things up. These ribs are so finger-lickin' good!
Charred Brussels Sprouts With Anchovy Butter
Use this recipe as a blueprint for infinite possibilities with many vegetables. The main technique here is to char the vegetable in a small amount of oil and introduce a more robust flavor. Use your favorite vegetables: cauliflower, okra, green beans, and artichokes all work wonderfully. The anchovy butter is inspired by flavors of bagna cauda, the Piedmontese "hot bath" sauce. This recipe makes an appearance on the menu at Saffron on a yearly basis. It's a crowd favorite, even for those who aren't big fans of anchovies.