A Green Breakfast For Carnivores: 'Nduja Avocado Toast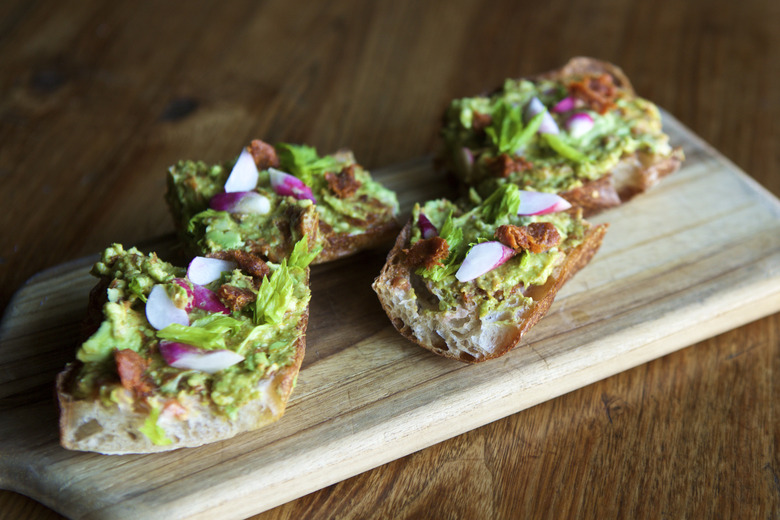 James Beard Award–winning Toro and Coppa chef Jamie Bissonnette knows his way around the vast world of preserved meat and fish. He's a master of charcuterie (coppa is Italian cured pork neck) and an avid collector of canned Spanish seafood — an enviable hobby if you've ever loved a smoked mussel or glistening sardine in your life. Equally praise-worthy: his faculty and creativity with 'nduja, a spicy, spreadable, melt-in-your-mouth fermented sausage. With roots in Italy, cousins around the globe and appearances on menus from French and Spanish to New American and even comfort food, this is one trendy ingredient that goes wherever spicy pork goes. Read all about his close relationship with this unlikely hero of the charcuterie menu here.
Now that you're totally in love with this versatile pantry staple, try your hand at one of Bissonnette's original creations: a veggie-studded avocado toast that's not suitable for vegetarians, vegans or anyone monitoring their general intake, because it's mashed up with fatty, porky 'nduja. Good morning, right?
"I eat this all the time," says the chef. "I mean, I don't necessarily start off my day with that much pork fat, but I love avocado toast, and I love the way this avocado mash gets really sour and flavorful from the 'nduja and lime juice."
A Green Breakfast For Carnivores: 'Nduja Avocado Toast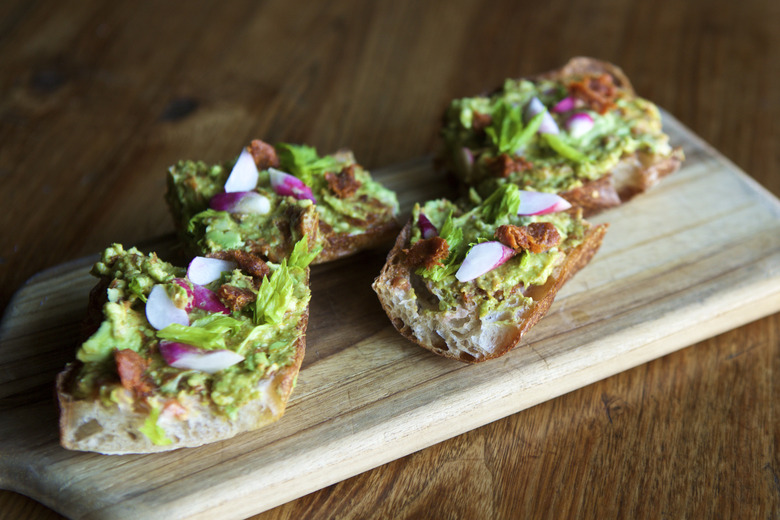 Ingredients
1 avocado
1 stalk celery
2 ounces extra-virgin olive oil
1/2 cup plus 2 tablespoons 'nduja
juice of 1 lime
flaky sea salt and freshly ground black pepper
1/2 baguette
1 plum tomato
2 tablespoons cilantro
4 radishes
Directions
In a bowl, smash the avocado with the celery, olive oil and 1/2 cup 'nduja.
Season with lime juice, salt and pepper, mix well and set aside.
Toast the bread until crunchy.
While warm, rub with the cut side of the tomato, then smear with 2 tablespoons of 'nduja. Drizzle with a little more olive oil and sprinkle with flaky sea salt.
Top with the avocado smash, and garnish with cilantro, radish slices and smudges of the remaining 'nduja, and slice in half before serving.
Should stay crispy and chewy for 4-6 hours.