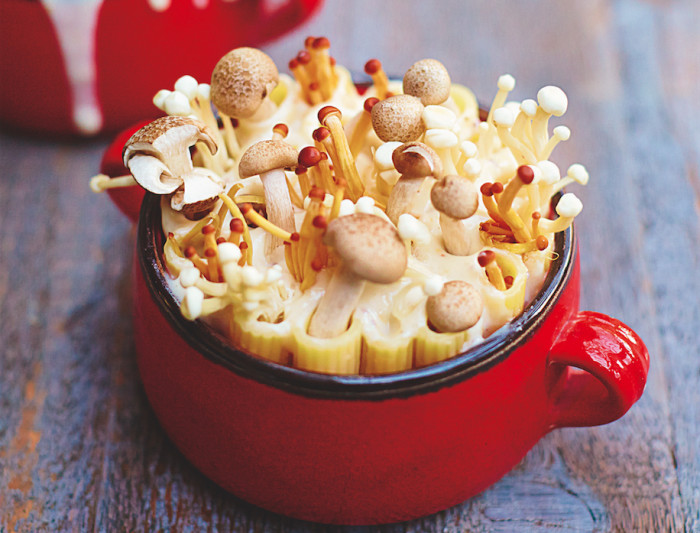 There's nothing like simple food cooked in your kitchen, which is why we love cooking our way through food writer and cookbook author Rachel Khoo's brand-new book. This vertically baked mushroom cream pasta may not look so simple, but once you've mastered the uncomplicated technique of vertical arrangement, you may never serve tubular pasta horizontally again.
Creamy sauce and earthy mushrooms is a tried and tested combination that never fails. Some might think it's a little boring and old school, but I've discovered a fun way of pepping up a classic. Replace boring button mushrooms with some exotic Asian mushrooms and the recipe gets an instant face-lift; pair them with lots of bubbling cheese and you are on to a winner.
Get ahead: Make up the pasta dishes a few hours before, but add 10 minutes to the cooking time if baking straight from the refrigerator. The sauce (béchamel) can be made up to one day in advance. Place some plastic wrap directly on the sauce when storing in the refrigerator to prevent a skin from forming. Whisk well to break up any lumps before using.
Reprinted with permission from Rachel Khoo's Kitchen Notebook
Ingredients
2

tablespoons

butter

1/4

cup

all-purpose flour

2

cups

lukewarm milk, plus more as needed

1/4

onion, peeled

1

whole

clove

1

bay leaf

9

ounces

rigatoni pasta

Pinch of

freshly ground nutmeg

Sea salt and white pepper

2

tablespoons

whole-grain mustard

3 1/2

ounces

Gruyère, parmesan or other hard cheese, grated

6

ounces

mixed enoki or shimeji mushrooms, trimmed and torn into single mushrooms

Finely chopped fresh parsley for serving
Directions
For the pasta
Melt the butter in a medium frying pan over medium heat. Add the flour and mix to form a paste, cooking it for 2 minutes. Remove from the heat and let cool for 2 minutes, then gradually add the milk, whisking continuously.

Place the pan back over medium heat; add the onion, clove, and bay leaf; and simmer gently for 10 minutes, whisking frequently. If the sauce becomes too thick, whisk in a little more milk 1 tablespoon at a time until saucy.

Preheat the oven to 350°F.

Bring a stockpot of salted water to a boil. Put the pasta in the water and cook for 2 minutes less than the package instructions say.

Finish the sauce by removing the onion, clove, and bay leaf, then adding the nutmeg and seasoning with salt and white pepper. Stir in the mustard and half the cheese.

Drain the pasta and arrange the rigatoni pieces upright tightly in four ovenproof dishes; they will look a bit like honeycomb. Pour the sauce over the pasta. Tap the base of the baking dishes to allow the sauce to get between the holes, spooning more on if necessary. Place the mushroom stalks into the rigatoni holes, leaving the caps poking out. Sprinkle with the remaining cheese.

Bake for 20 to 25 minutes, or until the cheese is golden and bubbling. Serve with a sprinkle of finely chopped parsley on top.