Grilled Tandoori Chicken Wings With Coriander Yogurt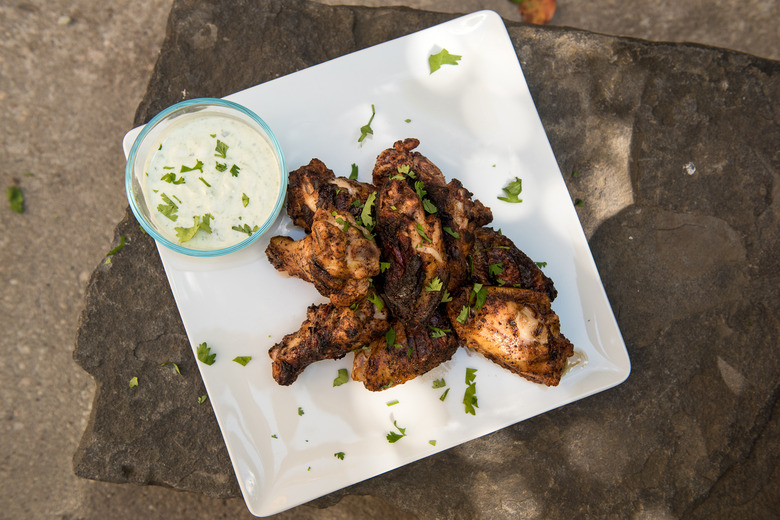 Indians don't glorify chicken wings the way Americans do, so I'm stepping in to bridge that inexplicable gap. When faced with chicken and the possibility of high-heat smoky cooking, such as any ol' charcoal grill, there's only one preparation on my mind. I've tandoorified and char-grilled everything from pork loin and tofu steaks to more traditional fare like shrimp and lamb chops. Brine and baste all you want, but tandoorification (my word for marinating overnight in heavily spiced yogurt) is the way to go if your end game is "juicy and flavorful."
I love Greek yogurt and eat a giant tub of it every week, but go with regular whole milk yogurt for tandoori marinades, the clinging remnants of which won't scorch on a hot grill. The second whole milk yogurt component is the spicy coriander dipping sauce. Why so much yogurt? Because Indian people love yogurt.
You can find both prepared coriander chutney and tandoori spice powder, also known as tandoori masala, at any Indian or Middle Eastern grocery. If you really want that bright pink tandoori chicken hue you get at your local curry joint, add a couple of drops of red food coloring to the marinade.
Grilled Tandoori Chicken Wings With Coriander Yogurt
Servings
4
as an appetizer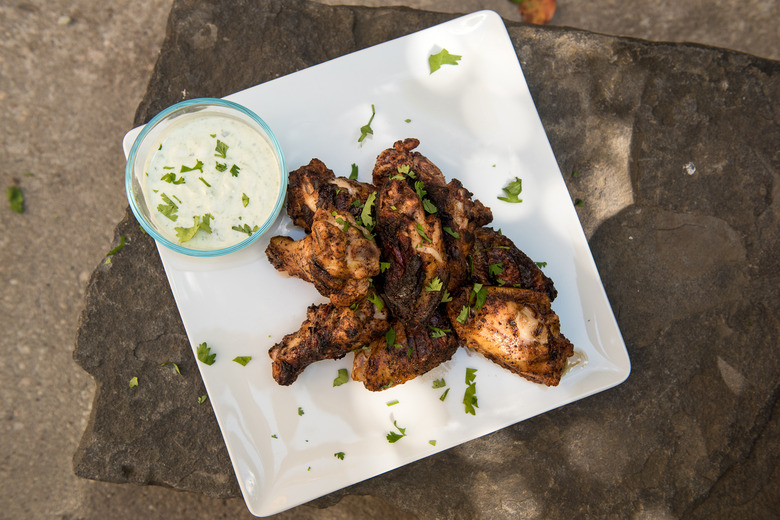 Ingredients
1 1/2 pounds chicken wings
2 cups plain whole milk yogurt (not Greek)
2 heaping tablespoons tandoori spice powder
2-3 thick slices fresh ginger root (no need to peel)
1 large clove garlic
kosher salt
1 1/2 cups plain whole milk yogurt
1 tablespoon prepared coriander chutney
3/4 teaspoon ground cumin
kosher salt
1/2 Serrano pepper
chopped cilantro
lime wedges
Directions
:::wing marinade:::
Combine yogurt, tandoori spice, ginger and garlic in a large zip-top freezer bag and season to taste with kosher salt.
Add in chicken wings, seal the bag and squish around with your hands to coat the wings in the marinade.
Refrigerate overnight, resquishing the bag once halfway through.
:::dipping sauce:::
Combine yogurt, chutney, cumin and chili pepper in a small bowl and add salt to taste. Cover and refrigerate until ready to use.
:::wings:::
Heat a charcoal grill until the coals are glowing orange.
Arrange the wings on the grill, cover and cook without touching for 12 minutes. Seriously, don't touch, or the delicious skin will come right off.
Remove the cover, turn wings, replace cover and grill for another 12 minutes.
Remove cover, flip wings again and cook uncovered for five more minutes. If they're beginning to scorch, move them away from the center of the grill.
Transfer wings to a plate, let rest for about five minutes, then sprinkle with chopped cilantro. Serve with dipping sauce and lime wedges.