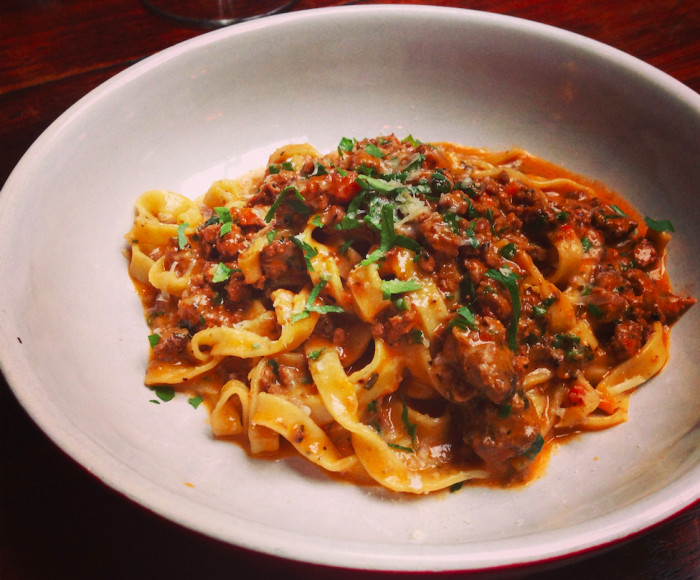 We're running Italian-American recipes all week on Food Republic! You may think bolognese is just another word for "meat sauce." Former Top Chef finalist and creative culinarian Ed Cotton has taken the traditional Italian Sunday gravy and updated it by blending raw chicken livers into the uncooked meat mix. While diners may not be able to pick out the livers in a blind taste test, everyone who tries this sauce knows there is something that pushes it over the edge.
"I add chicken liver to my sauce for depth and flavor," says Cotton. "Most people can't put their finger on the flavor profile, but when I tell them it's chicken livers they are usually like, 'Ahh, okay.' It needs to be caramelized with the meats and really cooked out well. The addition of the chicken livers was shown to me by Barbara Lynch years ago when I was her sous-chef in Boston at No.9 Park."
Ingredients
2

oz

extra-virgin olive oil

Salt and pepper

1

pound

coarsely ground pork shoulder

1

pound

coarsely ground veal

1

pound

coarsely ground lamb

ground cloves

1/2

cup

chicken livers, finely pureed

1/4

cup

fresh sage leaves, minced

1/4

cup

Fresh Basil leaves, chopped

1/4

cup

fresh parsley leaves, chopped

1

teaspoon

chili flakes

1

large onion, finely diced

4

stalks

celery, finely diced

1

large carrot, finely diced

1/2

cup

red wine

6

cups

chicken stock

6

cups

veal stock

32

oz

whole peeled tomatoes, crushed by hand

1

bay leaf

1/2

stick

butter

1

cup

heavy cream

1

cup

Parmigiano-Reggiano cheese, grated

1 1/2

pounds

pasta, cooked right before serving

torn basil leaves and Parmigiano-Reggiano, for serving
Directions
Heat olive oil in a large rondeau or skillet with straight sides over high heat until smoking.
Season the ground meats with salt, pepper, and ground cloves. Add the pork, veal, and lamb, and cook, stirring occasionally and breaking up large chunks of meat until cooked through, about 15 minutes.
Once meats are caramelized, add the pureed chicken livers and chopped sage, basil, chili flakes and parsley and cook, stirring constantly, until just cooked through, about 2-4 minutes.
Add onion, celery, and carrots and cook, stirring frequently. Now deglaze with the wine to the meats and bring to a boil over high heat. Allow to reduce until almost gone, about 15 minutes.
Add chicken stock, veal stock, bay leaf, and tomatoes. Bring pot to a boil, reduce to a bare simmer, and cook, stirring occasionally, until flavors are married and sauce is reduced to a thick, spoon-coating consistency, about 2 hours.
Finish by adding some butter and heavy cream. Bring to a boil and season with salt and pepper to taste. Allow the sauce to cool, then refrigerate at least overnight.
For serving, heat amount needed in sauté pan and add some heavy cream, chicken stock and black pepper. Fold in basil, Parmigiano-Reggiano cheese and parsley and serve with desired pasta. Garnish with torn basil leaves and Parmigiano-Reggiano.
More classic Italian dishes on Food Republic: