Taiwanese Three Cup Chicken Recipe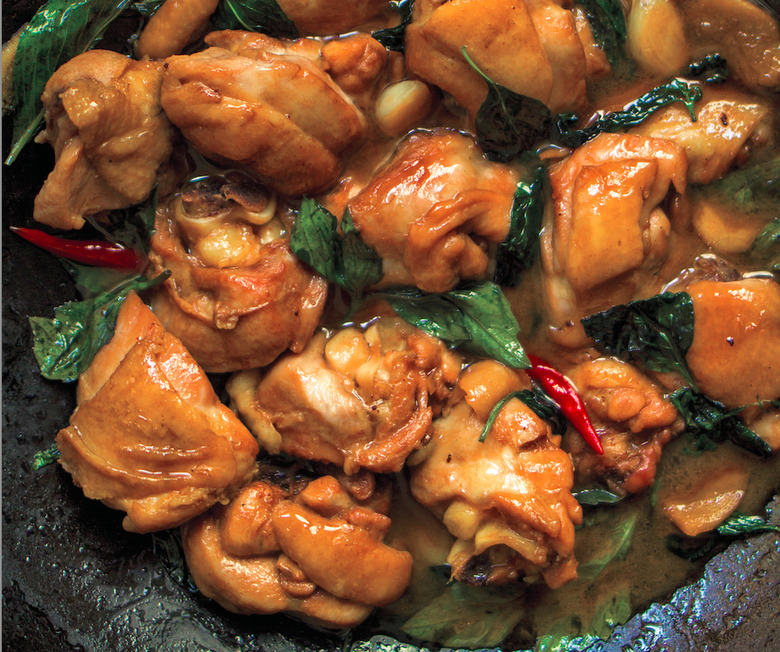 We may receive a commission on purchases made from links.
The eponymous "cups" of this recipe denote equal parts soy sauce, sesame oil, and rice vinegar. It's a potent, salty and savory braised chicken dish with these ingredients along, but the dish really gets its signature from the sheer volume of garlic cloves, thick pieces of ginger and fresh basil leaves for flavor. This recipe's name might underscore the fact that most recipes were passed orally in Taiwan, rather than written, until recent generations. After one taste of it prepared elsewhere, it is quite irresistible to try re-creating at home. This dish shares some similarities with Hakka-style preparations and red-braised styles of cooking, but its use of basil is refreshingly distinct. It has been enjoyed in Taiwan as a quintessential Taiwanese dish for quite some time.
Taiwanese Three Cup Chicken Recipe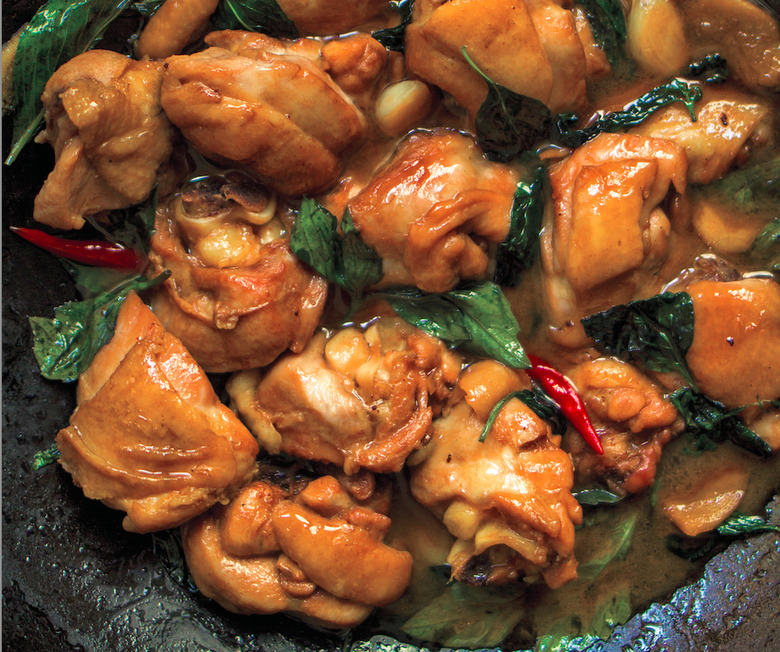 Ingredients
3/4 cup sesame oil
1 3-inch piece fresh ginger
12 to 15 whole cloves garlic
4 whole scallions
2 to 3 small fresh red chilies
1 cup rice wine
1 cup light soy sauce
2 tablespoons sugar
2 cups packed fresh Thai basil leaves
Directions
Heat the sesame oil in a large skillet or wok over medium-high heat.
Add the ginger, garlic, scallions, and chilies, and cook until just fragrant, about 1 minute.
Add the chicken pieces and lightly brown, stirring occasionally, 2 to 3 minutes.
Add the rice wine and soy sauce and bring to a boil.
Reduce to a simmer and cook, uncovered, until the chicken pieces are cooked through and the sauce has slightly reduced, about 15 minutes.
Stir in the sugar until just dissolved.
Remove from the heat and stir in the basil. Serve immediately.
Grilled Chicken With Spicy West Indian Salsa Verde Recipe
Classic Remix: Coq Au Riesling Recipe
Healthy Thai At Home: Chicken Larb Recipe