Ukrainian Garlic Bread Recipe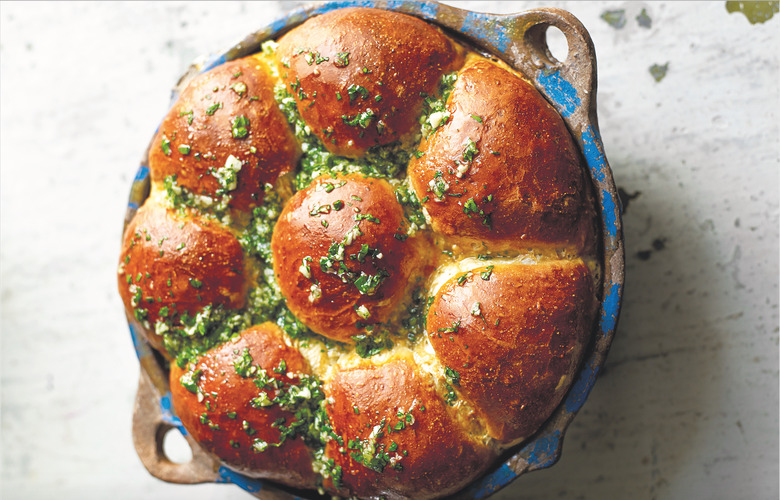 We may receive a commission on purchases made from links.
Ready to cook Eastern European? Pick up a copy of Mamushka, Ukraine-born chef Olia Hercules's ode to cuisine from Kiev to Kazakhstan, and every stop along the way. It's not all potatoes and beets, though, it's pampushki, too — the best freshly baked garlic bread you've ever had. 
The word pampushka can be used to describe a gorgeous plump woman and is one of my favorite words. Pam-poo-shka! These pampushki are traditionally served with red borscht. In Ukraine, we would use regular garlic, so if you can't find wet (new) garlic, it will still be delicious. I have used wild garlic and its flowers.
Ukrainian Garlic Bread Recipe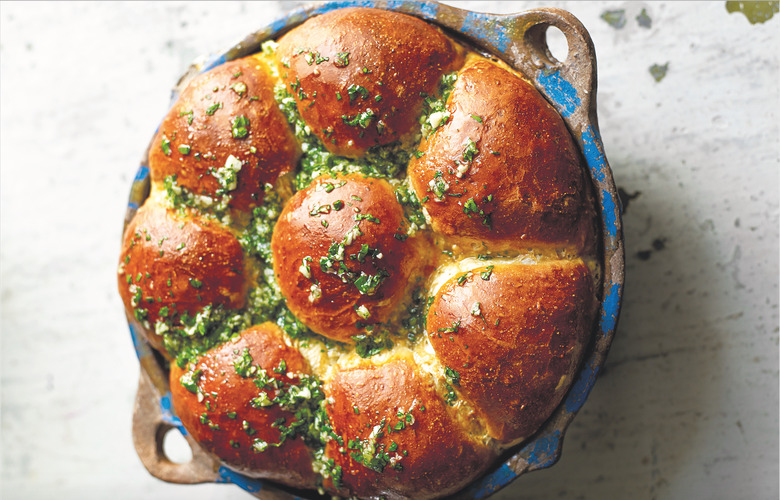 Ingredients
1 tablespoon fresh yeast
2 ounces warm water
1 teaspoon caster sugar
Scant 1 cup strong white flour, plus extra for dusting
1 1/2 tablespoons wet (new) or regular garlic
3 tablespoons sunflower oil, plus extra for oiling
Lightly beaten duck (or chicken's) egg, to glaze
fine sea salt
Half a bunch of parsley
Directions
First make a "sponge," which is a type of yeasty starter. Dissolve the yeast and sugar in the measurement water (make sure it's blood temperature — hot water would kill the yeast!). Add half of the flour and mix roughly. Cover with clingfilm and leave to proof in the refrigerator overnight.
The next morning, add the rest of the flour and 1/2 tablespoon of fine sea salt to the starter and knead on a well-floured work surface until the dough is smooth and comes away from your hands easily.
Divide the dough into 8 pieces and shape into round buns. Put them side by side in an oiled round ovenproof dish or a 9 1/2-inch round cake tin, cover and let them prove again, this time in a warm place, until doubled in size. They will join together just like hot cross buns do.
Meanwhile, preheat the oven to 425°F. To make the basting oil, simply stir the crushed garlic through the oil with a small pinch of sea salt and let it infuse.
When the pampushki look plump and ready, brush them generously with some beaten egg to glaze and bake them in the oven for 20-25 minutes or until they form a glistening golden crust. Take them out and baste them with the garlic oil. Serve immediately.