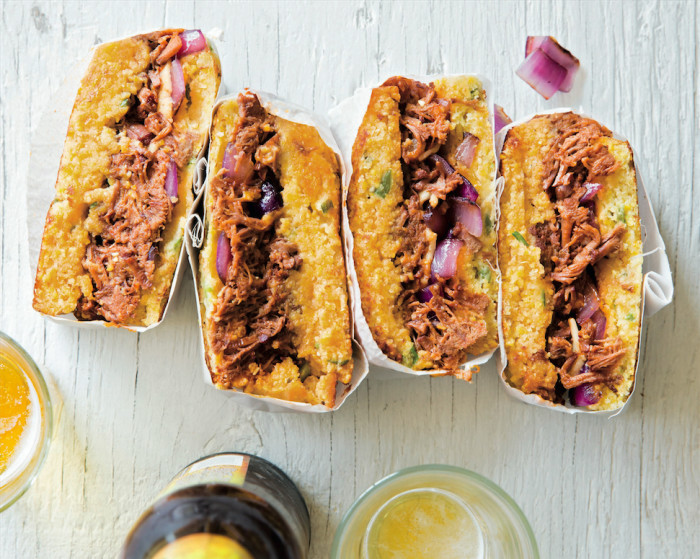 Today brothers Max and Eli Sussman have popped up on Food Republic to coincide with the release of their third cookbook, Classic Recipes for Modern People. Here is one of their favorite "future classics." That is to say, the potential for cornbread and brisket sandwiches making their way to your dinner table is very strong.  
Every once in a while we just have to pat ourselves on the back for doing something we haven't seen in other cookbooks. We aren't entirely sure we're the first to make a brisket patty melt using corn bread, but we are sure this is the best version out there. A vast improvement on the close-to-perfect patty melt is enough to make us feel pretty good about this recipe. When you start seeing this on the menu of every chain restaurant in America in five years, just remember who thought of it first.
Reprinted with permission from Classic Recipes for Modern People
Ingredients
Brisket
2

pounds

beef brisket

1

tablespoon

extra-virgin olive oil

Kosher

salt

1

yellow onion, finely diced

1

clove

garlic, minced

1

teaspoon

light brown sugar, firmly packed

1

tablespoon

tomato paste

2

cups

chicken stock

pinch

of red-pepper flakes
Corn Bread
Olive

oil spray

1 1/4

cups

cornmeal

1

cup

all-purpose flour

1 1/2

teaspoons

baking powder

2

teaspoons

kosher salt

2

tablespoons

light brown sugar, firmly packed

3

serrano chiles, seeded and minced

4

green onions, minced

1 1/2

cups

whole milk

1/2

cup

whole-milk yogurt

1/2

cup

extra-virgin olive oil, plus one tablespoon

1

large egg, beaten
For sandwiches
1

small red onion, cut into thick rounds

4

slices

gruyere cheese

Unsalted

butter, for frying
Directions
To make the brisket:
Cut the meat into 1-inch pieces. In a wide pot, heat the olive oil over high heat. When the oil is very hot, add the brisket and a pinch of salt and cook, stirring, until browned, about 5 minutes.
Reduce the heat to medium, add the onion, and sauté until softened and caramelized, about 7 minutes. Add the garlic, brown sugar and tomato paste and sauté for 3 to 4 minutes.
Add the stock and red-pepper flakes and bring to a simmer. Reduce the heat to low, cover, and simmer until the meat is falling apart and tender, 2 to 3 hours. Add water if the pan begins to dry. The meat should be just barely covered with liquid when it is ready. If there is too much liquid at the end, transfer the liquid to a small saucepan and simmer until reduced.
To make the corn bread:
Preheat the oven to 375°F. Line a 9-inch-square baking pan with parchment paper and spread with olive oil.
In a large bowl, stir together the cornmeal, flour, baking powder, salt, brown sugar, chiles, and green onions. In another bowl, whisk together the milk, yogurt, and olive oil. Add the milk mixture to the cornmeal mixture and fold just until the batter is blended; it will be slightly lumpy. Add the egg and fold until blended.
Pour the batter into the prepared pan. Bake until the bread is golden brown and a toothpick inserted into the center comes out clean, about 20 minutes. Transfer the pan to a wire rack and let it cool completely.
To assemble the sandwiches:
While the cornbread is cooling, heat the olive oil in a heavy frying pan over high heat. Add the onion and cook, turning once, until deeply caramelized, about 4 minutes on each side. Transfer to a cutting board and cut into 1/2-inch pieces.
Cut the corn bread into 4 equal pieces, then halve each piece horizontally. Place one-fourth of the braised beef brisket on the cut side of a bottom piece of corn bread. Top with 1 tablespoon of the onion, a slice of Gruyère cheese, and then the top piece of corn bread, cut-side down. Repeat to make 3 more sandwiches.
In a large nonstick frying pan, melt about 1 tablespoon of butter over medium heat. Working in batches, fry the sandwiches, turning once and adding butter as needed, until the bread is browned and the cheese is melted, about 3 minutes on each side. Serve immediately.
More great sandwiches on Food Republic: