Simple, Elegant, Vegan: Spicy Moroccan Carrot Salad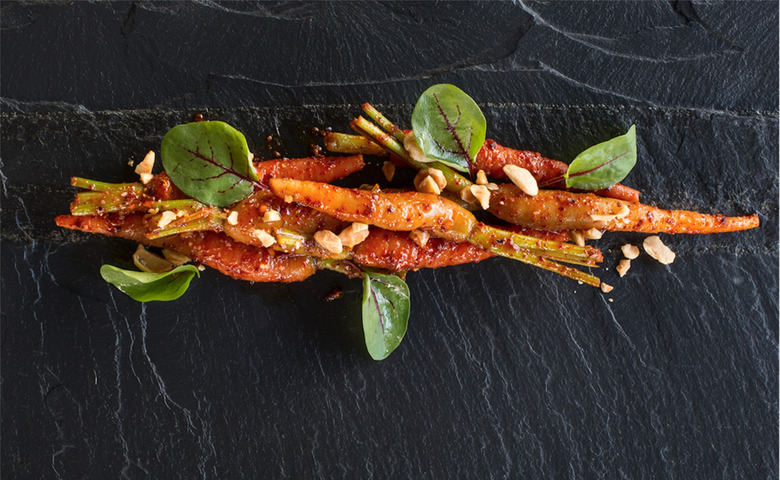 Tal Ronnen takes spicy North African carrot salad to elegant heights with this simple, impressive preparatio
We may receive a commission on purchases made from links.
If you're eating from the new Crossroads cookbook by acclaimed chef Tal Ronnen, you're eating some of the best, most inventive, freshest and satisfying vegan food on the planet. And this recipe for chili-laced carrots is especially tantalizing.
This recipe has sentimental meaning for me — it is an ode to my childhood nanny, Sol. Both of my parents worked full time, so for the first eight years of my life, my sisters and I were like Sol's adopted children. Sol came to Israel from Morocco in the mid-1950s, and years later, thankfully, she found her way to the Ronnen household. Her cooking was so different from the food we knew. Sol's was laced with chilies and spices, and her carrot salad was a mainstay on the table.
She made this dish with sliced carrots and a type of chili pepper that, sadly, isn't available outside Israel. So I restructured her killer recipe using whole rainbow carrots and guajillo chilies.
Simple, Elegant, Vegan: Spicy Moroccan Carrot Salad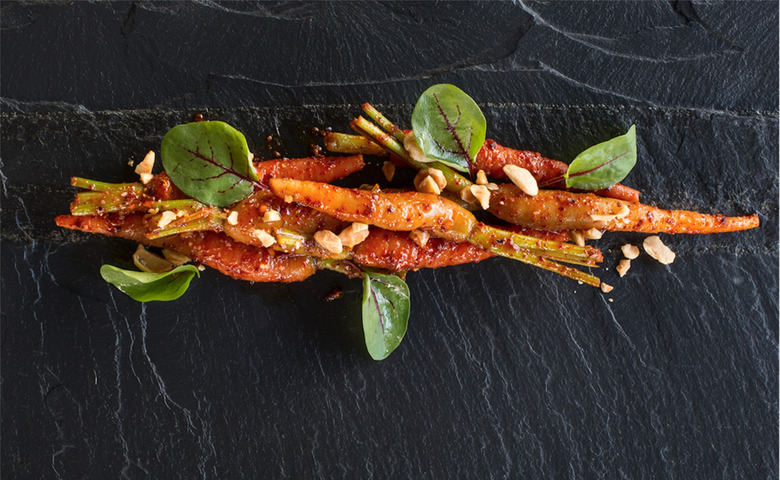 Ingredients
1 1/2 pounds small rainbow carrots (about 24)
8 dried red chilies
1/2 cup red wine vinegar
3 garlic cloves
1 teaspoon ground cumin
1/2 teaspoon kosher salt
1/2 teaspoon freshly ground black pepper
1/2 teaspoon red pepper flakes
1/2 cup extra-virgin olive oil
1/4 cup micro greens, such as Hearts of Fire (see note)
Flaked sea salt, such as Maldon
1 cup Expeller-pressed canola oil
1 large fresh rosemary sprig
2 cups whole Marcona almonds
1 teaspoon kosher salt
Directions
:::carrots:::
To prepare the carrots: Bring a large pot of lightly salted water to a boil over high heat. Prepare an ice bath by filling a large bowl halfway with water and adding a tray of ice cubes.
Blanch the carrots in the boiling water until tender when pierced with a knife, about 3 minutes. Drain the carrots and plunge into the ice bath to shock them — i.e., stop the cooking and cool them quickly; this procedure also locks in the carrots' bright color.
Drain the carrots again. You want them to be relatively uniform in size, so if any of them are large, cut them lengthwise in half.
To prepare the marinade: Put a small dry skillet over low heat, add the chilies, and toast for 1 or 2 minutes; shake the pan so they don't scorch. Break up the chilies and put them in a food processor. Pulse the chilies to a coarse powder; you should have about ½ cup.
Put the chili powder in a mixing bowl, add the vinegar, garlic, cumin, kosher salt, black pepper, and red pepper flakes, and whisk until blended. While whisking, slowly pour in the oil in a stream until emulsified.
Put the carrots in a mixing bowl and pour in the chili mixture, tossing to coat. Marinate for 1 to 2 hours, tossing periodically.
To serve: Crisscross the carrots on a platter. Scatter the micro greens and almonds on top and season with flaked sea salt.
Note: Hearts on Fire is a variety of micro greens with garnet-colored veins and stems. They not only give stunning color to a dish but also add a vibrant tart, citrusy flavor, reminiscent of sorrel.
:::almonds:::
Put a cast-iron or other heavy skillet over medium-high heat. Pour in the oil, add the rosemary, and stir to infuse the flavor into the oil. Heat the oil to around 300°F. (You don't need a thermometer for this: Drop an almond into the oil. When it sinks a bit, then floats right back to the top and starts sizzling, the oil is hot enough.) Once the oil is ready to go, add half of the almonds and cook, stirring constantly, until they are fragrant and toasted, 10 to 20 seconds. Using a slotted spoon, remove the almonds from the oil and drain on paper towels. Sprinkle them with the salt while they are hot. Repeat with the remaining almonds. Use to top the marinated olives or serve as a snack.