Beet Pickled Devilish Eggs Recipe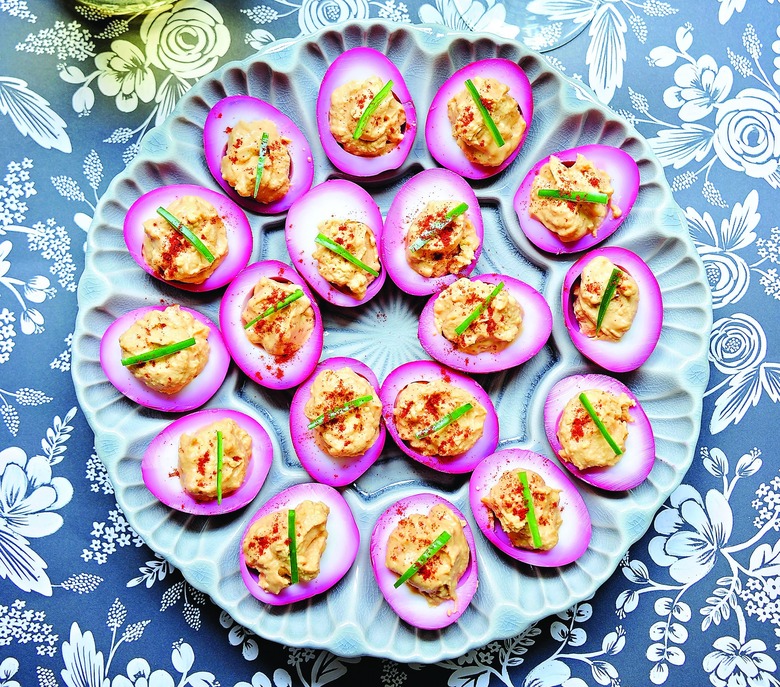 We may receive a commission on purchases made from links.
Deviled eggs are having a moment in the culinary spotlight. Like other Southern home foods, they've moved to upscale restaurant menus and are getting makeovers all across the South. This recipe for beet pickled devilish eggs, from Shamille Wharton of Nashville, Tennessee, gets a beautiful, brilliant pink exterior from beet juice.
After she's prepped the food, Wharton prepares herself to welcome and entertain guests by taking 15 minutes of quiet time before guests arrive. No prepping, no last-minute cleaning, only calm and quiet, because, she says, "It's up to you to set the tone of your event, and if you're relaxed, your guests will be, too."
Beet Pickled Devilish Eggs Recipe
Deviled eggs get a colorful makeover in this beet pickled devilish eggs recipe from the Southern Cooking for Company cookbook.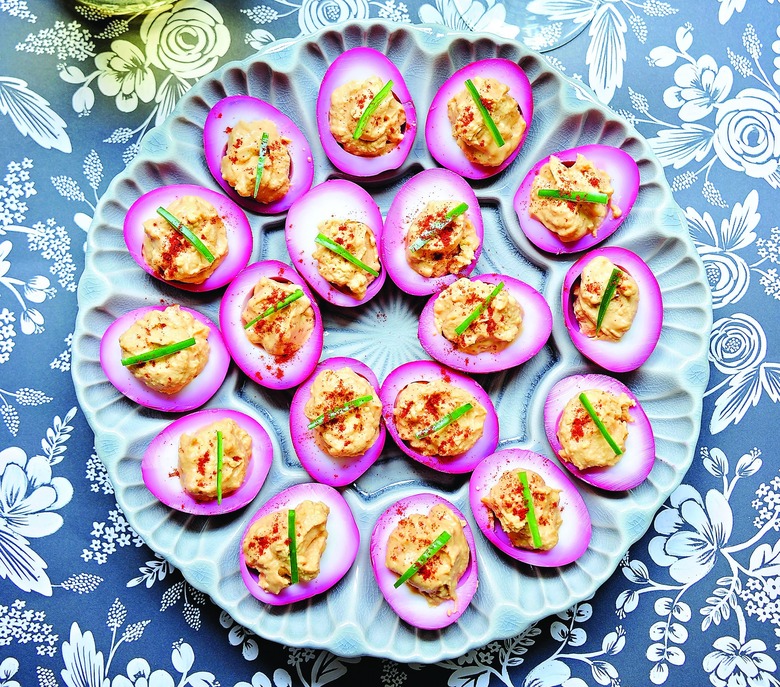 Ingredients
2 serrano peppers
3 cups water
1 cup white vinegar
1 1/2 cups sugar
2 small beets
3 cloves garlic
3 bay leaves
2 tablespoons whole black peppercorns
1 tablespoon kosher salt
12 large hard-boiled eggs
2 tablespoons mayonnaise
1 tablespoon extra-virgin olive oil
1 tablespoon Dijon-style mustard
1 tablespoon Sriracha sauce
Mild curry powder or smoked paprika for garnish
Directions
Cut 1 of the serrano peppers into halves lengthwise, retaining the seeds. Place the pepper in a large saucepan and add the water, vinegar, sugar, beets, garlic, bay leaves, peppercorns, and salt. Bring to a boil over high heat, reduce the heat to low, and simmer until the beets are tender, about 20 minutes. Remove the pot from the heat and let cool completely.
Add the eggs to the beet liquid and refrigerate for at least 6 hours. Remove the eggs from the liquid and let them dry completely.
Cut the eggs into halves lengthwise and remove the yolks. Place the yolks in a medium bowl and place the whites on a large plate. Add the mayonnaise, olive oil, mustard, and Sriracha to the yolks. Mix and mash to combine thoroughly. Fill the whites with the yolk mixture. Slice the remaining serrano pepper into rounds. Top each egg with a slice of serrano and a sprinkle of curry powder, if desired.
Fried Boiled Egg With Dukka Recipe
5 Yolktastic Recipes For Baked Eggs This Weekend
Eggs Benedict BLT With Avocado-Tomato Relish Recipe