I once wrote a grad school paper that tried to account for the number of Filipino immigrants in the greater New York area while pointing out that there were hardly any Filipino restaurants. My theory? The history of Filipino immigration to the Unites States was unique in a number of ways, namely that there have been four distinct waves of immigration to the U.S. — each one dominated by skilled, English-speaking women (nurses!). If you already have a steady, well-paying job, you don't need to open up restaurants, which historically has been the path of many other immigrant populations.
Is my theory correct? Who knows? In the end, the problem remains the same: Filipino food is so delicious, but not so easy to find. To remedy the dearth of Filipino takeout options, we will all just have to make our own Filipino food at home. What follows is hands-down one of the most delicious things you will ever eat. I like to think of it as Filipino meat candy.
If you want to be super-extra authentic, you can track down some Filipino-style fish sauce, known as patis, for this recipe. It's on Amazon! Otherwise, use what you can get your hands on (nam pla, colatura, etc). Some types of fish sauce are saltier and more concentrated; some are sweeter and some are stinkier. Use what you can find. The idea is just to add an extra layer of umami-laden flavor.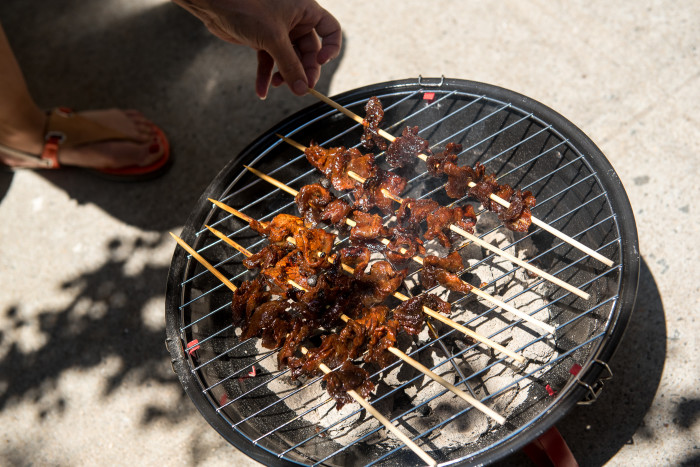 Ingredients
2

pounds

flank steak

2

cups

soy sauce

1/2

cup plus 1/4 cup

brown sugar

1/2

cup plus 1/4 cup

white sugar

8

green onions, cleaned and chopped

4

slices

fresh ginger

1

garlic clove, peeled and lightly smashed

1

cup plus 1/2 cup

honey

1

tablespoon

fish sauce (optional)

lime wedges, for garnish
Materials
Skewers (bamboo or metal)
Basting brush
Directions
For the skewers
In a medium saucepan, make the marinade by combining ½ cup brown sugar, ½ cup white sugar, green onions, ginger and garlic. Bring mixture to boil, then reduce heat and simmer for 15 minutes.

Add in remaining ¼ cup brown sugar, ¼ cup white sugar and 1 cup honey. Bring to a boil. The marinade will foam up and double in size. Once it has boiled and doubled in size, immediately remove from heat and let cool. To expedite cooling, you can transfer marinade to a glass or metal bowl and place bowl in an ice bath.

When marinade has fully cooled, place meat in marinade for about 12 hours, refrigerated.

If you are using bamboo skewers, soak them for at least 30 minutes in water first. When you are ready to cook the steak, heat grill, remove meat from marinade and pat dry. Slice steak ¼" thick at an angle, against the grain.

Thread sliced meat onto skewers. The pieces of meat should be close together but not overlapping. The amount of meat that fits on each skewer will depend on the size of the skewer. I used 12-inch skewers and put five slices on each.

Mix together remaining ½ cup honey and fish sauce (if using) and set aside. When grill is good and hot, put skewers on grill and cook about two minutes on each side, basting occasionally with honey and fish sauce mixture. Finish with lime juice and serve immediately.