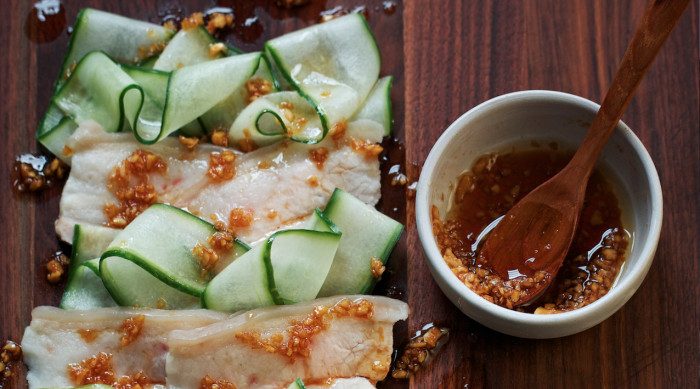 Chef, food writer and culinary instructor Kian Lam Kho can and will teach you how to make delicious, authentic Chinese food that will have you tossing out your takeout menus. If you can't make it to one of his cooking classes, pick up a copy of his new book, Phoenix Claws and Jade Trees. Kho's detailed instructions on technique flow seamlessly into intuitive recipes that any home cook can pull off with ease. You know how to order kung pao chicken, but can you make a flawless version in your own kitchen? 
Pork belly is beloved by the Chinese. This is the dish that truly serves up the natural fresh taste of pork — except in Sichuan they just can't help but add a garlic and chile sauce to kick up the taste and heat!
Reprinted with permission from Phoenix Claws and Jade Trees
Ingredients
1

pound

pork belly

1/2

cup

Shaoxing cooking wine

1 (2-inch-long)

piece of

fresh ginger
Sauce
1/3

cup

Sichuan Spice Chile Oil

2

tablespoons

soy sauce

1

tablespoon

toasted sesame oil

3

tablespoons

minced garlic

1

teaspoon

salt

1

teaspoon

sugar
1

hothouse cucumber, cut lengthwise into long, thin slices
Directions
For the pork
Put the pork belly in a pot and add 2 quarts water, the wine and the ginger. Bring the liquid to a boil, then turn the heat down to medium and gently boil the pork belly for 40 minutes, until tender.

Combine all the sauce ingredients in a small bowl and mix well.

Drain the pork belly and let it cool. When it has cooled somewhat but is still warm to the touch, cut it lengthwise into long 1/16-inch-thick strips. Arrange alternating and overlapping slices of pork and cucumber on a serving plate. Pour the sauce all over the pork and cucumber, and serve while still warm or at room temperature.