Charred Brussels Sprouts With Spicy Anchovy Butter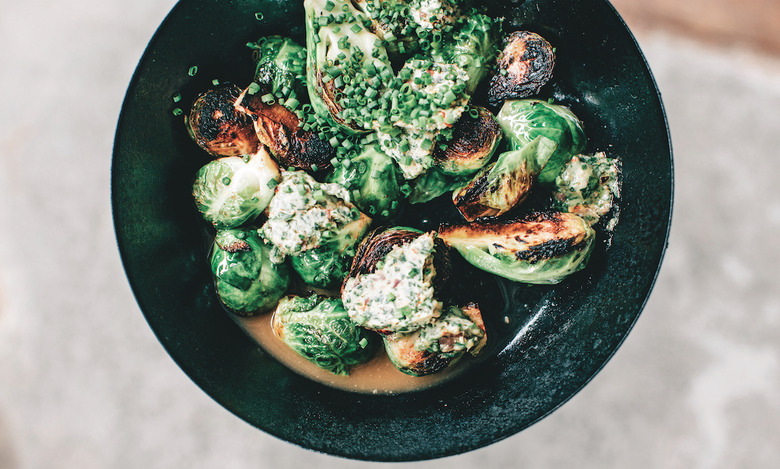 We may receive a commission on purchases made from links.
Sameh Wadi is chef and co-owner of two of Minneapolis's top restaurants — Saffron and World Street Kitchen — and recently released his first cookbook. Pick up a copy of The New Mediterranean Table for a journey through the incredible wealth of delicious cuisine throughout the region.
Use this recipe as a blueprint for infinite possibilities with many vegetables. The main technique here is to char the vegetable in a small amount of oil and introduce a more robust flavor. Use your favorite vegetables: cauliflower, okra, green beans and artichokes all work wonderfully. The anchovy butter is inspired by flavors of bagna cauda, the Piedmontese "hot bath" sauce. This recipe makes an appearance on the menu at Saffron on a yearly basis. It's a crowd favorite, even for those who aren't big fans of anchovies.
Charred Brussels Sprouts With Spicy Anchovy Butter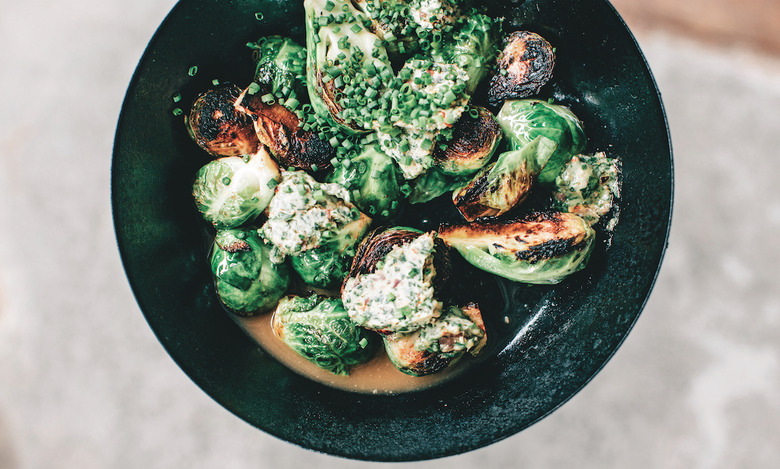 Ingredients
3 ounces best-quality anchovy fillet in oil, rinsed
1 cup flat-leaf parsley
1 teaspoon chili flakes
1/4 pound unsalted butter
1 garlic clove
sea salt
1/2 teaspoon baking soda
1 1/2 pounds brussels sprouts
1/2 cup canola oil
2 tablespoons fresh lemon juice
2 tablespoons finely chopped chives
Directions
:::spicy anchovy butter:::
Place all the ingredients in a food processor; puree until smooth and reserve. This makes more than is needed in the recipe, but it can be frozen for up to a month.
:::brussels sprouts:::
Fill a large bowl with salted ice water. Bring a large pot with about 3 quarts of water to a boil. Add the baking soda and enough salt to make the water salty like the sea.
Meanwhile, remove the outer leaves of the Brussels sprouts. Trim the ends off and split in half lengthwise. Carefully drop the Brussels sprouts into the boiling water and cook until tender, about 3 minutes. Drain immediately and immerse in the salted ice water to cool completely. Drain and pat dry with a paper towel. This can be done up to 1 day in advance.
In a large frying pan, heat the oil until it starts to smoke. Cook the Brussels sprouts, cut-side down, undisturbed, for 2-4 minutes, until they start to brown. Flip the Brussels sprouts and add the spicy anchovy butter; lower the heat to moderate and continue to cook until the butter melts, stirring occasionally. Season the Brussels sprouts with salt and finish with the lemon juice and chives.
Chef's Tip: Baking soda helps maintain the beautiful vibrant color of green vegetables. Be careful, though, because too much baking soda will turn the vegetables mushy.