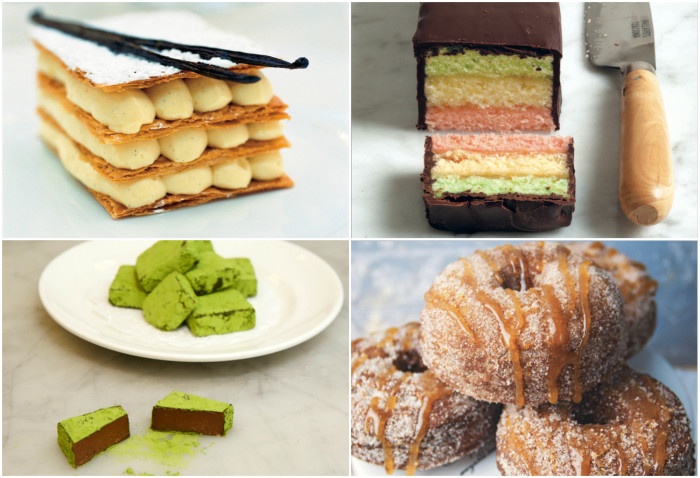 You don't have to be a world-class baker to pull off a homemade dessert that will delight and even impress your loyal fans, also known as friends and family. With a great recipe, excellent ingredients, a little extra time on your hands and an oven with an accurate thermometer (never underestimate the importance of an accurate oven thermometer), you too can re-create Food Republic's most popular desserts of 2015. It's high time to mess up your kitchen for the best possible reason.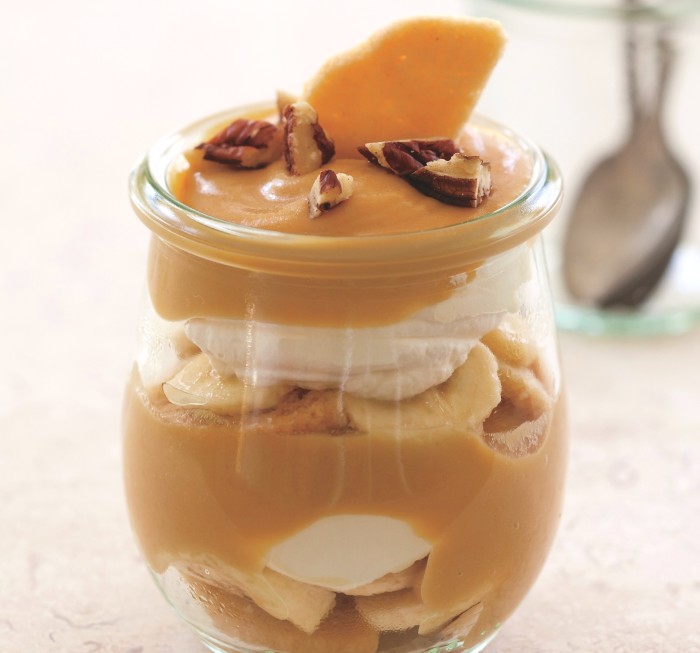 Banana-Caramel Pudding Parfaits
Not a dieter's special, to say the least, but this is a pretty phenomenal treat. It's a variation on a Southern banana pudding and, in my opinion, much better than the original. I've substituted a sensational caramel pudding for the classic vanilla and used homemade vanilla wafers instead of store-bought. The wafer cookies are a snap to make and can be made up to five days in advance (and the pudding up to two days ahead). The parfaits can be assembled up to six hours before serving.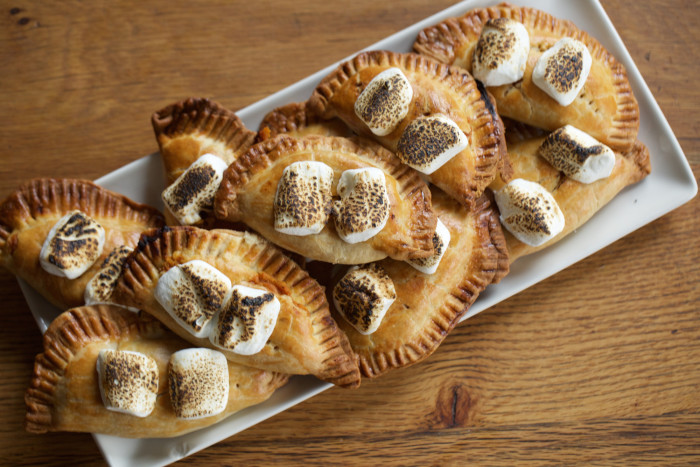 Candied. Yams. What comes to your mind when I say that? When I think about candied yams, I think of a casserole dish that's burned on the edges, with some sort of orange stuff in it, topped with marshmallows. And, oh, by the way, this is supposed to be a savory dish that you eat with dinner. Not my favorite. (For the record, I love yams/sweet potatoes in other forms.) I always felt that candied yams were too sweet for dinner, but not sweet enough for dessert, and that's why there always seems to be a ton of leftovers of the stuff.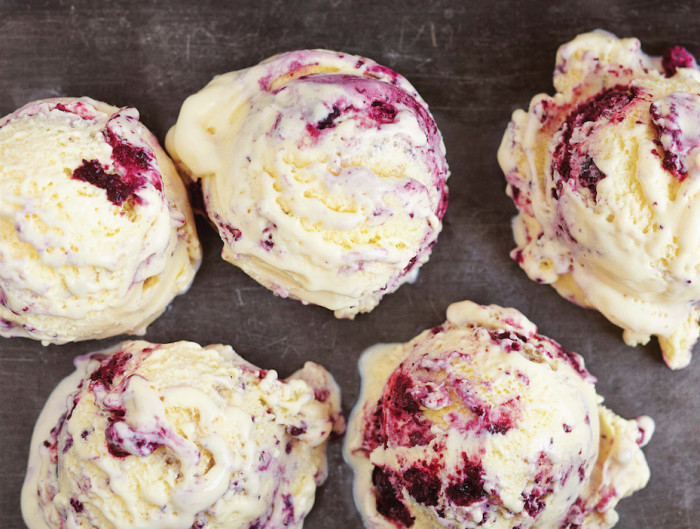 Sour Cream and Blueberry Ice Cream
Often, sour cream is confused with its fattier cousin, crème fraîche, but unlike sour cream, crème fraîche doesn't curdle when you cook with it, thanks to its higher fat content, and sour cream is tangier on your palate than crème fraîche is. It's that second quality that made us think of sour cream as a flavoring for ice cream. We complement the sour cream by adding a swirl of homemade blueberry compote at the end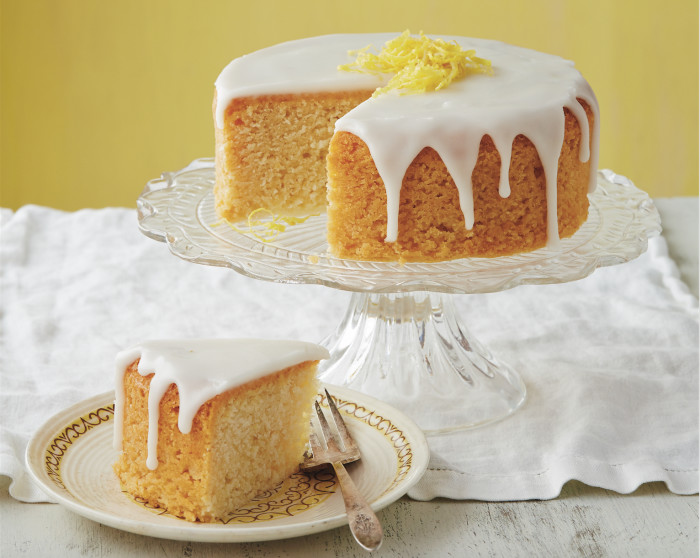 We fell in love with the moist, soft texture of this cake. It is wonderful with the tart lemon glaze and even better topped with the glaze and fresh berries. Be prepared for your friends to request the recipe for themselves.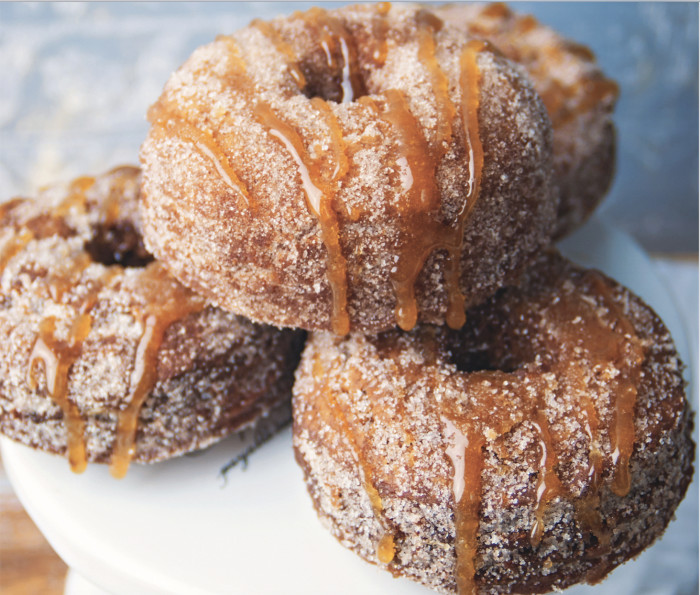 Cider Doughnuts With Cider Glaze
Doughnuts are all about comfort. I think it's safe to say that we all keep a special place in our hearts for fried dough — with extra points if it's still warm and fresh out of the fryer. These cider doughnuts are extra comforting: They're rich, dense and spiced with cinnamon, nutmeg and ginger. They evoke brisk fall days and remind me of going to the local apple orchard to get cider doughnuts when I was a kid.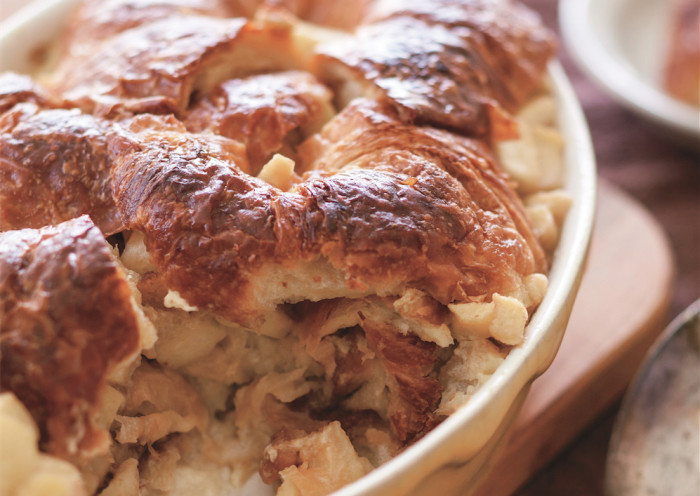 Originally a thrifty and simple way to use up stale bread, bread pudding has evolved into a dessert sophisticated enough to be served in upscale restaurants, where it's frequently made with brioche or croissants. This version features croissants coated with apple butter and layered with apple cubes that have been sautéed in butter and sugar. Baking the pudding in a water bath ensures a creamy texture — without it, the custard will break, and it won't be pretty. If you don't have time to make your own apple butter, feel free to use a high-quality jarred one.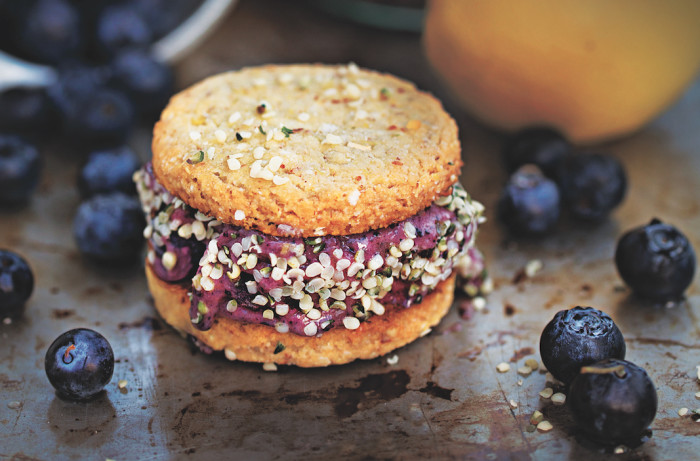 Almond And Blueberry Soft-Serve Sandwiches
The refreshing temperature of these freezer-friendly snacks isn't the only cool thing about this treat. Each "sandwich" may seem decadent, but in actuality it is primarily a serving of fruit and nuts, with very few other ingredients. The cookie crust is like very lightly sweetened almond sandies, and the creamy center is vibrantly fruity — a composition of natural flavors that shine proudly in this recipe. For lazy days, you can also simply serve the soft serve and cookies together in a bowl!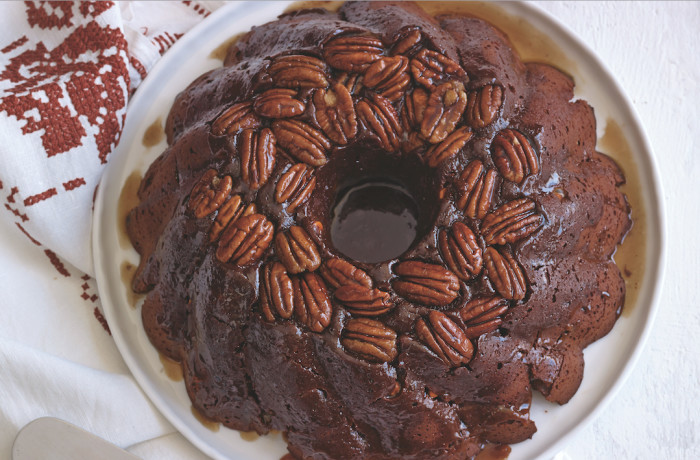 Chocolate Caramel Pecan Bundt Cake 
There's something about the patterns that emerge on this delicate cake that makes me feel like I've been transported to my grandmother's kitchen in the 1950s. This is an all‑in-one cake — caramel topping, pecan filling, and delicious cake that cook all at once! Guests will be convinced that you slaved over this Bundt cake, but it's really an easy recipe. Once you pop it in the oven, your work is done. I make this as often for brunch as I do for a dinner party.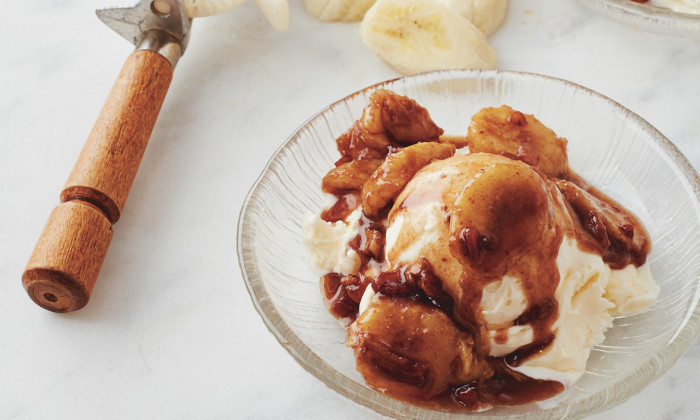 This classic recipe originated in New Orleans and continues to be popular decades later. We like to serve this as a no-brainer dessert when entertaining. Purchase high-quality ice cream to ladle the golden bananas and sauce over, and take all the credit! Add the banana slices just 10 to 15 minutes before serving so they do not become too soft. This is equally delicious served over pound cake or angel food cake.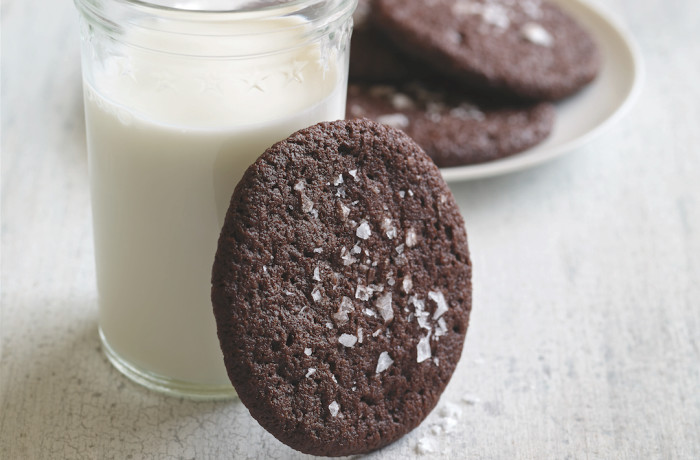 My friend Ben harvests sea salt on the Oregon coast. He traipses knee-deep out into the chilly Pacific Ocean to gather buckets of water, and then he carries the salt water home, where time and heat work their slow magic. The result? Beautifully intricate flakes of sea salt. As with anything you cook or bake, using good ingredi­ents is crucial, even if that ingredient has just a small role in the final product. Everything from the cacao beans we purchase down to the fleur de sel sprinkled on top of these cookies is top quality, which is what makes this recipe so good. The Cocoa Rouge adds richness to this short­bread, and the buttery yet crunchy texture can satisfy a craving at any time of day.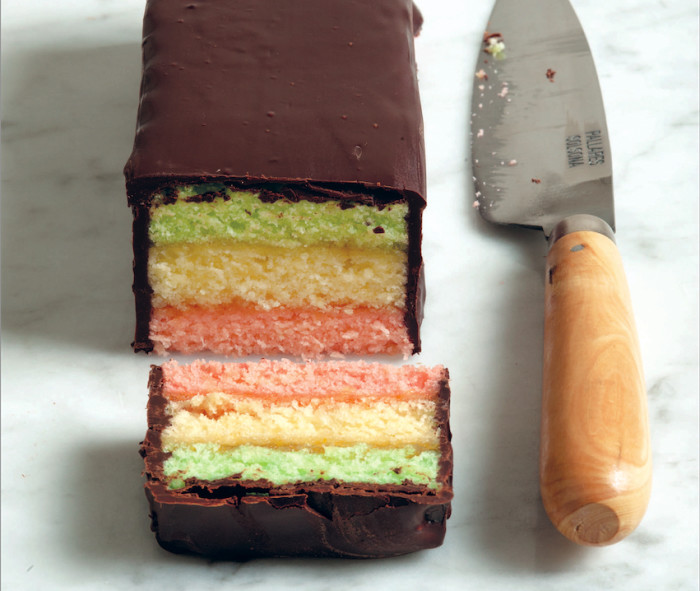 Gluten-Free Italian Rainbow Cookies
There is one gluten-free baking bible out there: Against the Grain. You'll never have to shell out eight bucks for a terrible loaf of frozen bread ever again. Bid farewell to the rubbery, flavorless, additive-filled gluten-free goods of yesteryear and embrace your diet with delicious, wholesome, home-baked favorites. These Italian rainbow cookies are a labor of love worth taking on. Just look at them.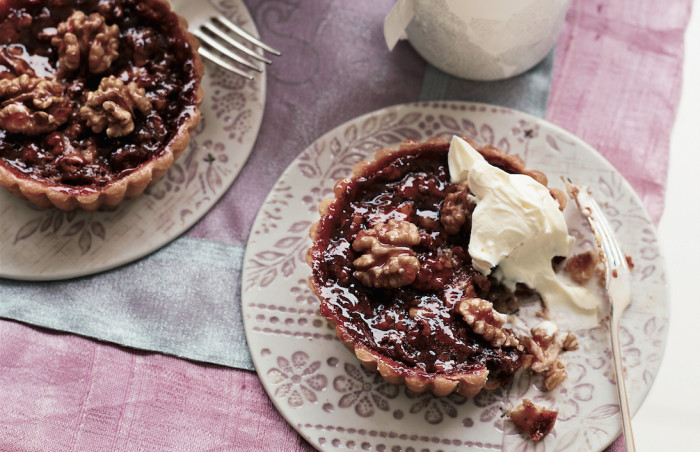 This tart is very rich and especially great when served with tea. I like making individual ones using some deep tart pans. Make sure you get some very good-quality walnuts; the French and Italian ones are the best.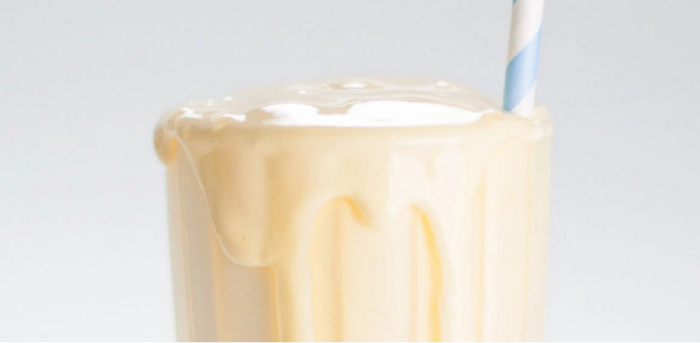 This shake was inspired by those Orange Julius kiosks in the shopping malls we hung out at when we were growing up, as well as by the orange Creamsicles we always had in our freezers. What is it about the combination of orange and cream? Orange alone can be overly acidic, but the addition of sweet vanilla ice cream tempers it just so. We thought it would be fun to trash it up a notch by using neon-orange Tang powder for that high-in-the-sky taste.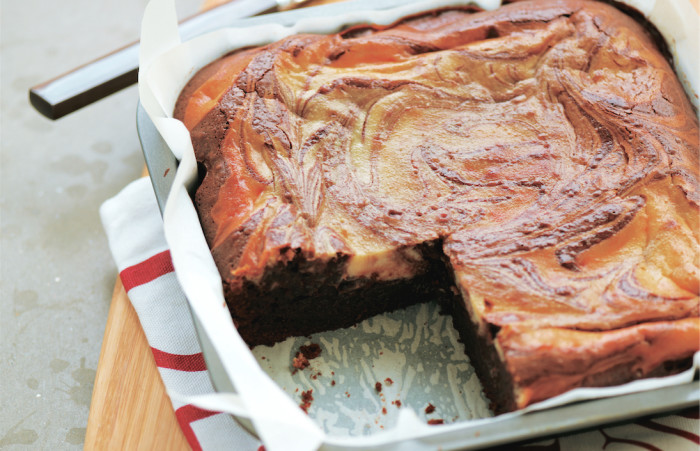 This takes the best of a rich, traditional brownie and gives it a twist: The soft cream cheese adds a soft touch as well as a fresh sour-zesty taste.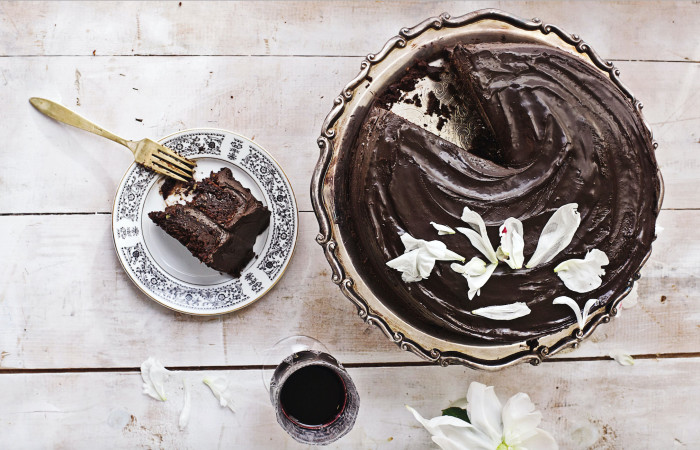 Vegan Dark Chocolate Avocado Cake 
This decadent, fudgy, and dense cake quickly became "the favorite" out of all my vegan baking recipes. Perhaps it's the use of cocoa powder or delicious, creamy, and good-for-you avocados and coconut oil. Whatever the reasons (probably the chemical endorphins that are released after eating chocolate!), we all went mad for it. If you're making this cake for a special occasion, you can double the recipe and make a two-layer cake.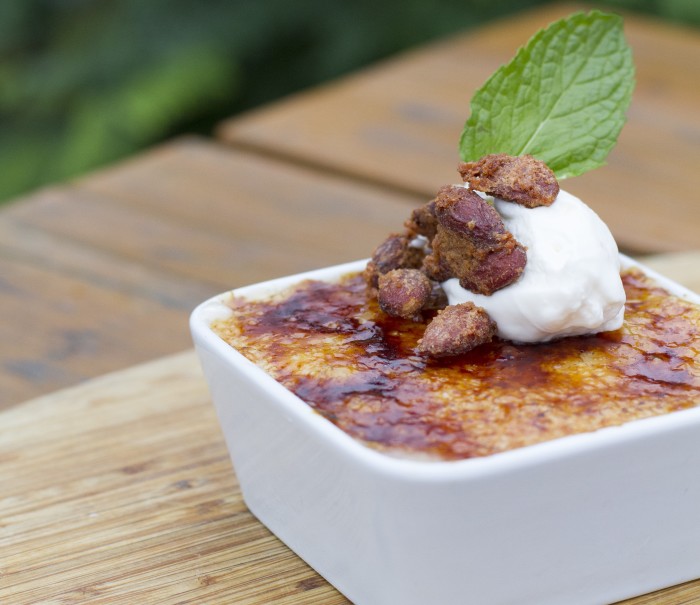 The dish was inspired by my childhood. It's a rotating special at the restaurant, and it's always a hit! Our family friend in Georgia used to always make tapioca pudding, and I loved it. It's not a dish that people typically expect, but I enjoy putting new twists on old dishes. I purposely made this dish easy for the home chef, so that everyone can enjoy it, be it in our restaurant or in their own home. The hardest part of the dish would be finding the boiled peanuts, but you can usually find them in Asian markets.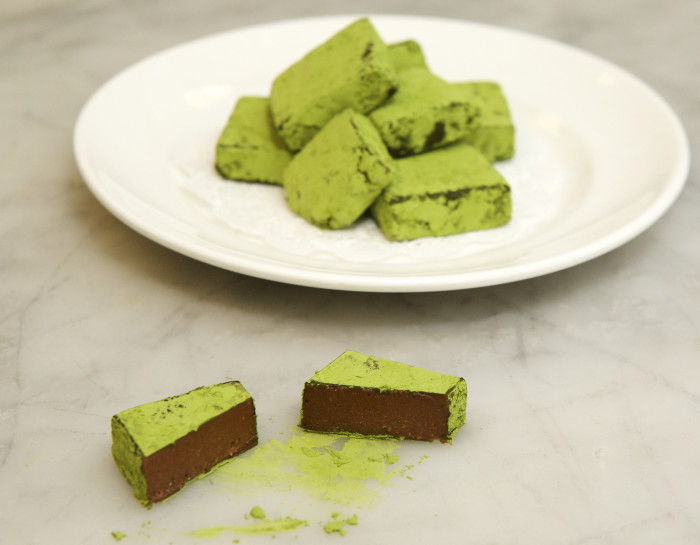 I grew up eating green-tea ice cream, which is made with matcha, a form of powdered green tea. Since then, I've added it to lots of desserts for its earthy, grassy, almost seaweed-y flavor. People are getting into it nowadays because it's said to be healthy. You can find matcha in Asian supermarkets or tea shops, packaged in a small can. It might seem expensive, but a little goes a long way. Matcha is caffeinated, like coffee, but it gives off more of an even-keeled buzz.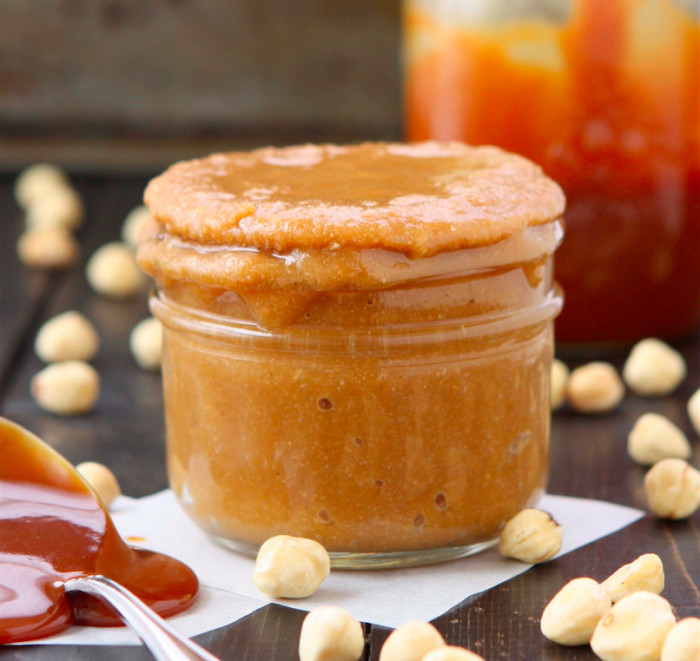 Salted Caramel Hazelnut Butter
We're…can we even say it? We're just nuts about Nut Butters, the all-spread cookbook from recipe blogger Mary Loudermilk. Once you've perused her impressive selection of delicious pulverized nuts, including almonds, hazelnuts, pecans and more, you'll never open a store-bought jar of peanut butter again. Start digging out all the crackers, sliced bread, and just about anything else you can imagine, because you're going to want to start slathering this salted caramel hazelnut butter right away!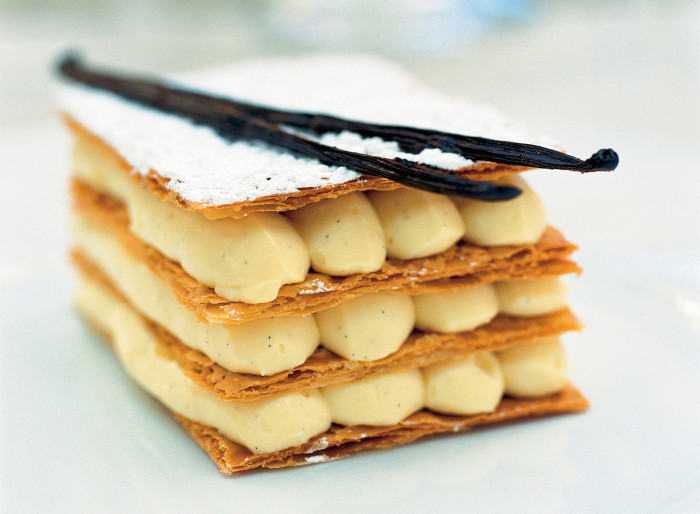 Napoleon With Vanilla-Whiskey Cream
There are all kinds of reasons to love Napoleons, but at the top of my list are their flaky texture and the sound they make when you saw into them with a knife (not to mention the delicate crunch when you bite into those multiple layers of puff pastry). A little bourbon and vanilla adds character to the usual crème pâtissière.