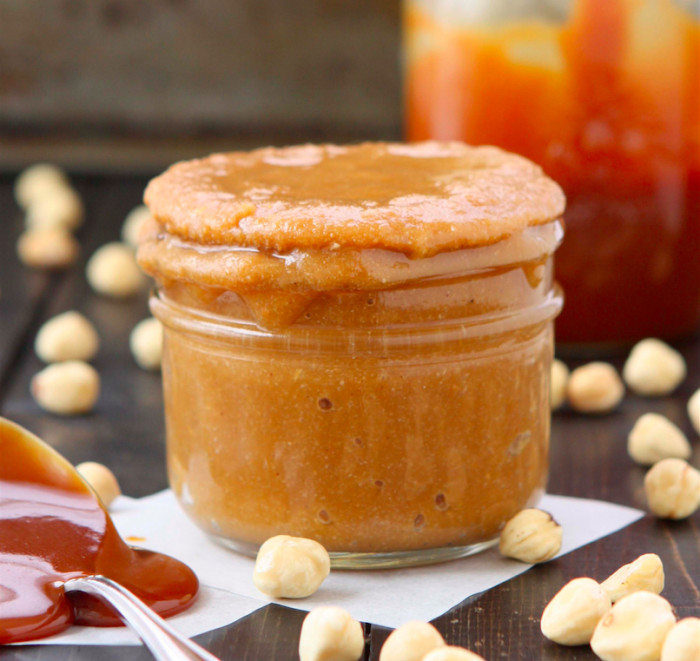 We're…can we even say it? We're just nuts about Nut Butters, the all-spread cookbook from recipe blogger Mary Loudermilk. Once you've perused her impressive selection of delicious pulverized nuts, including almonds, hazelnuts, pecans and more, you'll never open a store-bought jar of peanut butter again. Start digging out all the crackers, sliced bread, and just about anything else you can imagine, because you're going to want to start slathering this salted caramel hazelnut butter right away!
Ingredients
1

cup

white sugar

6

tablespoons

unsalted butter, at room temperature, cut into small pieces

1/2

cup

heavy cream

1 1/2

teaspoons

fleur de sel

2

cups

hazelnuts

salt, to taste
Directions
Pour the white sugar into a saucepan and cook over medium-high heat, whisking until the sugar is completely dissolved. Once the sugar is completely dissolved, stop whisking and do not stir.
Cook until the caramel is a deep amber color (350°F, if using a candy thermometer). Add the butter, whisking vigorously until smooth.
Remove from heat, and add the cream and fleur de sel. Whisk until the caramel is smooth and has stopped bubbling.
Let the caramel cool for at least 15 minutes before proceeding.
Process the hazelnuts in a food processor for 5-10 minutes, or until completely smooth, scraping down the sides with a spatula as necessary.
Add 2/3 cup of the caramel sauce to the hazelnut butter, and either process again or use a spoon to fold and mix together.
Add salt as needed for taste.
More recipes for sweet spreads on Food Republic: