Gluten-Free Italian Rainbow Cookies Recipe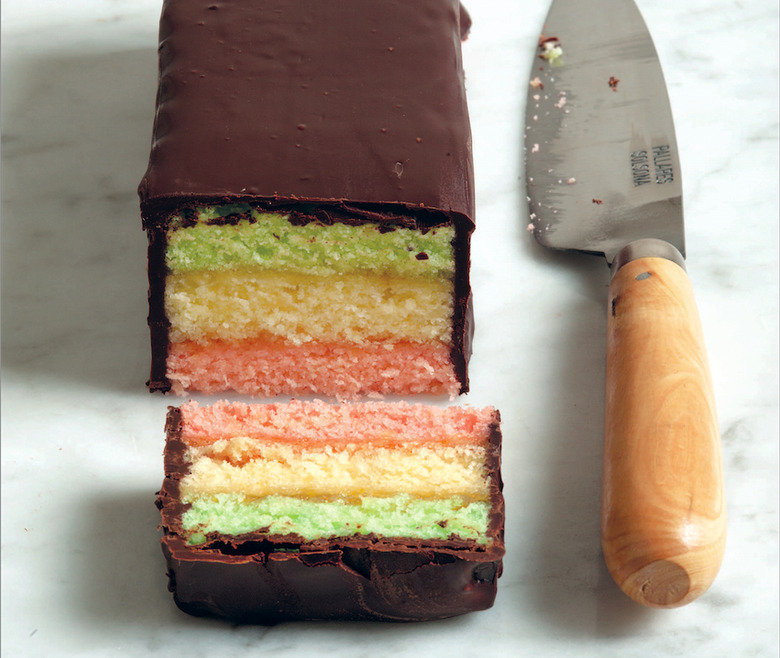 (Photo: Jennifer May.
We may receive a commission on purchases made from links.
There is one gluten-free baking bible out there: Against the Grain. You'll never have to shell out eight bucks for a terrible loaf of frozen bread ever again. Bid farewell to the rubbery, flavorless, additive-filled gluten-free goods of yesteryear and embrace your diet with delicious, wholesome, home-baked favorites. These Italian rainbow cookies are a labor of love worth taking on. Just look at them.
Gluten-Free Italian Rainbow Cookies Recipe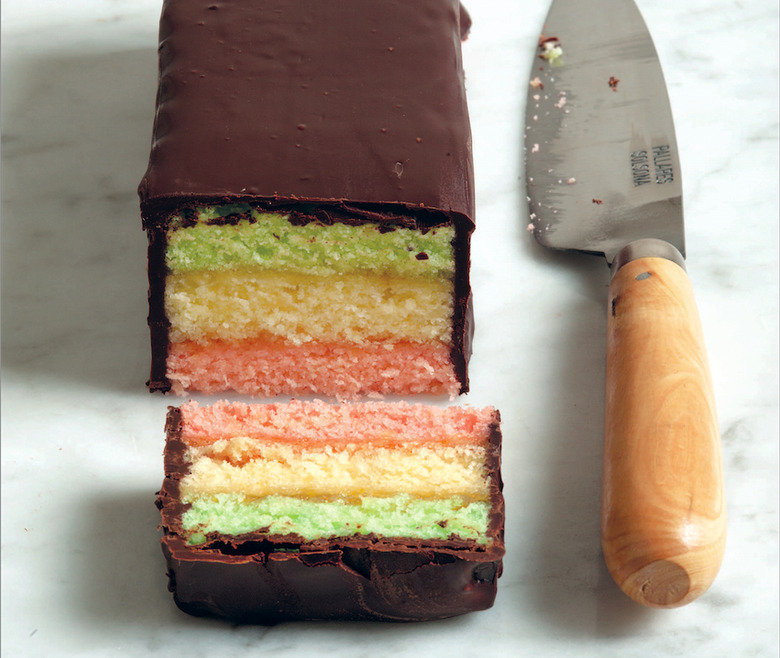 Ingredients
3 large eggs
3/4 cup sugar
12 tablespoons salted butter
7 ounces almond paste
1 teaspoon almond extract
1/2 cup potato starch
1/2 cup tapioca starch
1/4 teaspoon salt
1 jar (10 ounces) raspberry or apricot jam
1 cup dark-chocolate chips
1/4 cup coconut oil
Food coloring (red and green)
Directions
Position an oven rack in the center of the oven and preheat to 350°F.
Grease the sides and bottoms of three 8 × 8-inch pans with butter. (Disposable aluminum pans work well, or you can use one pan, bake a layer, cool it, bake another pan, and so on.)
After buttering the sides of the pans, line each pan with parchment paper, allowing a flap to extend over two sides.
In a bowl, with a hand mixer, beat the egg whites on high until medium peaks are formed. Set aside.
In a separate bowl, cream the sugar and butter. Add the almond paste, almond extract and egg yolks and beat on high until they are well mixed. The batter will be quite stiff.
Fold in the potato starch, tapioca starch and salt by hand until incorporated.
Fold in the egg whites, taking care to keep the batter as light as possible with minimal stirring.
Weigh the batter, if possible, to divide it equally among 3 separate bowls.
Add 8 to 15 drops of red food coloring to one bowl and 8 to 15 drops of green to another; leave the third without additional coloring.
Spoon each batter into a separate pan and smooth the surface using a butter knife or spatula.
Bake the three layers for approximately 20 minutes, or until the cakes are slightly springy in the centers and the sides start to pull away from the edges of the pans.
Allow the cakes to cool in the pans for approximately 5 minutes. Then lift the cakes out using the parchment paper flaps and transfer to a cooling rack (leaving the parchment in place). Allow the cakes to cool completely.
Using a clean piece of parchment paper, invert the pink cake onto the paper and peel the bottom piece of parchment paper off.
Flip the cake again, top side up, onto a parchment-lined baking sheet.
Spread the surface edge to edge with a thin layer of jam.
Repeat the steps for the yellow layer to invert it on top of the pink layer, and spread with a layer of jam.
Top the yellow layer with the inverted green cake.
Weight the cakes down (to press the layers together) by placing a piece of parchment paper on the top layer and topping it with a baking pan filled with canned goods.
Place the weighted cake in the refrigerator for at least 1 1/2 hours.
In a microwaveable bowl, microwave the chocolate chips and coconut oil on high for 1 minute.
Stir vigorously to hasten melting, and microwave for another 30 seconds.
Cut the layer cake into four 2-inch-wide strips and transfer them to a cooling rack set inside a baking pan.
Spoon the melted chocolate over the tops, then turn each strip to one of its sides and spoon chocolate over it, then turn to the uncoated side and spoon chocolate over that as well as the ends (all sides except the bottom will be chocolate-covered).
After the chocolate has set, place the cakes in the freezer overnight before cutting cleanly into 3/4-inch-wide cookies.
Simple Ricotta Cheesecake Recipe
Limoncello-Raspberry Spiked Sorbet Recipe
Yogurt Cake Recipe