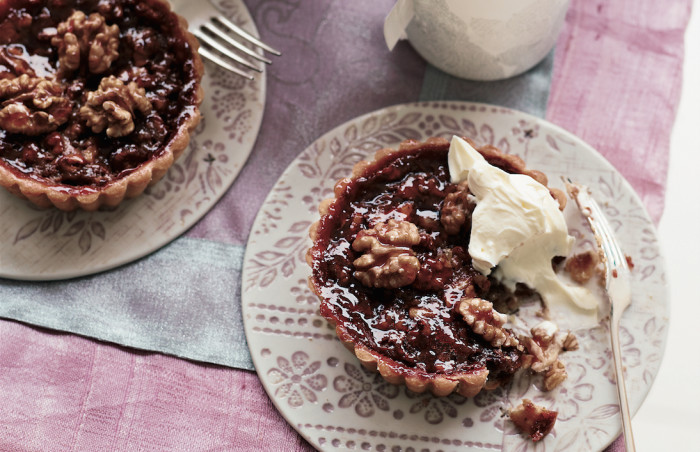 Master pâtissier to the stars, TV host and all-around baking guru Eric Lanlard has a new cookbook that will have you running to bust your stand mixer out of its cupboard prison. From the classic to the wildly inventive (and every pastry in between), Lanlard's sweet creations rise to the top of our "to bake" list. Don't let brownies hog all the walnuts.
This tart is very rich and especially great when served with tea. I like making individual ones using some deep tart pans. Make sure you get some very good-quality walnuts; the French and Italian ones are the best.
Ingredients
unsalted butter, for greasing

2

13-ounce packages

prepared sweet shortcrust pastry (or pie crust), chilled

all-purpose flour, for dusting
Filling
10

cups

walnut halves

1/3

cup

superfine sugar

3

tablespoons

water

1

cup

heavy cream

2

tablespoons

honey

2

egg yolks
Directions
For the tart
Lightly grease eight four-inch tartlet pans with butter. Roll out the pastry on a lightly floured work surface, and cut into circles at least two inches wider in diameter than the tartlet pans. Use to line the tins, and place the pans on a baking sheet. Chill for 30 minutes.

Preheat the oven to 325ºF. Place the walnut halves in a plastic bag, and with a rolling pin break them into large pieces.

To make the caramel, melt the sugar with the water in a saucepan until you achieve a nice blond-colored caramel. Off the heat, add the cream, honey, and walnuts. Mix well and then mix in the egg yolks.

Spoon the walnut cream into the tart shells. Put the baking sheet and its little walnut tarts into the preheated oven and bake for 30 minutes. If you desire, decorate with some walnut halves, glazed with warm sieved apricot preserves. These tartlets are best served warm.

Tips:

When making a caramel it is important to follow these simple rules:

• Never stir the caramel. If the sugar starts to caramelize in one part of the pan before the rest, swirl the pan or push the caramelizing sugar forward.

• Ensure no sugar is on the side of the pan before starting to caramelize; if it is, use a wet pastry brush to remove it.

• The caramel is cooked when there is a slow bubble and it is a lovely brown.

• Caramel goes from brown to burned very quickly, so watch it like a hawk and have a sink of cold water ready to dip the pan into as soon as the caramel is cooked.

• A little crystallization, while not ideal, does not mean your caramel is ruined; it just gives a slightly different texture.