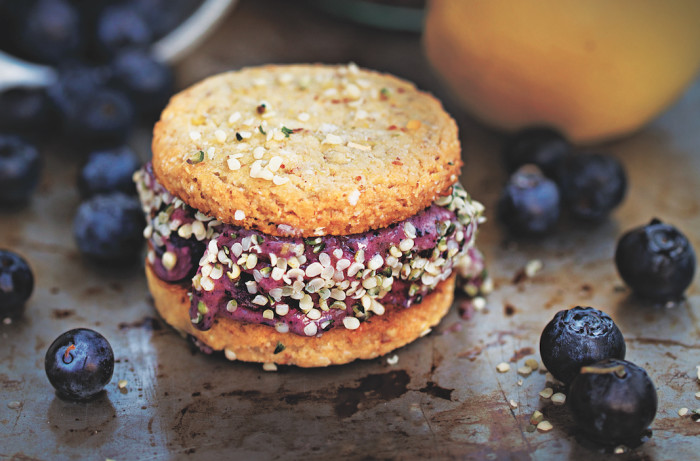 Good snacking takes more than knowing which foods are healthy. Take charge of snacktime with Julie Morris's Superfood Snacks, a follow-up to her ultimate juicing guide (try the honeydew mint chia fresca!). Her tried-and-true crunchy, salty and sweet bites are as delicious as they are packed with vitamins and antioxidants. Whip up a batch of homemade soft-serve ice cream sandwiches and never go back to the paper-wrapped kind in the box again.
The refreshing temperature of these freezer-friendly snacks isn't the only cool thing about this treat — each "sandwich" may seem decadent — yet, in actuality, it is primarily a serving of fruit and nuts, with very few other ingredients. The cookie crust is like very lightly sweetened almond sandies, and the creamy center is vibrantly fruity — a composition of natural flavors that shine proudly in this recipe. For lazy days, you can also simply serve the soft-serve and cookies together in a bowl!
Ingredients
2

cups

blanched almond flour

1/2

cup

quinoa flakes

1/3

cup

coconut sugar

1/2

teaspoon

baking soda

1/4

teaspoon

sea salt

1/2

cup

coconut oil, melted

1/4

cup

maple syrup

1

teaspoon

lemon zest

1

tablespoon

lemon juice

1

teaspoon

vanilla extract

4

frozen bananas, sliced into 1-inch rounds

1

cup

frozen blueberries

1/2

cup

unsweetened almond milk

1

teaspoon

ground cinnamon

1/4

cup

hemp seeds, (optional)
Directions
For the cookies
Preheat the oven to 350°F. In a medium bowl, mix together the almond flour, quinoa flakes, coconut sugar, baking soda, and sea salt. In a small bowl, combine the coconut oil, maple syrup, lemon zest, lemon juice, and vanilla extract, and whisk well. Pour the wet ingredients into the dry and stir to combine.

Knead the dough a couple of times to further mix and compact, then form the dough into 2 balls. Sandwich a ball between 2 silicone baking mats or pieces of parchment paper and roll out into a ¼-inch layer. Peel off the top mat or paper and use a 2-inch round cookie cutter to stamp circles in the dough. Strip away the excess dough around the circles and transfer the mat with the cookies to a baking sheet. Repeat with the remaining ball and use the collected extra dough to create one last batch of cookies.

Bake cookies on the center rack of the oven for 9 to 12 minutes, or until the bottoms begin to turn golden. Let the cookies rest on the baking sheet to cool and firm up for 10 minutes before removing. Transfer cooled cookies to a plate, cover with plastic or aluminum, and freeze until ready for assembly.
For the soft serve
Place the frozen bananas and blueberries in a food processor. Pulse the machine several times to create chunks of fruit the size of large gravel. Add the almond milk and cinnamon, and process until a stiff soft-serve begins to form — you can leave some whole blueberries and unmixed banana in for texture and visual appeal or whip the mixture smooth. The soft serve will melt quickly, so keep it in the freezer until ready to assemble the sandwiches.

To assemble, place a small scoop of the soft-serve between two cookies and press together lightly to form a sandwich. Sprinkle the sides lightly with hemp seeds, if using. Repeat to form the remaining sandwiches. Freeze the sandwiches for at least one hour before serving.

Kept in a sealed container in the freezer, sandwiches can be stored for several weeks.