Know Your Mushroom Varieties And How To Cook With Them Best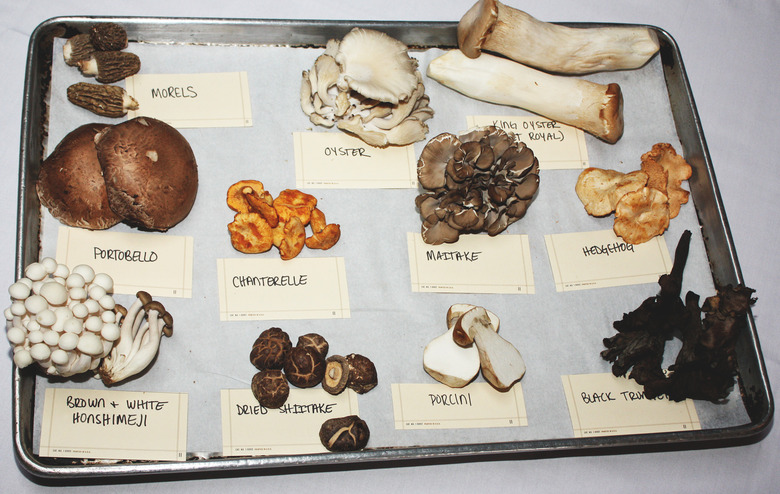 Though mushrooms may not exactly be a mystery, there are enough types out there to leave you stumped on which ones to choose and how to prepare them. To help solve these pressing questions, we chatted with chef Brad Farmerie of the award-winning Manhattan restaurants Public and Saxon & Parole. Farmerie loves these fungi, and not only does he already feature plenty of options on his menu, but he's eager to pick up a few more to play with. "The physical diversity, colors, textures and flavors make mushrooms super-cool," says Farmerie. "Plus, they have a quality that can replace meat, vying to be the star dish on the table." With that in mind, he broke down the details on 11 essential 'shrooms.
Maitake
Also called "hen of the woods," this is the meatiest of all mushrooms. Usually they come in a fist-sized cluster, which is easy to break apart. Sauté with olive oil and chili-infused vinegar for a bright, spicy accoutrement to grits, an omelet or a pizza. You can also deep-fry, slow-cook or broil them, all techniques that enhance their intensely earthy flavor.
Trumpet Royal
One nice thing about these large, tubular fungi, also known as king mushrooms, is how they hold their shape and texture. This remains true whether you serve them in discs, chopped up or peeled into strings, which you can do like string cheese. "It's like chicken breast; it gives that texture of meat," says Farmerie. At Public, the chef turns the trumpet mushroom into an Asian-style mushroom ceviche. He also slices the fungi in thick rounds, slices crosshatch patterns on top and roasts them to garnish soup or salad.
Hatchmarks sliced into the surface with a sharp knife give the Trumpet Royal an elegant presentation.
Oyster
The reason this mushroom is called "oyster" isn't because of its taste but rather its thick, wavy oval shape and light gray color. Frankly, the oyster isn't the most flavorful of mushrooms, but, says Farmerie, this opens it up to all sorts of flavors. He pulls the mushroom apart and makes a "pasta" for soups, adds it to salads and roasts it with butter and thyme to make an unexpectedly addictive appetizer.
Chanterelle
If you had to pick the most feminine of the mushroom family, the chanterelle would be it. It has a soft, buttery flavor and an elegance that other fungi simply don't possess. Roast it with thyme and olive oil, lightly sauté with butter, or soak in a little rice vinegar for a fine pickle.
Morels keep their shape when cooked, so they're ideal for stuffing with pesto, cheese or mousse.
Morels
"A lot of people don't use these because they are expensive and have a short season," says Farmerie, "but they are one of the most beautiful." When roasted, these mushrooms maintain their unique texture and shape, which makes them perfect for stuffing (like Farmerie does with scallop mousse). Since they have the same growing season as peas, you'll often see these ingredients together, and they work great with sweet shellfish.
Honshimeiji
These cultivated fungi are the epitome of the perfect mushroom, at least aesthetically. On the flavor side they're slightly bland, so Farmerie serves them lightly cooked, raw or slightly pickled, usually as a garnish. You can find the same mushroom under the names buna shimeji, white clamshell and, most commonly, beech, because this variety tends to grow on beech trees.
Hedgehog
A cool thing about this mushroom is the "furry" texture to the underside. It really does look like a curled-up hedgehog, but with much softer bristles. The flavor proves slightly peppery and intense, almost like a chanterelle. Cook it gently to maintain the mushroom's taste, texture and shape.
Shiitake
This flavorful mushroom shows up all over Asian cuisine, fresh or dried, and can provide an extra layer of umami in dashi. For Farmerie, dried shiitakes are the best mushroom to make a finishing salt for fish, which he creates by powdering the fungus and mixing with flaky Maldon salt. The chef also utilizes the liquid that rehydrates dried mushrooms as a base for soup — a surefire way to give your dish a layer of richness beyond what you get from plain old vegetable stock.
Farmerie's hearty portobello mousse is an excellent vegetarian alternative to liver pâté.
Portobello
You've probably had a hearty portobello cap on a sandwich or as a vegetarian burger option. While these executions are fine, you can actually do a lot more with this giant fungus. At Public, Farmerie turns it into a silky, meaty mousse, rich enough to fool any carnivore. This liquid-filled, umami-heavy mushroom also makes a great stock and works well roasted, sautéed or even raw. From there it can be thrown into just about anything that needs an extra-hearty layer.
Porcini
One sniff of this type of mushroom and you can almost smell the forest floor, with an undercurrent of fresh yeast that tickles the nose. "It's one of the only wild mushrooms you can eat raw," says Farmerie. "It's an expensive option, but worth the money." He loves to grill these beauties or add them to a salad with a simple vinaigrette. Of course, there's always pasta with porcini cream sauce if you're looking to keep it classic.
Black Trumpets
These mushrooms hold a lot of dirt, so take extra care when cleaning and prepping them. They smell like the earth and have a deep, dark color that give them a dramatic twist. Farmerie likes to dehydrate and powder them, creating a black dust that he sprinkles on cod or makes into an umami-rich "black butter."
More mighty mushrooms on Food Republic: