Light Lunch: Stuffed Portobello Mushrooms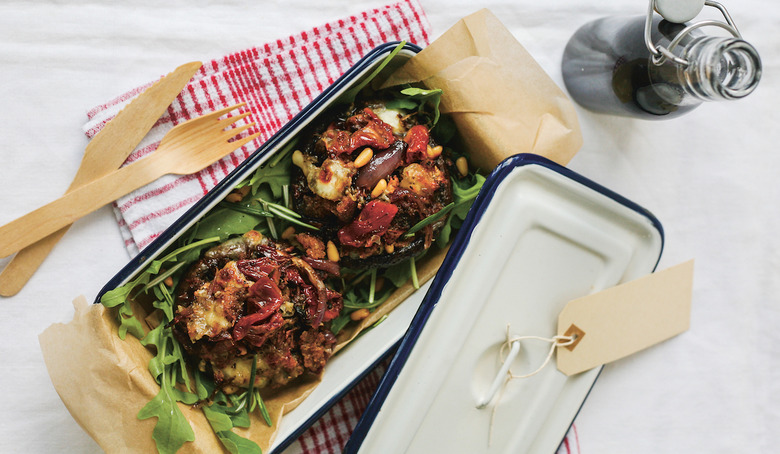 We may receive a commission on purchases made from links.
Lunchtime is one of the most important moments of the day. You take a break from work (ideally), sit down and enjoy something delicious. Or do you? The concept of #saddesklunch has taken over workplaces all over the country, and food stylist and author Bec Dickinson won't stand for it any longer. Peruse her collection of fantastic, portable lunches and give your noontime meal a much-needed makeover. These stuffed portobello mushrooms go where you go!
Portobello mushrooms have a strong, earthy flavor and will fill your kitchen with a tantalizing aroma, making these hard to save for the next day.
Light Lunch: Stuffed Portobello Mushrooms
Give your noontime meal a much-needed makeover. These delicious vegetarian stuffed portobello mushrooms pack up to go where you go!
Servings
4
lunch portions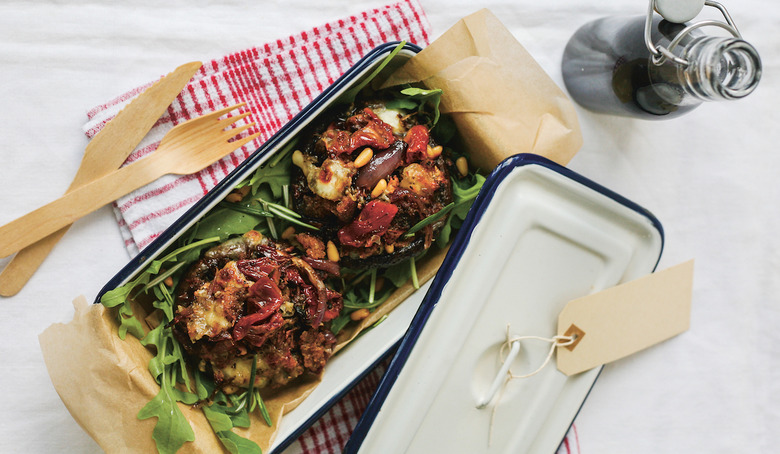 Ingredients
4 large Portobello mushrooms
4 tablespoons olive oil
1/8 cup butter
2 sprigs rosemary
1 large red onion
2 garlic cloves
1 2/3 cups sundried tomatoes in oil
2 1/4 ounces sourdough bread
1 tablespoon pine nuts
1 tablespoon dried oregano
Generous 3/4 cup mozzarella
Scant 1/2 cup Cheddar
Salt and freshly ground black pepper
salad leaves
Balsamic dressing (optional)
Directions
Preheat the oven to 350ºF. Line a baking tray with baking parchment. Remove and reserve the stalks from the mushrooms and place the mushrooms on the tray. Drizzle 2 tablespoons of the oil over the mushrooms, place one-quarter of the butter on top of each, sprinkle over the rosemary leaves and season. Roast for 10 minutes. Remove from the oven and allow to cool.
Heat the remaining olive oil in a saucepan over a medium heat. Add the onion and sauté for 5 minutes, then add the garlic, mushroom stalks, sun-dried tomatoes and oil, and cook until soft.
Add the breadcrumbs, pine nuts and oregano. Increase the heat to high and cook until golden and crispy. Season.
Preheat the broiler to 400ºF. Toss the mozzarella and cheddar into the breadcrumb mixture and spoon in the mushroom cups. Broil until golden brown on top.
Once cooled, pack the mushrooms into a lunch box and store in the fridge. To serve, heat in a microwave until warmed through. Serve with the salad leaves and balsamic dressing.