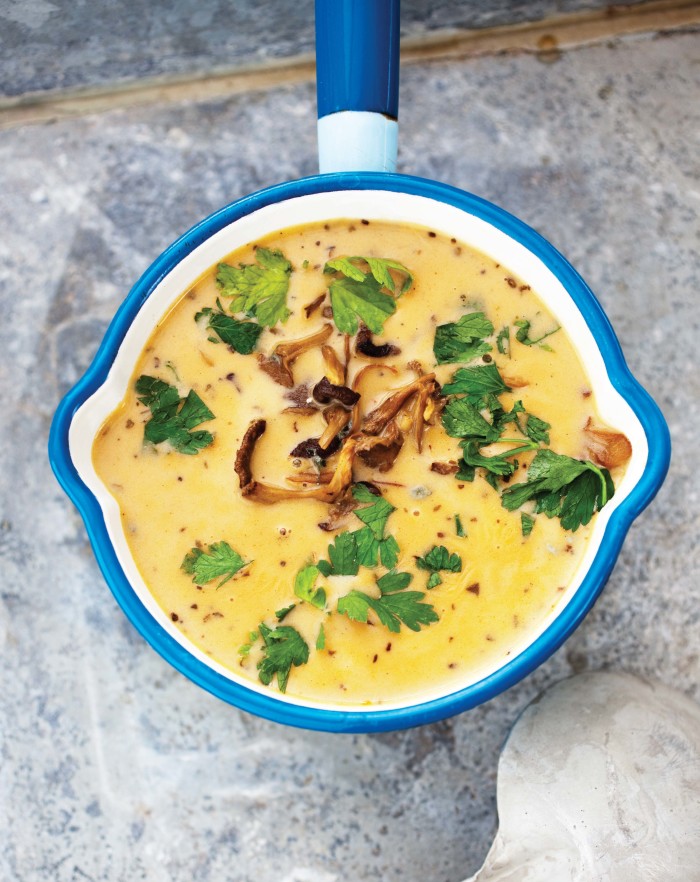 Nordic cuisine is hot — we don't need to tell you that. With several of the world's best chefs hailing from northern Europe, this is the food you should be cooking now. Renowned culinarian, recipient of countless food and media awards and founding editor of Gastronomica: The Journal of Food and Culture Darra Goldstein's latest work is a comprehensive collection of recipes from all over Scandinavia. Take it from her: You can do this (and definitely should).
Foraged mushrooms are a mainstay of Nordic cuisine, so grab the nearest mycologist or hit the farmers' market or specialty grocer for chanterelles. These savory yellow mushrooms make a hearty, creamy soup that will make you forget all about buttons, portobellos or anything else you can find at the supermarket. Whip up a batch for the first course of your next dinner party in less than an hour, and wow your guests with this simple Scandinavian favorite.
Reprinted with permission from Fire and Ice: Classic Nordic Cooking
Ingredients
1

pound

chanterelles

3

tablespoons

butter

1/4

cup

finely chopped yellow onion

1/4

cup plus 2 tablespoons

finely chopped fresh parsley

2

tablespoons

flour

3

cups

vegetable broth

1/2

cup

heavy cream

salt and freshly ground pepper
Directions
For the soup
Pick over the mushrooms and wipe away any forest debris with a damp paper towel. Chop them medium fine.

Melt the butter in a saucepan over medium-low heat and add the mushrooms, onion, and 1⁄4 cup of the parsley. Sauté until the moisture released by the mushrooms evaporates, about 6 minutes. Sprinkle with the flour and stir for a minute more, then gradually whisk in the broth.

Raise the heat to bring to a boil, then lower the heat to simmer for 20 minutes. Stir in the cream, taking care not to let the soup boil. Season with salt and pepper to taste. Stir the remaining 2 tablespoons of parsley into the soup and serve hot.