Crispy-Bottomed Oyster Mushroom Steaks With Chimichurri Sauce Recipe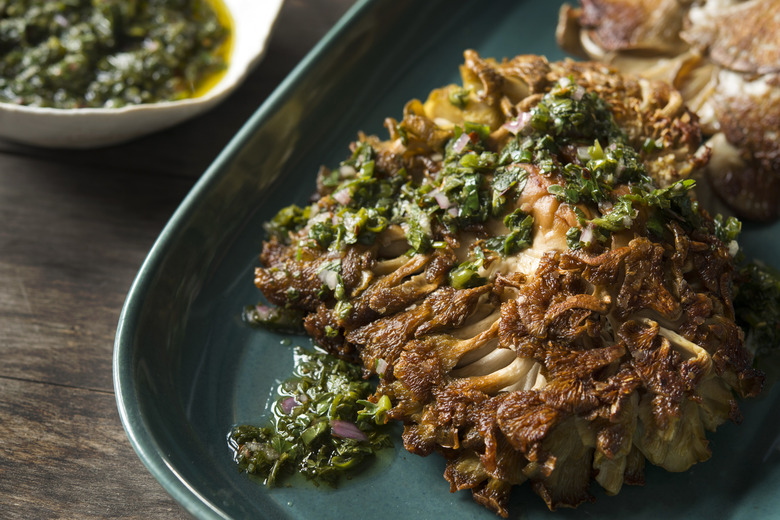 These mushrooms could give that steak a run for its money. (Photo: Evan Sung.
We may receive a commission on purchases made from links.
This recipe is part of Crispianity: a column devoted to all foods crispy and crunchy, two of the most underappreciated attributes of a great dish. Author Adeena Sussman is a food writer and recipe developer, pairing here with her friend, photographer Evan Sung. Sussman's most recent cookbook, co-authored with Lee Brian Schrager, is Fried and True: More Than 50 Recipes for America's Best Fried Chicken and Sides.
The best steak you'll ever have may just be a mushroom. But not just any mushroom: An oversized cluster of the oyster variety that crisps up in the pan, developing a deep brown crust and undeniable meatiness that just might have you convinced, if only for a moment, that you're eating a hunk of meat instead of a mycological miracle.
I get the mushrooms at my local farmers market from Joseph Rizzo, the genius mushroom farmer behind Blue Oyster Cultivation near Ithaca, New York. His mushrooms are unlike any you've ever seen: pristine, velvety and gorgeous in both their dove-grey and lemon-yellow varieties. They're almost too pretty to eat, but you'll get over it pretty quickly once you taste the finished product.
I've spent a lifetime obsessing over mushrooms, and my first thought was to break the bouquet-like bunches into smaller hunks for sautéing, roasting or pasta. But these beauties were too beautiful to break down. And besides, just like a roast chicken or a perfect double-cut rib eye, I realized pretty quickly that these mushrooms should be left whole for cooking to preserve their shape and as many internal juices as possible.
After much trial and error, I realized that the best way to cook them was in fact the same as my preferred method for steak: Season simply, start in cast-iron, finish in oven. The mushrooms develop an alluringly crisp underbelly, and the petal-like leaves on the top shrivel slightly and char around the edges, creating a ton of textural variety in every bite. If you can't find the whole clusters, smaller ones work just fine – you'll get the same effect, just count on less cooking time and a less visually impressive finished dish.
The accompanying chimichurri sauce, packed with fresh herbs, garlic and spice, adds a tangy counterbalance. It clings to the topographically varied mushrooms, adding extra flavor in every bite. Just make sure to take the time to chop all the herbs by hand; shortcutting with a food processor yields black, clumpy, bland-tasting herbs.
Just like next-day steak, the leftover mushrooms (and chimichurri) make great sandwich fixings. The mushroom recipe can easily be doubled; just use a slightly larger skillet and up the oil by 1-2 tablespoons.
Crispy-Bottomed Oyster Mushroom Steaks With Chimichurri Sauce Recipe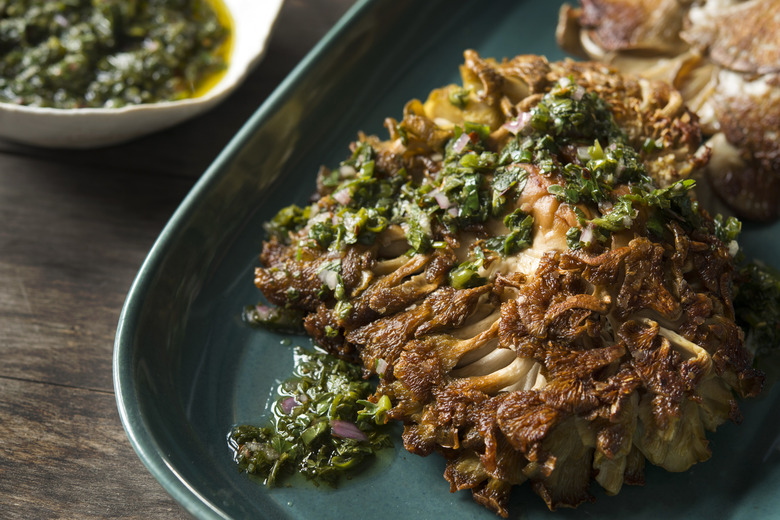 Ingredients
1 large (one-pound) oyster mushroom cluster
2-3 tablespoons canola oil (you can use olive oil
Salt and freshly ground black pepper
1/2 cup olive oil
6 tablespoons red wine vinegar
6 tablespoons finely hand-chopped fresh parsley
2 tablespoons finely hand-minced scallions (or more chives)
2 tablespoons finely hand-chopped fresh oregano
2 tablespoons finely hand-minced chopped chives (or more scallions)
1 tablespoon finely hand-chopped fresh mint
1/2 teaspoon fine sea salt
1/4 teaspoon chili flakes
Directions
Combine all of the ingredients in a bowl and stir to combine; reserve.
Take a look at the bottom of your oyster mushroom cluster and trim the bottom so you can make it as flat and level as possible. Preheat the oven to 500°F.
In an 8- or 9-inch cast-iron skillet, heat the oil over medium-high heat until really hot but not smoking; If you don't have a cast-iron skillet or don't feel like doing any heavy lifting just about now, a nice heavy-bottomed All-Clad or other stainless skillet will do just fine, thanks very much. Just before you place the mushroom in the skillet, hit the heated with a generous sprinkling of the salt and pepper.
Place the mushroom in the skillet, arranging it however it lies the flattest and allows the most surface area to be directly touching the skillet. Cook on the stovetop, tying not to move, until the bottom is deeply browned, 5-6 minutes.
Sprinkle the top with additional salt and pepper, transfer to the oven, and roast until the mushroom's edges appear to be slightly wilted and possibly a little charred, and additional 6-7 minutes.
Remove from oven, transfer to a serving platter and drizzle with the chimichurri sauce.
Meatless Mexican: Grilled Portobello Mushroom Tacos Recipe
Wild Mushroom Quinotto Recipe
Wild Mushroom Couscous Recipe
Foraged Mushroom Gratin Recipe