Truffle Baked Macaroni And Cheese Recipe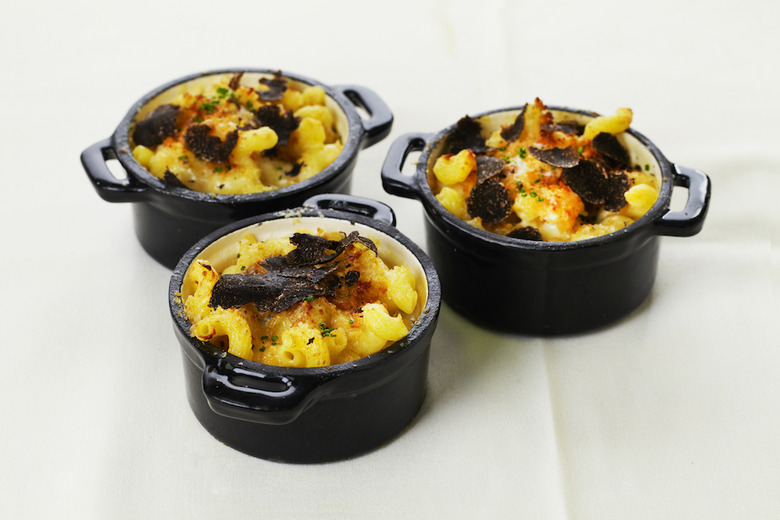 Pinky's up, mac and cheese fans. (Photo: Bullfrog & Baum.
Truffle macaroni and cheese is no newcomer to the elevated comfort food scene — in fact, it was one of the dishes that spawned a whole movement of Kobe dogs, foie gras dumplings and willy-nilly dollops of creme fraiche on everything. If you want to learn how to make this modern classic right, look no further than chef to the Oscar stars, Wolfgang Puck. That makes this the real deal.
Truffle Baked Macaroni And Cheese Recipe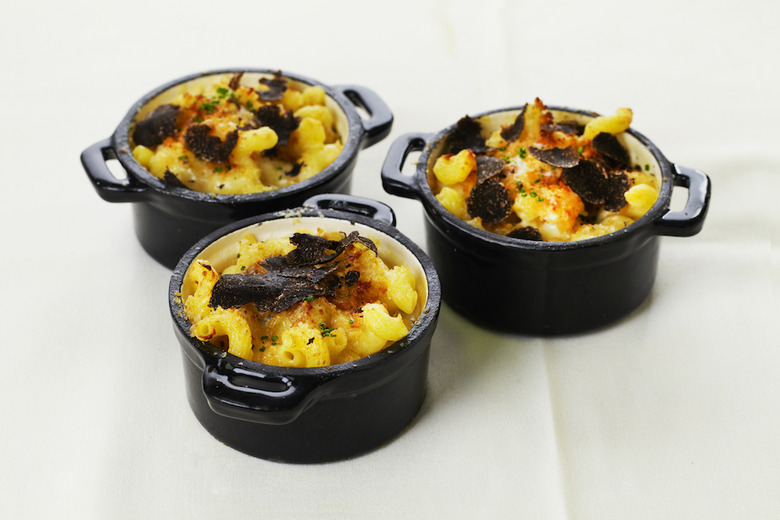 Ingredients
8 ounces elbow macaroni
6 tablespoons butter
3 tablespoons flour
3 1/2 cups milk
1/2 medium white onion
1 bay leaf
1 teaspoon kosher salt
1 teaspoon black pepper
1 pinch cayenne pepper
3 tablespoons black truffles
10 ounces sharp aged white cheddar
3 ounces Gruyere
1 ounce Parmesan cheese
2 drops black truffle oil
1 cup brioche breadcrumbs
2 tablespoons parsley
sliced black truffles
Directions
Preheat oven to 350 degrees F.
In large pot of boiling salted water, cook the macaroni to al dente (approximately 7 minutes). Strain and place on a lightly oiled sheet pan.
While the macaroni is cooking, in a separate pot, melt 3 tablespoons of butter and whisk in the flour. 
Continue to cook over low heat for 4 minutes stirring constantly. Add the milk, chopped truffles, onion and bay leaf. Simmer for 10 minutes. Remove onion and bay leaf.
Turn off the heat and add 3/4 of the aged cheddar and all of the other cheeses. Season with salt and black pepper and fold in macaroni. Pour into a 2-quart casserole dish. Top with remaining cheddar.
Melt the remaining butter in a sauté pan and toss bread crumbs and parsley to coat. Top the macaroni with bread crumb mixture. Bake for 30 minutes. Remove from the oven let stand for about 5 minutes. Serve with fresh shaved black truffles.