How To Hack 11 Traditional Canned Soups For Extra Flavor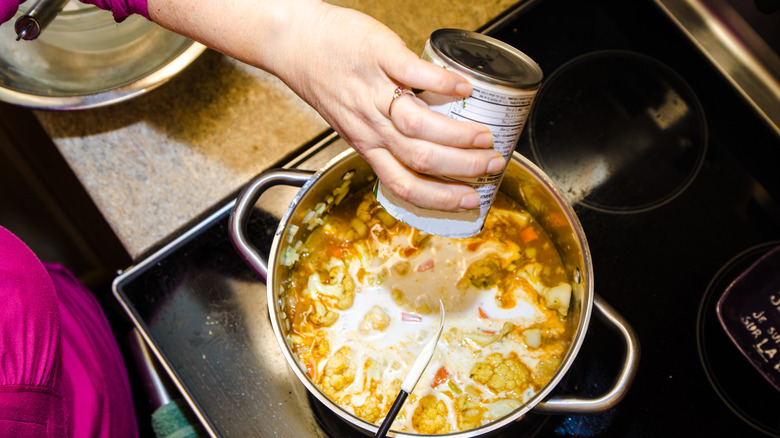 Marc Dufresne/Getty Images
Canned soups are quick, cheap, and cheerful ways to get some sustenance into you in a pinch. Although guaranteed to be an interesting, and very likely, entertaining watch, you don't need to see legendary chef Grant Achatz taste test canned soups to know that not all canned soups are equal. According to The Guardian, they can be somewhat lacking in the taste department thanks to something called volatile flavor compounds — food molecules that influence the intensity of food but are negatively impacted by the cooking process — and as a result, many of your favorite soups come pre-cooked out of the can with less flavor than they should.
The good news is all of the most popular canned soups in America can be made to taste better with a few simple hacks. That starts with adding aromatics like garlic, ginger, or onions, to the mix, along with an extra helping of spices from basic salt and pepper to curry powders from different regions. The addition of meat and vegetarian replacements like chicken or tofu, as well as carbs like rice or legumes add additional heft to any canned soup. Veggies and a splash of citric acid can brighten up a boring tomato soup.
Read on to discover more hacks specific to your favorite soups that are guaranteed to bring out their natural flavors, while also elevating them through the addition of one or more ingredients you've never considered.  
Chicken Noodle Soup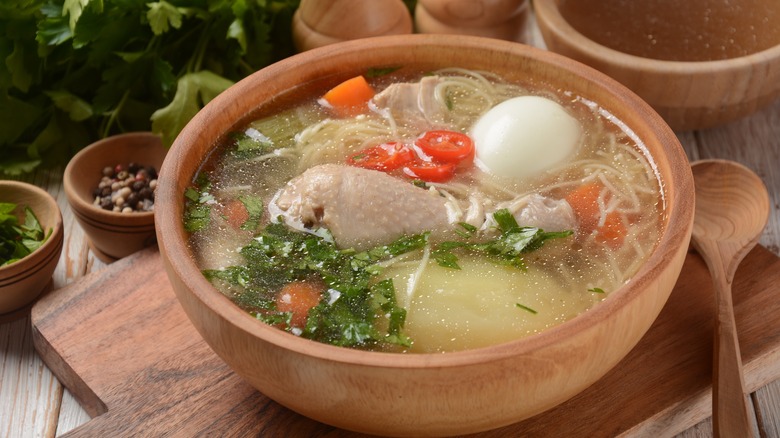 Natalia Hanin/Shutterstock
Chicken noodle soup is probably the MVP of traditional soups, and with good reason. The rustic, comforting nature of the soup creates nostalgic memories for many of grandma's or mom's cold and flu-soothing meals. Chicken soup definitely is for the soul, and upgrading canned chicken noodle soup is probably simpler than you would think. What came first, the chicken or the egg? Our first hack makes the question almost irrelevant with the inclusion of whisked eggs in your stovetop soup and the Chinese-Italian hybrid influence of egg drop soup and Italian stracciatella. This hack introduces more body and hunger satisfying protein to your canned soup. The simple addition of one or two whisked eggs — stirred one way into a simmering pot of chicken noodle soup — helps bring out more of that natural chicken flavor and volatile flavor compounds that may have been lost in the process of canning.
Another hack for canned chicken noodle soup includes building a foundation of flavor with a mirepoix, a standard of classic French cooking employing two parts onions, one part celery, and one part carrots. Dice the vegetables and sauté them in a pot with olive oil before pouring your chicken noodle soup in.
When it's all soft and the flavors are incorporated into your soup, you'll quickly realize that this is more than a simple chicken soup out of the can. 
Tomato soup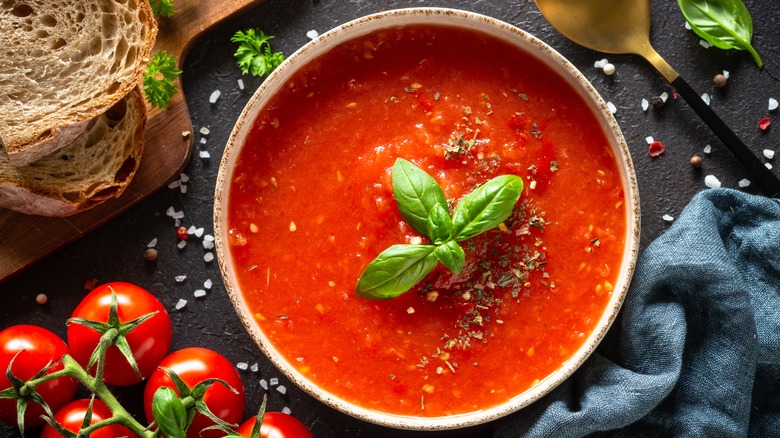 nadianb/Shutterstock
Tomato soup is basic but with just a few hacks, it can very easily go beyond expectations. When considering the history of the Campbells tomato soup can — you're talking about 120 years of history by the way — you realize very quickly it's a story of inspiration. Specifically, founder Joseph Campbell's love of New Jersey beefsteak tomatoes led to his revolutionary idea of selling condensed soup in a can.
There are a number of additions that can be made to boost the flavor of canned tomato soup. As mentioned in the intro, don't sleep on your spice rack. Bring the heat with fresh cracked Black pepper, or a dose of smokiness with dried red chili flakes. Thicken your soup into more of a buttery stew with the addition of heavy cream, or go the vegetarian route with coconut milk to add a hint of the unexpected. Fresh herbs like basil, rosemary, and oregano are a match made in heaven where tomatoes are concerned. There's a reason they are the tasting notes in every tomato-based pasta, and to that point, pasta also goes amazingly well with herby tomato soup.
Our roasted tomato soup recipe (courtesy of the Clean Plates Cookbook) makes for another incredible use of canned tomato soup, and just by substituting oven-roasted tomatoes with a can of fire roasted tomatoes, you can knock 40 minutes off of the cooking time. 
Ramen soup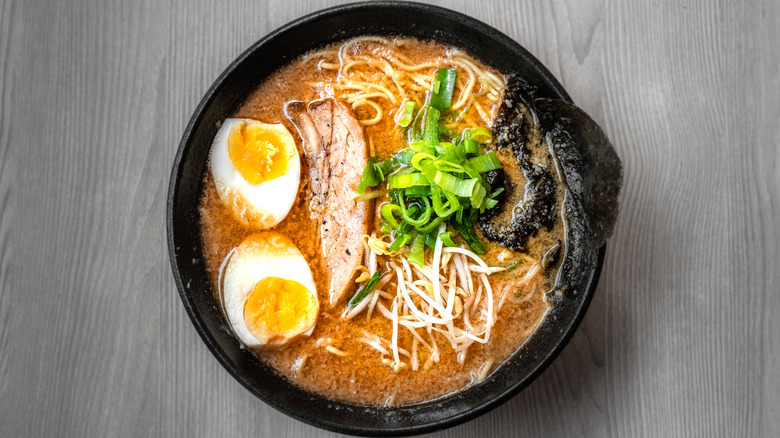 hijodeponggol/Shutterstock
A favorite of many a college student, instant ramen soup is almost infinitely hackable. To seriously upgrade your instant ramen, add good quality Asian sauces that will marry well with your ramen. Soy sauce and miso paste can punch up your salt quotient in amazing ways. A drizzle of sesame oil delivers a hint of nuttiness, while sriracha over cooked noodles brings a hit of savory heat. Scallions and sour citruses, like lemon or lime, are aromatics that bring out the ramen's traditional flavor notes. Of course, the addition of proteins like eggs or even spam elevates ramen from dorm room study snacks to full-fledged dinners. Quoting Japan Today, whose editors taste tested 1 tablespoon of sake in a bowl of instant ramen, sake "brought out more of the sweetness in its flavor profile, and also imparted a bit of pleasant creaminess to the broth's mouth feel."
Try ramen with scallops, bacon, and eggs. This works for brunch, lunch, or dinner, and the addition of the aforementioned sake or white wine works well here too. Prep all your cooked proteins — 8 slices of bacon, 4 big or 12 little scallops, and 4 lightly boiled eggs — ahead of time. When your instant ramen is ready and the noodles are cooked through, add the aforementioned ingredients, along with 2 teaspoons of chili oil or sriracha, 1 1/2 teaspoons of mirin, 2 ounces of pea shoots, sake, and 2 teaspoons dashi powder. Take a picture so it lasts longer and share this recipe for ramen porn with your old college roommate. 
Cream of mushroom soup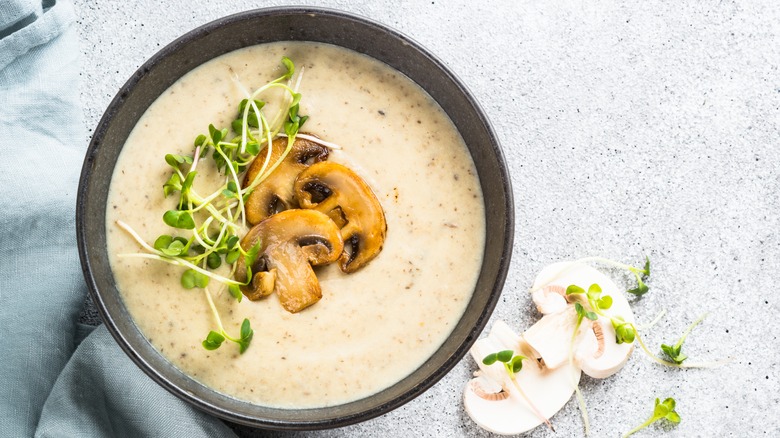 nadianb/Shutterstock
Cream of mushroom soup is widely known, if not widely appreciated. The gloopy can-based soup can be hard to envision as a satisfying meal on its own, so it often ends up as a gravy base for meatloaf or roast beef. However, tamari soy sauce, miso paste, and marsala wine create an umami-rich cream of mushroom soup, while the addition of aromatics — 3 chopped shallots and cloves of garlic, 1 teaspoon of dried thyme — to 3 tablespoons of butter add layered flavor notes to a buttery soup. If this was being made from scratch, the recipe would require flour and vegetable broth, but since your soup is straight out of the can you can skip those ingredients altogether. For a creamier canned soup, you could add ½ a cup of whole cream to the pot while the soup is still on the stove.
Staying on the thicker side of things, this creamy chanterelle soup recipe can be employed as a hack for canned soup even without the chanterelle. Replace the dried thyme with chopped fresh parsley and the garlic and shallots with 1/4 cup finely chopped yellow onion for a tasty but simpler version of the previous recipe. 
Lentil soup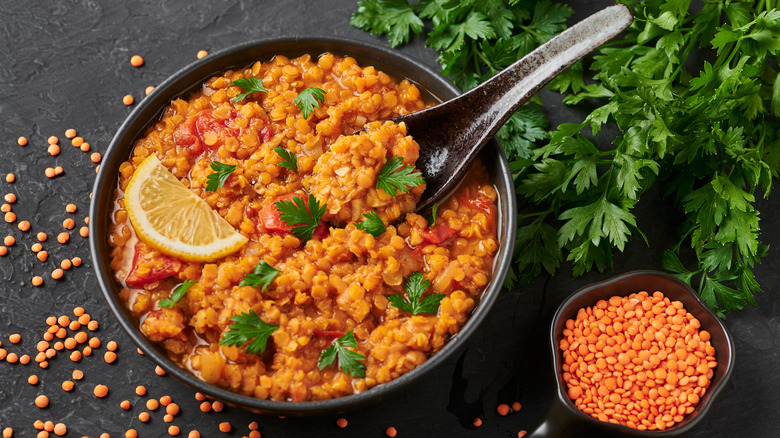 Kravtzov/Shutterstock
According to a Delish interview with Food Celebrity, Ina Garten, 2 tablespoons of red wine or red wine vinegar in your bowl of lentil soup is the extra flavor hack you never knew you needed. While trying to find something to pack in some unexpected zing to her lentil soup, Garten is quoted in the interview as saying, "I just wandered to the refrigerator and pulled out some red wine vinegar and added just a splash to the huge pot. And that was it." The acid in the vinegar helps lentil soup pop, and in fact, any acid including lemon or lime will have the same effect. The extra added bonus with pre-cooked canned soup is there's no danger of your lentils not softening as is the case with adding acid to uncooked, dry lentils.
Another hack you could try is the addition of herbed yogurt. Place 2 teaspoons of finely chopped tarragon, 1 teaspoon of finely chopped fresh parsley, and 1 teaspoon of finely grated lemon zest in a bowl with ½ a cup of Greek yogurt. A dollop of this herbaceous dairy in a bowl of lentils adds a citrus tang and a more pronounced personality to your soup while stirring it into the bowl gives it a thicker, creamier presence in your mouth.
Since lentils are a popular mainstay of South Asian cuisines usually showing up in daal and other curries, the addition of those flavor profiles in a spiced coconut lentil soup makes sense. Melt one heavy teaspoon of coconut oil in a pot and saute ½ a large red onion, 1/2 red chili, a knob of ginger, and 1 clove of garlic. Add your can of lentil soup to the pot with a 10-ounce can of coconut milk and spice it up with 1 teaspoon of cumin, 1 teaspoon of paprika, and 1 teaspoon of ground coriander to really play on the Indian culinary influence.
Cream of Chicken soup
Lauripatterson/Getty Images
Cream of chicken soup, with the addition of chicken instead of mushrooms, has fewer PR issues cream of mushroom soup may have. Still, a can of soup needs a little extra something, and leaning into cultural fusion can inject flavors that you love into your humble soup in fabulous ways. Chicken Mulligatawny borrows from traditional South Asian flavor profiles like ginger, chilies, turmeric, cumin, coriander, and coconut milk. By adding more protein in the form of chicken thighs and drumsticks, seasoned and browned in a heated pan with olive oil, you can add extra heft to your soup. The incorporation of all these ingredients will take your Cream of chicken soup way beyond your original expectations.
For another hack, add spinach and shredded chicken breast to your soup for a creamy chicken spinach soup. If you bring home a store bought rotisserie chicken with your canned cream of chicken soup, you can save a lot of time, and with the quickly wilting spinach, you can have an upgraded can of soup in no time at all. 
Pumpkin soup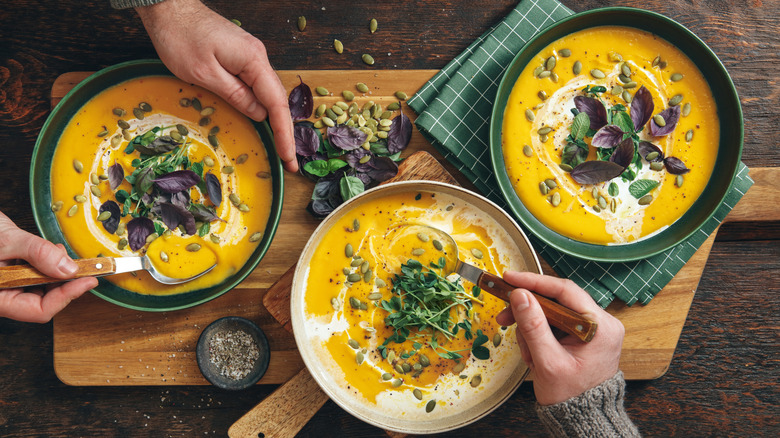 Luchezar/Getty Images
Spiced pumpkin soup is far and away from a pumpkin spice latte, and in our opinion, much better. Again, leaning into the flavor notes of other cultures can provide immediate hacks for your canned soup exploration. In this case, Thailand becomes the cultural foundation for Thai spiced pumpkin soup, a spicy savory upgrade that adds several notches to a simple pumpkin soup. The introduction of Thai red curry paste and coconut milk, 2 tablespoons of fish sauce, and Thai basil provide the traditional Thai taste. 1 teaspoon of brown or coconut sugar juxtaposed with 2 tablespoons of lime or lemon juice provide a perfect balance of tart and sweet. Savory and saccharine.
If you used all your coconut milk on the aforementioned lentil soup, you can still hack the creaminess factor of your soup by letting whole cream do the heavy lifting. Bring out more of the pumpkin's essence with a topping of salted and roasted pumpkin seeds. Pumpkin also makes an appearance in a number of Indian curries, and as such, grated ginger, turmeric, and paprika steer you in the direction of a curried pumpkin soup. 
Bean soup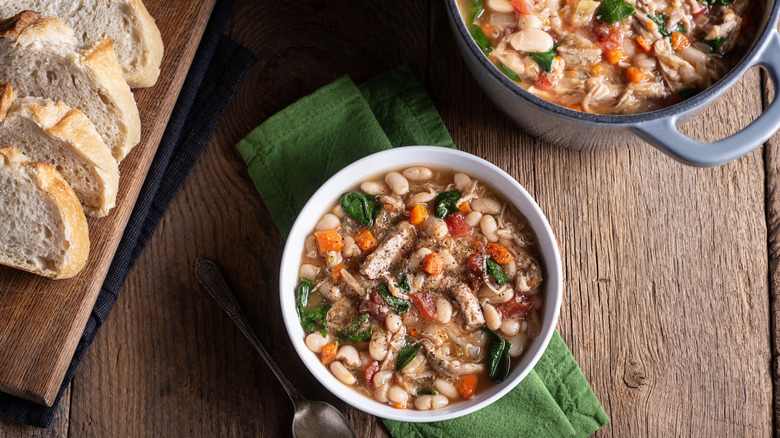 Rudisill/Getty Images
Soups with beans can benefit greatly from the presence of fatty, herb-seasoned ham. Traditionally known by the U.S. Navy (and the U.S. Senate, which has been serving it for over a century) as Navy bean soup, the soup is prized by seamen and politicians alike for its thick, fatty, creamy texture. Filling, cheap, and quick to make, smoked ham hocks, or just simple sliced ham, fuel the soup with a combination of soft beans and meaty, smoky flavor. 
Hack this soup further with the addition of a fresh bouquet of rosemary, thyme, and bay leaves, then sauté some garlic, onions, carrots, and celery to enhance the body and nutritional factor of your soup. If the goal is fall-off-the-bone fleshy ham goodness, then this will be a two-hour, low-and-slow adventure. Of course, if you're just pulling premade ham out of a package, you can have it ready in a quarter of the time.
For another hack, leave out the ham and herbs and add tomato sauce and red wine vinegar instead. One (8-ounce) can of tomato sauce and 2 tablespoons of red wine vinegar add a tangy hit of acid, color, and substantial fullness to the soup. Or, you can leave the ham in the soup and add smaller pasta shells — think macaroni or fusilli — for pasta e fagioli. Look to a Spanish influence on black bean soup with the addition of Spanish onions, green peppers, and bay leaves. 
Beef & Barley soup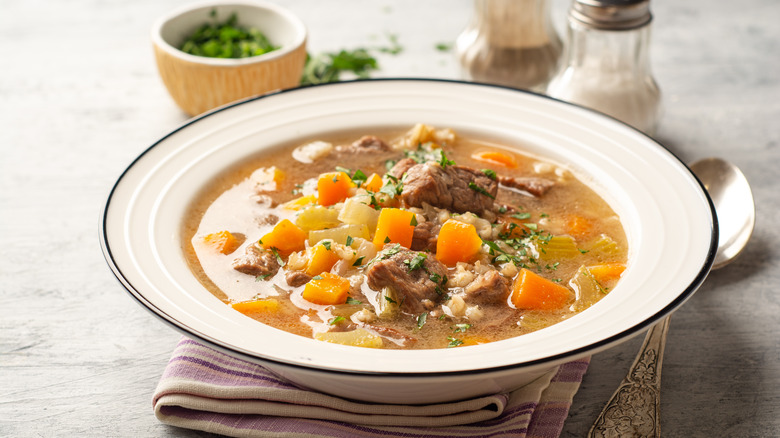 Andrey Zhuravlev/Getty Images
Beef and barley soup is an all-time favorite. Equal parts beef and carbs, it's one of the more filling soups out there — but in this case, something good can be made even better. 
The simple addition of vegetables to your soup, turning your beef and barley into an easy vegetable beef and barley, is an easy hack for any day of the week. This is where you can pay homage to the holy trinity of celery, onions, and carrots known as a mirepoix, the perfect veggie base for the soup. Not only does it translate into a more substantial soup, but it also enhances the flavor with the same effect as dropping a bouillon cube in the pot. Add cubes of fresh beef chuck to the pot until it's cooked through, then add your canned soup to the mix.
Since you're cooking with beef, add herbs and aromatics that act as an ideal companion, like rosemary and thyme. Aside from an incredible scent, the additional herbs will only add greater complexity to the soup. More flavor and more food make for a winning upgrade.
Clam Chowder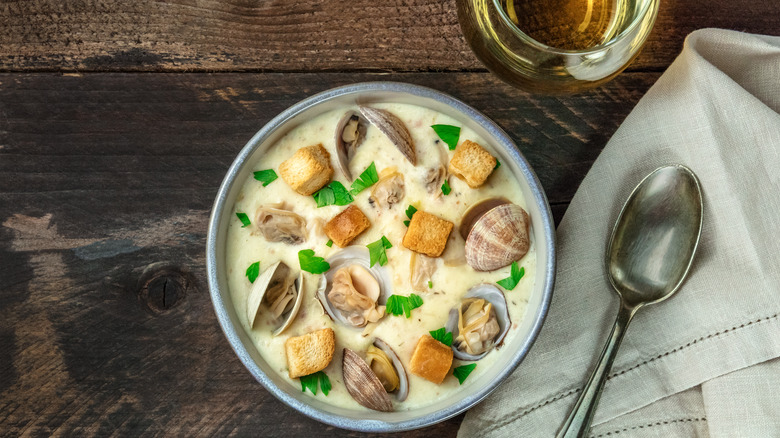 Plateresca/Shutterstock
Clam Chowder needs no introduction. The creamy seafood soup is a favorite of many, particularly the New England version, which is the standard upon which most canned soups rely. Of course, soup out of the can will never be as good as a homemade soup, but with a little bit of hacking you can close the gap. 
One easy hack is to add some Asian influence to your Bostonian chowder with the addition of miso paste. The briny umami of miso in the seafood soup makes the dish pop. According to Japanese Taste, your best bet is to go with the white miso variety, the least fermented and sweetest of the three types (red, white, and yellow).
Lucky Peach's miso clam chowder starts with a homemade soup in mind, but the basics can be adapted for canned soup quite easily. You don't need to add clam juice unless you intend to add more cream to the soup. This can be made with or without the addition of clams, but adding the red potato for some filling carb action sounds like a winning idea. Or add half a pound of thickly sliced bacon to the soup for a vineyard clam chowder soup to die for. Smoky, fatty cuts of bacon leave their mark in the creamy, buttery broth, only serving to enhance the flavor.
Split Pea Soup
Luchezar/Getty Images
Another soup that reaches unfathomable levels with the assistance of baked ham, split pea is the other white meat's spirit animal. Honeybaked ham provides sweet and smokey flavor profiles alongside a mirepoix of vegetables, while garlic, thyme, and oregano add spice and flair to the soup. The added bonus of using canned soup comes with significantly reduced cooking times.
Adapted from a slow cooker recipe for Southern black-eyed pea soup, Kielbasa sausage stands in for ham or bacon and works surprisingly well. Creole-influenced aromatics and spices in the form of Cajun seasoning, hot sauce, and collard greens enhance the taste and texture of split pea soup. For a fuller-bodied soup, add cooked wild rice to the soup at the last minute. Be sure to not to cook the rice with the soup — the rice will soak up most of the liquid in your soup and you'll end up with split pea soup-flavored rice, which sounds interesting but isn't the goal.
These hacks will help you make the easiest split pea soup in the shortest amount of time, packed with an immense amount of flavor.