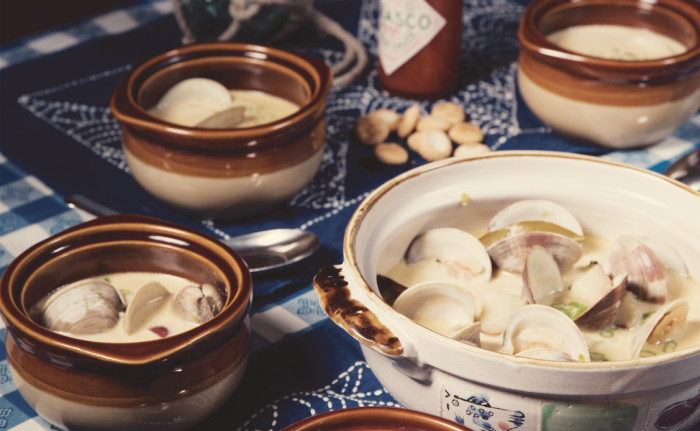 The editors of the popular food journal Lucky Peach are clearly big fans of Asian food. Their new cookbook shows you easy ways to make excellent Asian dishes at home, like this pumped-up New England clam chowder. 
The more "Asian" point of view would be to say that adding clams to dashi makes a great soup (it does) or that adding clams to miso soup makes a great soup better (also true). But since cross-cultural co-option is a two-way street, how about this: Miso makes a classic Boston clam chowder even better.
Reprinted with permission from Lucky Peach Presents 101 Easy Asian Recipes
Ingredients
2

tablespoons

unsalted butter

4

scallions, thinly sliced, whites and green separated

2

garlic cloves, minced

1

bay leaf

1

tablespoon

thyme leaves

2

cups

clam juice or water

1

cup

red potatoes, cut into 1/2-inch pieces

16

littleneck clams, scrubbed

2

tablespoons

red miso

1/2

cup

heavy cream

sea salt and black pepper

Optional garnishes: cilantro, a few drops of fish sauce, lime, white pepper, crisp bacon lardons
Directions
For the chowder
Melt the butter in a medium saucepan over medium heat. Add the scallion whites and garlic and sauté until softened, about 4 minutes. Add the bay leaf, thyme, clam juice, and potatoes. Bring to a simmer, cover, and cook until the potatoes are tender, about 20 minutes.

Add the clams, cover, and simmer gently until the clams open, about 5 minutes. Remove from the heat.

Measure the miso into a small bowl and add a ladleful of the hot clam broth. Knead the miso with the back of a spoon until it dissolves into the broth, then pour the liquid back into the pan along with the cream. Season with salt to taste and a generous amount of pepper and stir in the scallion greens. Divide among 4 serving bowls and garnish as you see fit.