Vineyard Clam Chowder Recipe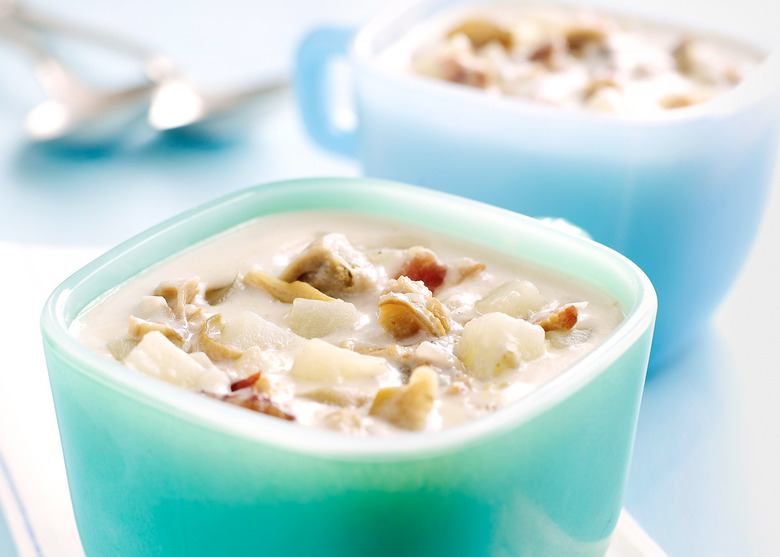 Larsen's Seafood Market is in Menemsha, on the island of Martha's Vineyard. Betsy Larsen — who owns this wonderful market — shared this recipe. Last summer, I learned an important lesson when I decided to make this Vineyard clam chowder recipe. Well, it looked beautiful, but it tasted like a sand bar. (I'd thought I would be clever, and used the water that I soaked the clams in for the broth. Big mistake! Be sure to soak and rinse the clams thoroughly, and do not use the leftover liquid!) On the Vineyard and throughout the Cape Cod area, strained frozen clam juice is usually available from the local fishmongers.
Vineyard Clam Chowder Recipe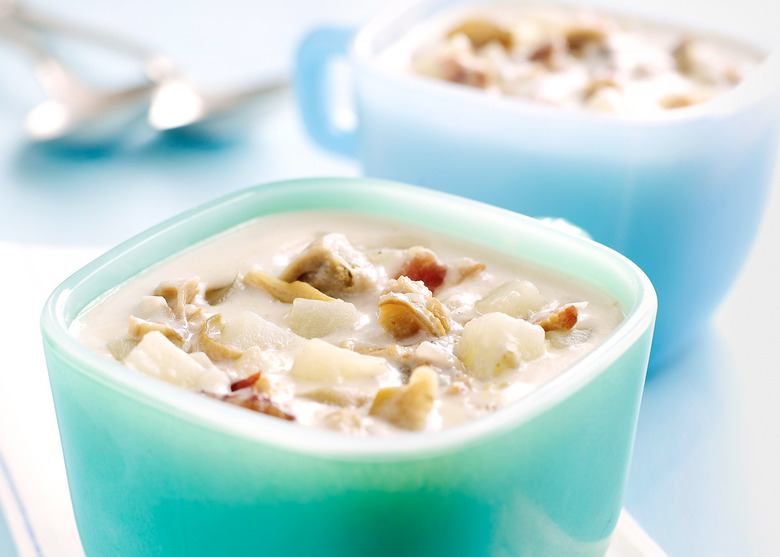 Ingredients
3 tablespoons butter
1/2 pound thick-sliced bacon
1 large yellow onion
6 large russet potatoes
1 quart (4 cups) strained clam juice
1 1/2 quarts (6 cups) chopped clams
2 cups half-and-half
Directions
Place a very large, heavy soup pot or Dutch oven over medium-low heat and add the butter. When it has melted, add the bacon and cook until crisp and golden brown. Transfer to paper towels with a slotted spoon, shaking gently to leave behind most of the butter.
Add the onion and cook, stirring occasionally, until softened and translucent, about 5 minutes.
Add the potatoes and clam juice and bring to a boil. Reduce the heat to low and simmer gently, partially covered, until the potatoes are just tender, 8 to 10 minutes. Add the clams and cook until tender but not tough, about 2 minutes more.
Meanwhile, in a small saucepan, heat the half-and-half just up to the simmering point (watch carefully—it can boil over in an instant). Stir the hot half-and-half into the chowder and crumble the bacon over the top; do not allow to boil!
Taste for seasoning; add salt only if necessary, and pepper to taste. Serve in warm bowls.
If using live quahog clams, soak about 10 pounds clams in cold water to remove all remaining sand. (Discard soaking water!) Steam over simmering water just until the clams open (discard any clams that have not opened after 7 minutes). Chop the clams into 1/2-inch pieces. Use minced clams or clam strips if whole clams are not available.
If you prefer a thicker chowder, make a beurre manié by whisking 4 tablespoons flour into 4 tablespoons very soft butter, to make a paste. Add this paste to very hot chowder and bring up just to a simmer; cook for a minute, stirring, until thickened to the desired consistency.
Be careful when seasoning any seafood soup with salt; it may not need any at all.