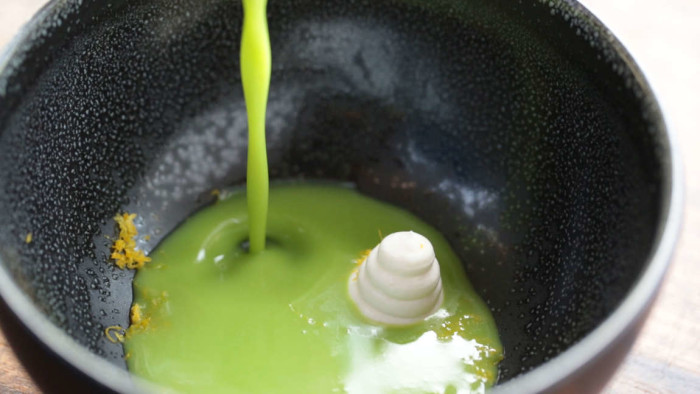 Because peas have such a short season, the frozen variety are often on hand. If you're looking for a taste of springtime on a dreary winter night, ChefSteps has just the recipe. This recipe for chilled pea soup includes a simple hack using the beloved microwave that makes this the easiest pea soup ever. Garnished with ricotta, lemon zest and drizzle of truffle oil, the soup is a beautiful, light and simple starter to any meal. Check out the recipe and video below.

https://www.youtube.com/watch?v=G8su8mVVBF0

Ingredients
3 tablespoons onion
Scant 1/3 tablespoons garlic
Scant 1 cup frozen peas
Heaping 1 1/2 cups water
Ice, as needed
1/3 tablespoon tarragon, leaves
Salt, as needed
1/3 cup ricotta
Zest of 1 lemon, as needed
Olive oil, optional, as needed
Directions:
Use a mandoline to shave onion and garlic into thin pieces of equal size.
NOTE: If you don't have a mandoline, don't sweat it. Just slice the onion and garlic with a knife.
Combine onion, garlic, peas and water in a large microwave-safe container. Cover tightly with plastic wrap.
Place bowl in microwave and cook on high for eight minutes. When food has cooked, use a knife to puncture plastic wrap and allow steam to escape. Take bowl out of the microwave and remove plastic wrap.
Add ice to a large bowl, leaving enough space that you can rest a smaller bowl securely on top. You will chill the soup in the smaller vessel, so make sure it's of suitable size. Place tarragon leaves in the bottom of the blender. Add microwaved ingredients to the blender and blend on high just until a fine purée forms.
Immediately pour soup into bowl for chilling and rest over ice. Stir occasionally. Soup will chill in about 15-20 minutes.
While soup cools, place ricotta in blender and blend on low just until smooth. Check every few seconds to avoid overblending. The cheese should be less granular, with a creamy texture.
Pass chilled soup through a #80 sieve.
HOME-COOK HACK: If you don't have a sieve, you can just season and eat the soup as is. It will be a little chunkier, but still yummy. You can also use a fine-mesh strainer if you have one around the house.
Just before serving, season soup to taste. When making it in advance, hold off on seasoning until just before serving to help keep the color intact.
Add a generous dollop of ricotta and a sprinkling of lemon zest to the bottom of each serving dish. Pour soup over garnishes. Finish with olive oil (if desired) and enjoy.
ChefSteps comprises a team of award-winning chefs, filmmakers, scientists, designers and engineers focused on revolutionizing the way people cook by inspiring creativity and encouraging expertise in the kitchen. You can also get access to all of ChefSteps' Premium content — including paid classes and dozens of recipes available only to Premium members for a onetime fee — for the special price of $24 (regularly $39). Classes include Sous Vide: Beyond the Basics, Fluid Gels, French Macarons and more!