Chicken Mulligatawny Soup Recipe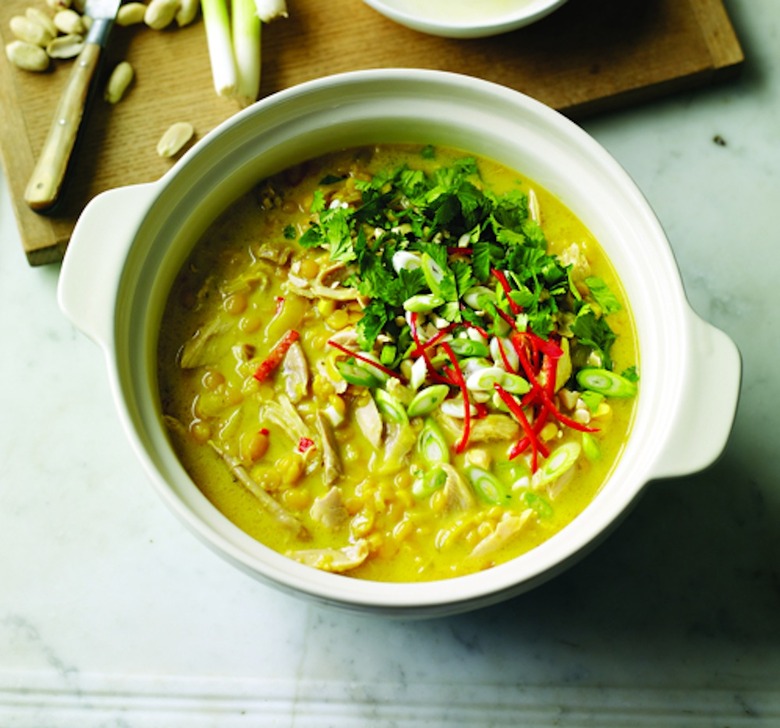 Photo: Richard Jung
I took this soup on after my eldest son started to work his way through endless containers of a supermarket version. Even better than lentil soup, it contains shreds of chicken and that classic trio of ginger, garlic and chile, with lots of toppings to add at the end.
Chicken Mulligatawny Soup Recipe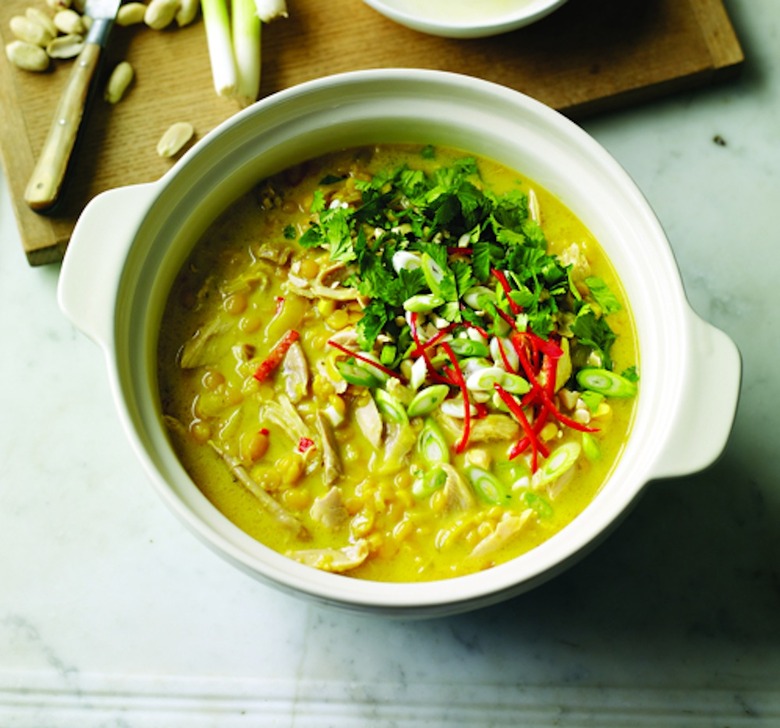 Ingredients
1 tablespoon peanut or vegetable oil
4 chicken thighs
4 chicken drumsticks
1-2 medium-hot red chiles
2 tablespoons finely chopped fresh ginger
6 garlic cloves
6 shallots
1 teaspoon ground turmeric
1/2 teaspoon ground cumin
1/2 teaspoon ground coriander
12 ounces yellow split peas
5 cups chicken stock
1 14-ounce can coconut milk
4 tablespoons fresh lemon juice
coarsely chopped cilantro
finely sliced scallions
coarsely chopped roasted peanuts
finely sliced red chiles
Directions
Heat oil in a large saucepan over medium-high heat. Season the chicken thighs and drumsticks and brown them on all sides. Once browned, transfer them to a bowl. 
Turn down the heat and add the chile, ginger, garlic and shallot to the pan.  Cook until softened and aromatic, stirring occasionally.
Stir in the spices and the split peas and return the chicken to the pan. Add the stock and season with salt.
Bring to a boil, and then cover and simmer for 45 minutes until the split peas are tender and chicken is separating from the bone. Give the soup a stir to make sure split peas aren't sticking.
Remove chicken pieces and transfer to a board or plate. Shred the meat, discarding the skins and bones.
Return the chicken to the soup, add the coconut milk and bring to a boil.
Season to taste with lemon juice and more salt.
Serve in warm bowls sprinkled with cilantro, scallions, chile and peanuts.