Slow-Cooker Southern Black-Eyed Pea Soup Recipe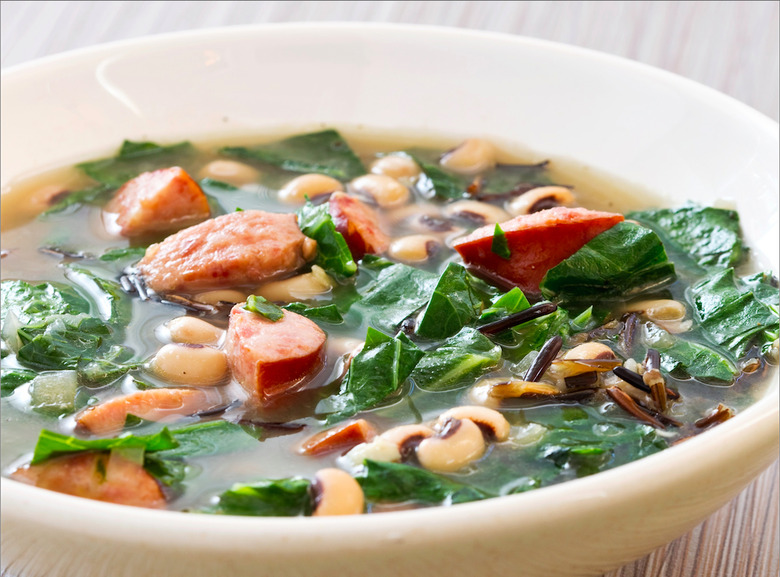 We may receive a commission on purchases made from links.
Welcome to America's Test Kitchen, the promised land of troubleshooting your most basic cooking fails and fixing problems you never knew you had. The editors' new cookbook: The Make-Ahead Cook, is an ever-useful guide that will unobtrusively lead you away from the the take-out menus and back into the kitchen where a much better dinner awaits you. No time to cook? Master the art of "make it ahead of time" and throw some black-eyed peas into the slow cooker, fast.
The slow cooker is the perfect environment for turning dried beans into a creamy, flavorful soup. We wanted to take advantage of this with a classic Southern-style black-eyed pea soup. To give our soup plenty of kick, we added Cajun seasoning and kielbasa sausage. To build flavor, we browned the sausage in a skillet and then sautéed the onions, garlic and Cajun seasoning, transferring them to the slow cooker to simmer away with the beans and combination of chicken broth and water.
The only prep the black-eyed peas needed was to be quickly picked over (to remove any small stones or debris) and rinsed. Then we added them right into the slow cooker where they gently simmered, absorbing the flavors of the sausage, aromatics and seasonings, until they were perfectly cooked. Collard greens and rice, stirred in during the final 30 minutes of cooking, turned perfectly tender and added color and heft. Because kielbasa can be quite salty, be careful when seasoning the soup with additional salt.
Slow-Cooker Southern Black-Eyed Pea Soup Recipe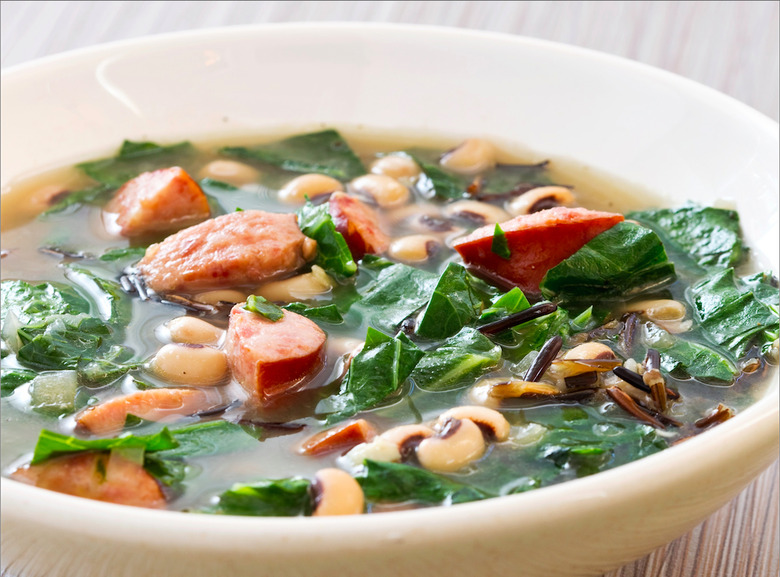 Ingredients
1 tablespoon vegetable oil
8 ounces kielbasa sausage
2 onions
3 cloves garlic
1 teaspoon Cajun seasoning
6 cups chicken broth
2 cups water
8 ounces (1 1/4 cups) dried black-eyed peas
1 pound collard greens
1/2 cup long grain white rice and wild rice blend
1 teaspoon hot sauce
Salt and pepper
Directions
Heat oil in 12-inch skillet over medium-high heat until shimmering.
Brown sausage on all sides, about 5 minutes, transfer to slow cooker.
Add onions to now-empty skillet and cook until softened and lightly browned, 5 to 7 minutes.
Stir in garlic and Cajun seasoning and cook until fragrant, about 30 seconds; transfer to slow cooker.
Stir in broth, water and peas.
Cover and cook until peas are tender, 9 to 10 hours on low or 6 to 7 hours on high.
Stir in collard greens and rice, cover and cook on high until rice is tender, 30 to 40 minutes.
Stir in hot sauce and season with salt, pepper and extra hot sauce to taste.
Sausage and onion mixture can be cooked: transfer to bowl and cool to room temperature, then refrigerate.
Collard greens can be cut in advance and refrigerated.
Blackened Okra With Red Rice Recipe
Classic Cajun Jambalaya Recipe
This Is How You Make Frito Pie