2015: A Year Of Hot Chicken. And Many Other Great Meals Down South.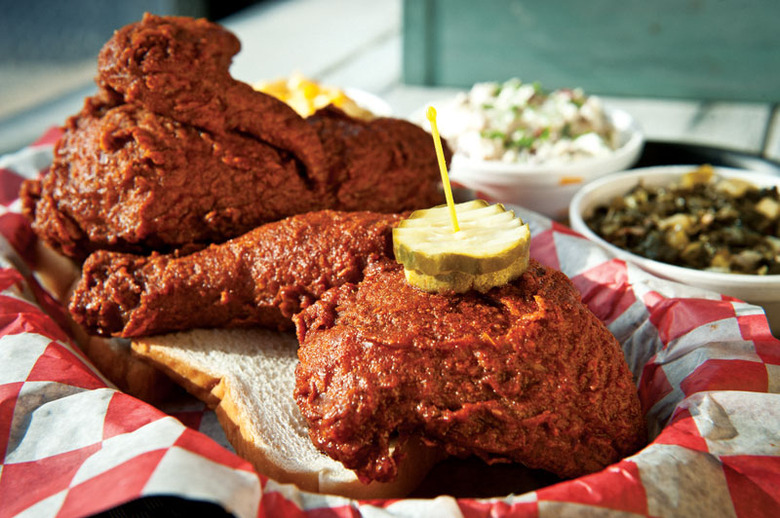 It was the Year of the Chicken, the "hot" kind, the spicy Nashville staple now sweeping the nation. But it was a good year for a lot of other things, too: Remember Bonnaroo? All those great tunes, plus Allan Benton's famous bacon on a stick! We asked some of our writers to list their most memorable meals throughout the American South in 2015. Here are their picks:
Chai Pani (Decatur, Georgia)
Meherwan Irani, I bow down to your determination to define Indian cooking beyond saag paneer and chicken tikka masala. I also bow down to your kale pakoras, which is a vegetable fritter sent from the gods. Your restaurant outside Atlanta, Chai Pani, rewarded me with one of the most interesting meals I had all year. It was relaxed. The well-placed murals and large-format photos on the wall curated by your partner Mikey Files set the mood perfectly. I knew, walking in, that I was taking a trip someplace new. But the headline is that the cooking, from chef Daniel Peach, as well as Irani and a kitchen staffed with a few crucial Indian mothers, is outstanding. Crepe-like uttapam, stuffed with curried peas and carrots with a sambar, as well as a "sloppy jai" made with fragrant chopped lamb and dressed with green chutney, cilantro and sweet yogurt are two highlights of many. We drank some mango lassi, then some bourbon, to wash it down. Bro, this is how you eat in India? Sign me up. 406 W. Ponce de Leon Ave., Decatur, GA 30030; chaipanidecatur.com
—Matt Rodbard
48 Hours in Charleston, South Carolina
Sean Brock's famous cheeseburger at his flagship location of Husk. Brock's seasonal chef's tasting menu at McCrady's. A gigantic charcuterie plate at Craig Deihl's Cypress. A farm-fresh turkey sandwich from Butcher & Bee. Pillowy ricotta gnocchi with pork Bolognese and mint at Chucktown staple Fig. Each item on its own is well worth a flight to Charleston, which is fast — and deservedly — gaining recognition as one of the country's best food cities. It was a combination of months-long planning, an unprecedented level of motivation and an insatiable appetite that allowed me to experience all five over the course of a weekend I'd be quick to replicate without hesitation — or regard for my rapidly expanding waistline.
—George EmbiricosHot Chicken Crawl (Nashville, Tennessee)
I've been unhealthily obsessed with hot chicken since my freshman year at college in Nashville. (Read more here, here and here.) If you haven't had the pleasure, the original Nashville dish consists of a chicken breast, thigh and/or wing marinated in buttermilk, breaded and sauced with a heavily spiced, cayenne pepper–based paste and pan-fried before being served with pickles over white bread. Even though its consumption often leads to full-body discomfort, you always crave more. And crave more I did — to excess — during a weekend trip to my alma mater, when I spent an entire day flocking from one hot-chicken joint to another. My hope was to settle the longstanding debate of which hot bird reigns supreme in Music City. Countless (I do remember the exact count, but I'm not sharing) meals later, I narrowed it down to a top five: Prince's Hot Chicken Shack, Bolton's Spicy Chicken & Fish, Hattie B's Hot Chicken, Pepperfire Hot Chicken and 400 Degrees. For those of you requiring a single choice (and consistently crispy perfection): Hattie B's. There, I said it.
—George Embiricos
Toups' Meatery (New Orleans, Louisiana)
Pig is also center stage at Toups' Meatery in the Mid-City neighborhood of New Orleans. I made two trips to the Big Easy this year, and Toups was my first sustenance stop on both trips. Which is good because with Isaac Toups in the kitchen and his lovely wife Amanda running the front of the house, I couldn't have enjoyed the gastronautic journey nearly as much if I already had something in my stomach. As an occasional gout sufferer, I threw caution to the wind and ordered Toups' Meatery Board on both visits, as if Isaac and Amanda would have let me skip it. This platter is a cornucopia of cured meats, pickled vegetables, fresh sausages and fried boudin balls that will dazzle your senses, both visually and on the tongue. Toups is currently a contestant on Top Chef, and if any of the challenges are meat-centric, my money's on him. 845 N. Carrollton Ave., New Orleans, LA 70119; toupsmeatery.com
—Chris Chamberlain
Ham and Whiskey (Louisville, Kentucky and Palmetto Bluff, South Carolina)
I know it's probably not a big surprise, but a lot of the best things I ate this year came from a pig. Well, not just one pig. I discovered a new favorite flavor combination at two separate bourbon and ham tasting events: one as part of the Bourbon Classic in Louisville, Kentucky, and the second at an event curated by Sean Brock as part of the wildly entertaining Music to Your Mouth festival at Palmetto Bluff in South Carolina. It's a pairing you should certainly try to replicate at home with some of your favorite whiskeys and perhaps some mail-order pig from one of these guys.
—Chris Chamberlain
Charleston Grill (Charleston, South Carolina)
If you want to experience service as it should be (and is in the best international restaurants), go to world-class Charleston Grill. Live jazz, old-world elegance and a deep wine list are just a few notable elements. Talented chef Michelle Weaver combines Eastern and Western flavors in dishes like smoked mackerel unagi (eel) with compressed pineapple and crisped sticky rice, while her seared foie gras with an apple hand pie makes a dreamy dessert. The highlight of my recent visit was GM Mickey Bakst and our gracious server doing "face off" wine pairings, each "competing" for best pairing with each course. This talented, exceptional team, helmed by the witty, gracious Bakst, can do it all, entertaining, impressing and making you feel valued with each pour and course.
—Virginia Miller
Brennan's (New Orleans, Louisiana)
Another NOLA eatery that merited a return visit was Brennan's in the French Quarter. I have eaten there several times over the years, but this was my first chance to try it out since it had changed hands into the Ralph Brennan side of the famous restaurateur family after years of falling into neglect. The cosmetic changes were subtle, but significant as formerly dark and moody rooms were opened up to the light, and the joyous sound of New Orleans residents making dinner plans while enjoying milk punches at brunch returned to the dining space. The classic French/Creole menu has also been revitalized by the injection of enthusiasm of new chef Slade Rushing. It's a challenge to freshen up a menu that generations of New Orleanians know by heart, but Rushing has accomplished the task by returning the focus to fresh ingredients and precise execution. Breakfast at Brennan's is again a relevant ritual for anyone visiting the city. 417 Royal St., New Orleans, LA 70130; brennansneworleans.com
—Chris Chamberlain
Big Night at City House (Nashville, Tennessee)
Whenever Mike Lata makes his way to Nashville from his acclaimed eateries Fig and the Ordinary in Charleston, I always make sure to lock up my own reservation before I tell anybody else about it. So when he came to share the kitchen at City House with his good friend Tandy Wilson, I just kept my damned mouth shut until I was sure that my credit card had cleared. The two talented chefs collaborated on a wholly entertaining "Big Night" dinner where they re-created dishes inspired by the 1996 classic movie. While Louis Prima music played in the background and the film was projected on the large wall that stretched from one end of the dining room to the other, a full house shared copious glasses of wine and family-style platters of soulful Italian food. The highlight was the unveiling of the decadent timpano, a sort of "turducken" of the noodle world with hard-boiled eggs, meats and al dente penne baked inside of a huge sheet of pasta. Mangia! 1222 4th Ave. N., Nashville, TN 37208; 615-736-5838; cityhousenashville.com
—Chris Chamberlain
Masterpiece (Duluth, Georgia)
During last spring's Atlanta Food & Wine Festival, when other attendees were patronizing the city's more famous restaurants for dinner after the opening reception, I was fortunate enough to wrangle an invitation to dine with a group of in-the-know Southern chefs including Alon Shaya, John Currence, Kelly English and Vishwesh Bhatt. We made our way a half hour up the Buford Highway to a nondescript strip mall that happened to be the home of Masterpiece, a Sichuan Chinese restaurant that had been recommended by Christiane Lauderbach. The eatery's name is not hyperbole, as we ordered the entire menu and amazing dish after dish came out of Liu Ri's kitchen to universal acclaim. The group enjoyed delicate dumplings and boiled fish with prickly ash accompanied by cases of cheap beer and bottles of plonk that we'd brought along with us. When some of the chefs began to challenge the kitchen to send out even spicier food, I had to finally wave the white napkin. 3940 Buford Hwy., Duluth, GA 30096
—Chris Chamberlain