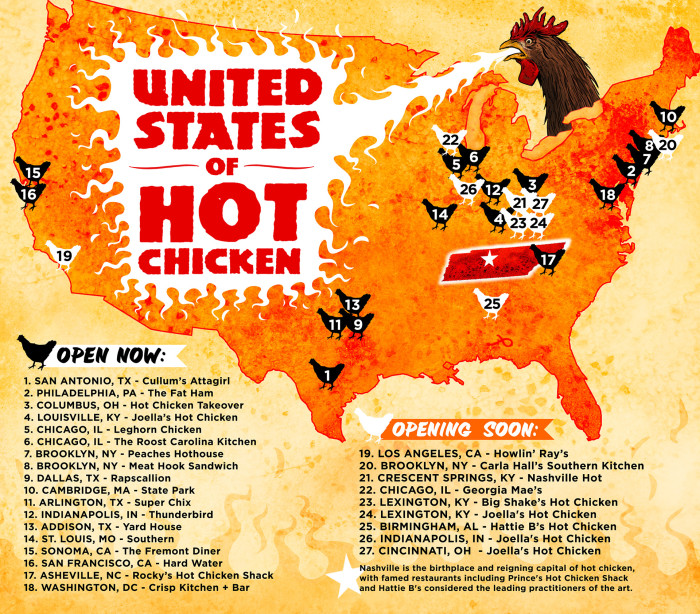 We've been huge proponents of hot chicken for a while here at Food Republic. In case you haven't had the pleasure, the original Nashville dish consists of a chicken breast, thigh and/or wing marinated in buttermilk, breaded and sauced with a heavily spiced, cayenne pepper–based paste and pan-fried before being served with pickles over white bread.
Biting in yields a burn quite unlike any you've ever experienced. The spice sticks to and around your lips and lingers for long, long minutes, scalding both your tongue and the back of your throat. Your eyes water with tears of pain, your sinuses are immediately cleared and your entire face feels some sort of masochistic pleasure…and that's just from a medium heat level. Somehow, despite the full-body discomfort, you always crave more.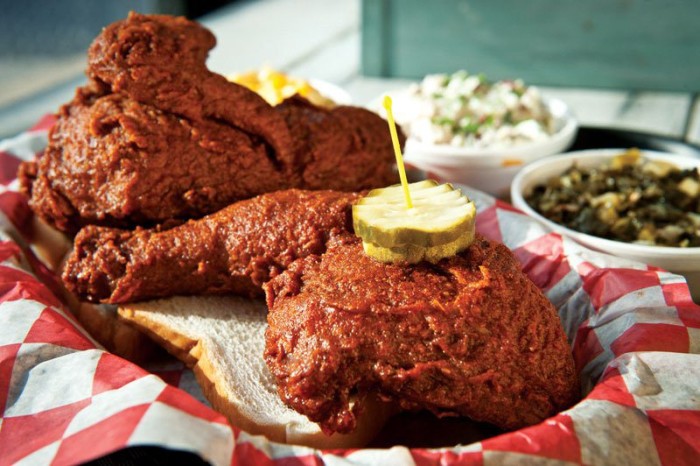 The history of hot chicken in Nashville stretches all the way back to the 1930s. More than 20 restaurants in Music City specialize in serving renditions of the dish, altering the ingredients ever so slightly to affect the various levels of heat offered (which generally range from overwhelmingly hot to hallucination-generating). Locals vouch — often quite stubbornly — for their personal favorite. But what about outside of Tennessee?
It's taken a bit of time for Nashville hot chicken (or "Nashville-style hot chicken," as it's commonly referred to in other parts of the country) to catch on out of town. We speculate that's due in part to the famous secrecy of the recipes, and in part to doubts regarding the ability of non-Nashvillian palates to handle the incredibly spicy concoction. In the past couple of years, however, the U.S. has seen a steady rise in restaurants serving valiant attempts at the fiery dish — from the East Coast to the West Coast and pretty much everywhere in between. (There's even a hot-chicken joint in Melbourne, Australia!) Case in point: Fast-food joint KFC recently introduced a "Nashville hot chicken" flavor in its Pittsburgh-area stores. We're not even going to comment on that one.
The map above depicts a listing of venues currently serving some sort of Nashville-style hot chicken on their menu full-time, as well as those planning to open in the next few weeks or months. Full dish descriptions and addresses are included below. Be sure to let us know about your experiences at any of these restaurants, and alert us to any we may have missed! [Editor's Note: We've added on a couple of places below serving the dish. Thanks for writing in!]
And remember: 2016 will be the year of hot chicken. You heard it here first.
Currently Open
Hard Water
Pier 3 The Embarcadero
San Francisco, CA 94105
Nashville-style hot chicken — Parker house rolls & butter pickles
The Fremont Diner
2698 Fremont Dr.
Sonoma, CA 95476
Nashville-style hot chicken
Crisp Kitchen + Bar
1837 1st St. NW
Washington, DC 20001
Nashville-style hot chicken (heat levels: spicy, extra hot) — pickles, shaved onions, homemade ranch
Gilbert's Underground Kitchen
510 S. 8th Street
Fernandina Beach, FL 32034
Nashville-style hot chicken — dill pickles + hot peppers/datil pepper mash, remoulade/jalapeño cheddar biscuits
Leghorn Chicken
959 N. Western Ave.
Chicago, IL 60622
Nashville-style hot chicken sandwich
The Roost Carolina Kitchen
1467 W. Irving Park Rd.
Chicago, IL 60613
Nashville-style hot chicken sandwich or Nashville-style hot chicken
Thunderbird
1127 Shelby St.
Indianapolis, IN 46203
Hot Chix — Poppy slaw, bread and butter pickles, Pullman bread
Joella's Hot Chicken
3400 Frankfort Ave.
Louisville, KY 40207
Nashville-style hot chicken (heat levels: Southern, tweener, Ella's fave, hot, fire-in da-hole!)

State Park
1 Kendall Square, Building 300, Lower Level
Cambridge, MA 02139
Nashville-style hot chicken with kale and garlic confit
Southern
3108 Olive St.
St. Louis, MO 63103
Nashville-style hot chicken (heat levels: original, mild, cluckin' hot)
Rocky's Hot Chicken Shack
1455 Patton Ave.
Asheville, NC 28806
Nashville-style hot chicken (heat levels: plain, mild, medium, hot, Rocky's hot, foothills, XX-hot)
Meathook Sandwich
495 Lorimer St.
Brooklyn, NY 11211
Nashville-style hot chicken sandwich
Peaches HotHouse
415 Tompkins Ave.
Brooklyn, NY 11216
Nashville-style hot chicken (heat levels: regular, hot or extra hot) or Nashville-style hot chicken sandwich
Hot Chicken Takeover
59 Spruce St., North Market, 2nd Floor
Columbus, OH 43215
Nashville-style hot chicken (heat levels: cold, warm, hot or holy)
The Fat Ham
3131 Walnut St.
Philadelphia, PA 19104
Hot Chicken — Brioche, ranch dressing, dill pickles
Yard House
5100 Belt Lane Road
Addison, TX 75001
Nashville-style hot chicken — fried sage, sweet potato pancakes, pickles, ranch dressing, honey hot sauce
Super Chix
612 W. Park Row Dr., #620
Arlington, TX 76010
Nashville-style hot chicken sandwich
Rapscallion
2023 Greenville Ave.
Dallas, TX 75206
The Long Walk to Nashville — hot fried chicken with Szechuan mala sauce
Cullum's Attagirl
726 E. Mistletoe Ave.
San Antonio, TX 78212
Nashville-style hot chicken
Opening Soon
Hattie B's Hot Chicken*
2808 Seventh Avenue S.
Birmingham, AL 35233
Howlin' Ray's
727 N. Broadway
Los Angeles, CA 90012
Georgia Mae's
2545 N. Kedzie Ave.
Chicago, IL 60647
Joella's Hot Chicken
Indianapolis, IN
Nashville Hot
Buttermilk Shoppes
Crescent Springs, KY 41017
Big Shake's Hot Chicken*
Lexington, KY
Joella's Hot Chicken
Lexington, KY
Royals Hot Chicken
736 E. Market St.
Louisville, KY 40202
Carla Hall's Southern Kitchen
115 Columbia St.
Brooklyn, NY 11201
Joella's Hot Chicken
Cincinnati, OH
* Denotes that another location is currently open in Nashville, TN
Portions of this list were reprinted with permission from The Hot Chicken Cookbook