Once upon a time, nobody gave too much thought to the food options at a music festival. Load up the car with a cooler, beer and snacks, hope for a place slinging pizza, corn dogs or burgers, assume there will be additional beer for purchase and voilà: You survive for three to five days, see 15 bands and accumulate ungodly layers of sweat and sunscreen mixed with dirt while doing so. You're probably too high to care what you're eating, anyway. That's because it's 20 years ago, and nobody gives too much thought to the food options at a music festival.
Fast-forward to the present day, and not only are festivals considerably more numerous, widespread and well attended around the country, but you're now hooked on a device armed with a comprehensive festival app that features a Yelp-like food-rating feature, because 18 percent of your phone time is used for posting pictures of food. If you happen to be in Manchester, Tennessee, at Bonnaroo, where I spent most of last week, there are three nights of upscale locally sourced long-table community dinners, nine food trucks, 24 craft breweries and 80 food vendors (not counting the pretzel, arepas, ice cream, Italian sausage and shish kebab sellers all over the festival grounds). Oh, and one of the food trucks has a freaking wood-fired pizza oven inside it. On the wood-fired pizza: local farm-grown vegetables and prosciutto. Welcome to peak music-festival food. You don't have to ask if it's sustainable/vegetarian/gluten-free/grass-fed. It simply is, because that's what we're into.
Now in its 14th year, Bonnaroo is held on a 700-acre farm about an hour's drive from Nashville. Named one of Rolling Stone's "50 Moments That Changed Rock & Roll," the festival draws the biggest names across all genres of music to one idyllic locale for four days. Bonnaroo also draws the biggest names from across all genres of food. For example, outside the beer tent lies BaconLand, a stand hawking the best pig candy in the country, including Vande Rose Farms, Wellshire Farms, Nueske's, Burger's Smokehouse and Tennessee's own renowned Benton's Smoky Mountain Country Ham. Not only is Benton's served, but it's talked about in the line to get your bacon-on-a-stick flight, infused doughnut or grilled cheese. As in, "I'm not just fixing to eat a skewer of five bacon slices, I'm fixing to eat a skewer of five of the best bacon slices in the country."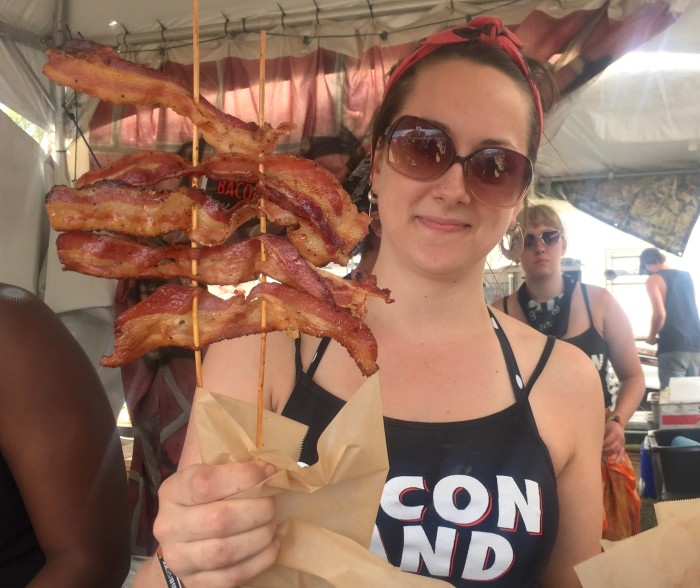 The food trucks drive in from all over, as far as Ohio, Utah, Kentucky, Virginia and Illinois, and run the gamut from healthy options to loaded poutine and wood-smoked barbecue to sauce-covered meatballs. Every last truck earned and maintained a 100 percent health rating, and Roti Rolls, an award-winning Charleston-based truck that makes tacos with Indian flatbread, had a line a dozen deep every time I passed it.
"It's been great here — people are super-responsive and open to the different kinds of food we're serving. All our vegetables are from GrowFood Carolina, which is this great middleman between local farmers and restaurants," says Shelly, "all-around person" at Roti Rolls, who was manning the register very happily. Seriously, she was in a great mood, blasting music out of the truck, dancing, offering extra napkins and calling out "Enjoy, y'all, happy Bonnaroo!" Everyone serving food was in a great mood. When I went to get a shish kebab, I asked the grillmaster how it was going. "Beautiful," he said, with a grin, "because of people like you. Thanks for asking — enjoy." I enjoyed my kebab AND his T-shirt. When I went to get a mozzarella-stuffed arepa, the griddle lady said, "Hang on just a second; I'm going to make yours nice and crispy." Where on earth was I that I was being told to enjoy my food and not to go fuck myself? Oh right, a food-centric music festival in the South. Where else does a Silent Disco transform into a gastroPod pop-up by Miami chef Jeremiah Bullfrog, with Disco Inferno Dogs and Soul Train Sandwiches with Groovy Mayo? Perhaps I was finally home.
Speaking of home, Brooklyn's own Heritage Radio Network (which operates out of a humble but powerful shipping container in Bushwick) was very much in attendance, hosting a series of food and beer talks on the Solar Stage. On Sunday, I sat on a panel called Crowd Sourced: An Open Mic for Food Rants, Raves and Readings, where food media professionals spoke about the state of food media and fielded audience questions. Turns out, the people who attend Bonnaroo are the kinds of people who would like to see the media world direct its attention toward food deserts, nutritional assistance programs and responsible ingredient sourcing. After assessing the culture of eating around the festival in the days prior, I could have called that response from a mile away.
The most memorable meal of the week was undoubtedly the on-site BonnaROOTS Community Dinner. In partnership with Eat With Equity and Oxfam, the BonnaROOTS dinners were offered nightly at a long table populated by dedicated food enthusiasts. The bluegrass band playing on the adjacent Solar Stage shouted us out as we chowed down heartily on course after course — a cheese board with brie, pimento, strawberry jam and pickled vegetables, salad loaded with brined farm eggs and Benton's country ham, pulled pork and creamy black-eyed-pea grits and berry-topped buttermilk panna cotta pie — much-needed nourishment after traipsing around a massive festival in the summer heat, and all sourced from within 200 miles of the farm.
Sitting next to me was a chicken farmer, Brian Hann. This was his 12th Bonnaroo. Believe it or not, he biked there from home.
"We live in south Knoxville, where Byron and Kiki Sambat opened Knoxville's first food truck, the Savory and Sweet Truck. They use our eggs and have been coming here for a few years now. Our chickens are crazy, wild chickens, the happiest chickens you've ever seen. They live better than we do — they even have their own watchdog. They pick on the dog a little, but he doesn't seem to mind." Asked whether he thought festival attendees had come to expect this level of quality from the food served on site, Hann proudly replied, "Well, fresh eggs will spoil you. Once you start eating fresh eggs, there's no way to go back to the kind you get at the grocery store, and I think people have come to expect that level of really good fresh food from the festival because Bonnaroo has always worked with farmers to get better food to the people. There's no going back now. Hopefully folks learn a thing or two."
A thing or two, indeed. So committed is Bonnaroo to feeding its people well that I ended up eavesdropping on the guys manning one entrance as they talked about what had been served for the staff meal the night before.
"They're taking care of us, for sure," says Javier Ingel, who drove from Austin to work at (and enjoy) the festival. "Three meals a day. Sausage, eggs and biscuits in the morning, chicken lasagna last night that was really good, even in the heat. Lots of snacks. Nobody's going hungry, no ma'am. I think that's why everyone working here is happy."
Food-centric moments seemed to be everywhere. Belle and Sebastian's Stuart Murdoch stopped the show halfway through and invited new pal Jon Hamm on stage to toss gummy bears into his mouth, causing about a quarter of the audience's female population to immediately stampede to the backstage area. My hosts, Birmingham, Alabama's Good People Brewing Company, dropped fresh slices of ripe peach into cups of their superb Bearded Lady wheat ale and called it sangria. Festivalgoer, dedicated beer enthusiast and my longtime friend Laura Potter, who came along for the ride, was an outspoken fan of the beer tent, with close to 50 brews on tap — and in the shade, no less! "I tried so many new delicious beers at the Broo'ers Tent from breweries I had never had the fortune of trying. Arepas saved my life more than once," Potter said. Everywhere you looked, there was some sort of feast for the senses. And you know what? The porto-potties weren't so bad, but then again, I'm saying that in retrospect, from the comfort of Food Republic headquarters, home of toilet paper.
Now flash back to the time nobody cared what they ate at a festival. I asked my dad, Pradeep, a fiendish live music fan, what he subsisted on at Woodstock 1994.
"1994 was a revival of what started in 1969 — they were trying to replicate the whole 'feed the people from the earth' thing, so there was a lot of tofu, broccoli, nuts, beans and legumes…and it all tasted like cardboard. There was pizza, hot dogs and burgers, too, but people wanted to think about what eating at Woodstock meant, which was 'don't eat processed, unhealthy stuff,' so there ended up being more people eating crappy untasty food than unhealthy food in the spirit of being Woodstock-y. We didn't bring enough food to last us, so one night we jumped the fence, went into town and bought rotisserie chickens."
He wanted to bring me, eight years old at the time, to be anointed in mud (also, I loved Smashing Pumpkins) but Mom had other thoughts. It's all right, though. I grew up to see "feed the people from the earth" take on delicious new meaning. At Bonnaroo, we certainly ate Woodstockily, but by no means did that denote cardboard, tofu and beans. There was jambalaya at 2 a.m. and garden veggie burritos in between bands, and hence, no longer any need to jump the fence.