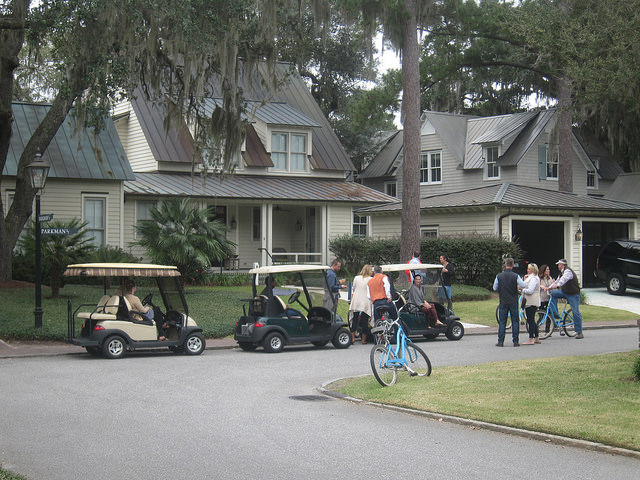 What happens when you combine a passel of some of the South's best chefs with fantastic musicians and plop them down in the middle of a luxury community in the Low Country of South Carolina, then stir in a (un)healthy helping of whiskey? Magic happens, that's what. And it's called Music to Your Mouth.
The ninth edition of the music/food festival was held at Palmetto Bluff, a stunning enclave of extravagant residences, vacation homes and a stately inn, located on the site of a 20,000-acre estate that is now managed as a protected land trust. Surrounded by ancient oak trees draped with Spanish moss that look like a Christo installation, residents and visitors alike are quite cognizant that they are in a truly special place.
But traditionally, the weekend before Thanksgiving had been one of the slowest times of the year, with part-time homeowners passing the holiday in their primary residences and potential inn guests preferring to stay closer to home with family. So the management of Palmetto Bluff decided to create a reason to visit the property during that off-season, and Music to Your Mouth was born.
Attendees can opt for a "Whole Hog" ticket package that allows entry to tastings, dinners, cookouts, educational sessions, an artisan crafts fair and musical performances throughout the weekend. This year's event featured 28 chefs plus seven vintners and brewers bringing their wares and talents to the table. In a change from previous years' formats, organizers set up a series of salons where small groups of patrons could enjoy a more intimate interaction with chefs and mixologists who presented short seminars in the kitchens of multimillion-dollar rental homes. Picture going to a cocktail party thrown by the richest person you know, except you feel extremely welcome instead of wondering if there was some sort of mistake with the invite list.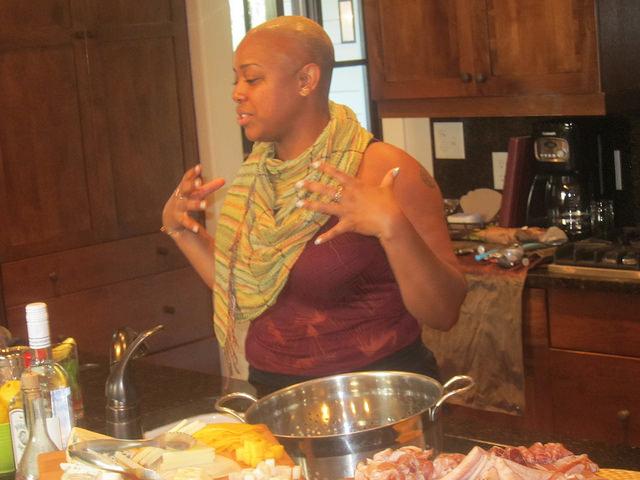 Bartender Tiffanie Barriere of One Flew South in the Atlanta Airport kicked off the salons with a stint of day drinking in a session titled "Masters Level Mixology." Already known as the leader of a bar team voted one of the world's best airport bars, Barriere mixed up a holiday cocktail featuring a shrub made from cranberries and cider vinegar and sent salon attendees home with a few samples to improve their own Thanksgiving meals.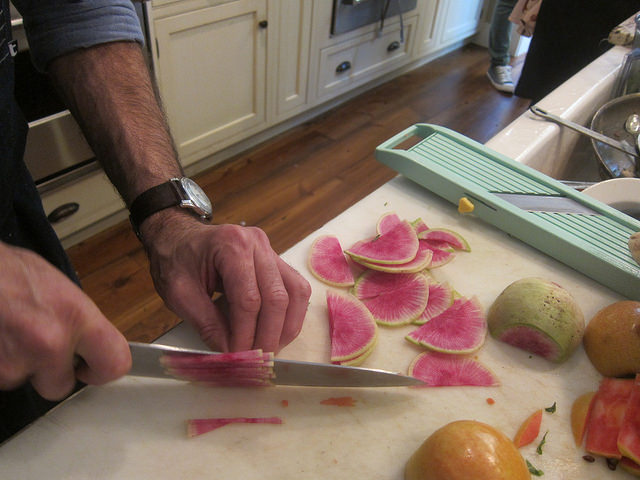 Atlanta chefs Steven Satterfield of Miller Union and Asha Gomez from Spice to Table taught students new ways to cook and enjoy green vegetables, including a beautiful slaw made from watermelon radishes and apples.
Many salons tackled ingredient-based topics, like apples, cheese and oysters, while others focused on techniques, such as making pasta at home with Tennessee chefs Andy Ticer and Michael Hudman of Hog and Hominy in Memphis and Nashville's Philip Krajeck from Rolf and Daughters. But the most exclusive salon of the weekend was named "Ham I Am," and head instructor Sean Brock congratulated the attendees for being "the most intelligent people at the festival for signing up."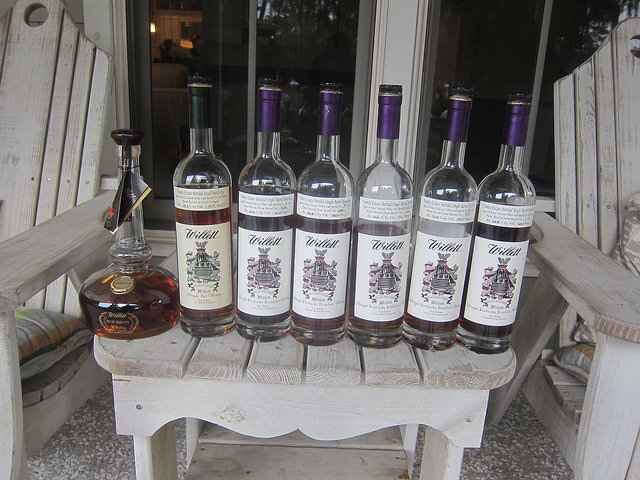 Brock baked up a mess of biscuits to accompany a tasting of rare bourbons from Willett Distillery in Bardstown, Kentucky, paired with aged hams from Edwards Virginia Hams. Heralded ham honcho Sam Edwards brought some aged products from his stash that demonstrated how ham, like whiskey, changes over time.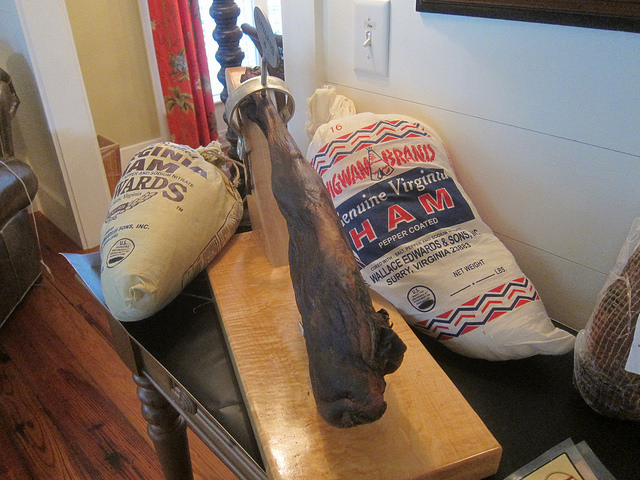 Brock noted, "I'm incredibly proud of our tradition in the South. It takes a whole lot of patience to turn something as simple as ham and whiskey to create something beautiful and amazing."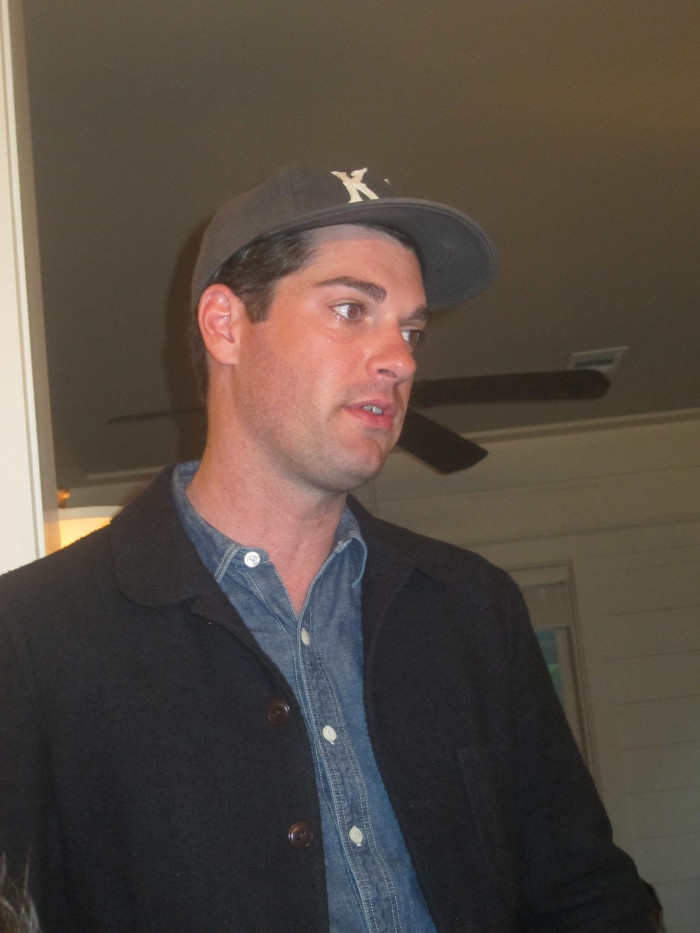 Willett was represented by master distiller Drew Kulsveen, whom Brock introduced to his friend and pitmaster extraordinaire Rodney Scott as "the Rodney Scott of whiskey." High praise indeed. Kulsveen offered heavy unmeasured pours of seven of his whiskeys, ranging from a two-year-old rye to an extremely rare and complex 22-year-old wheated whiskey whose origin is the stuff of legend. Since Willett has only recently started to distill again after being closed for three decades, this particular bourbon was purchased by Willett, but it was Kulsveen and his family who were smart enough to select and age the beautiful brown liquor until it was ready for a very limited release. Brock described it as some of the best bourbon he had ever tasted, and he claims to "eat ham and drink whiskey every day."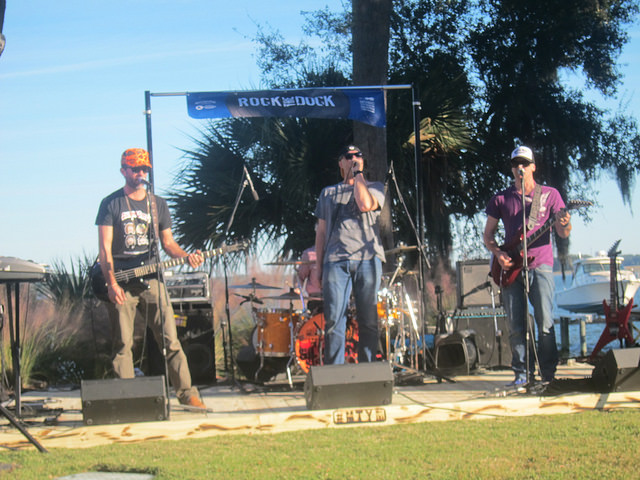 In addition to all the amazing food, the "music" part of the festival's name was well represented with performances throughout the weekend. Just about every event had a stage set up somewhere nearby. Eagle-eyed attendees might have noticed that members of the same band that was playing pretty damn respectable covers of Van Halen at the "Rock the Dock" afternoon party were also the same folks offering a bluegrass version of TLC's "Waterfalls" at the potluck dinner that evening. The chefs weren't the only talents at the Bluff, for sure.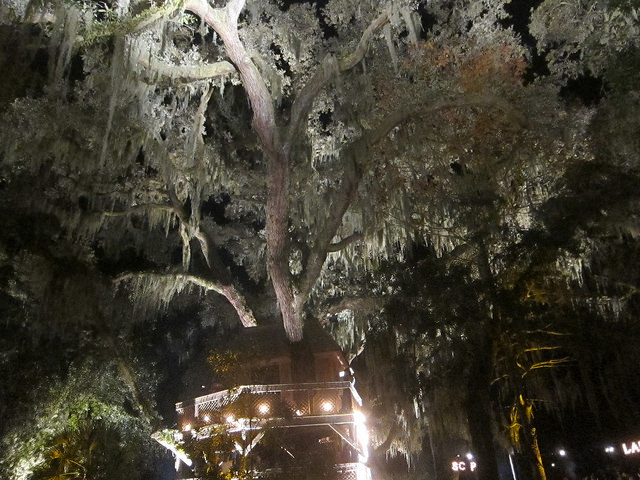 The highlight of Music to Your Mouth every year is Saturday night, with a barbecue party and a big concert featuring a mystery musical act. The "Open Fire" event was held on a small peninsula in the middle of the community's picturesque lagoon in an area dominated by a treehouse built into a huge oak festooned with beautiful Spanish moss lit up from below. Surrounded by bars and barbecue pits, the effect was as if the fictional shipwrecked clan Swiss Family Robinson had won the lottery and invited 500 people over for a cookout.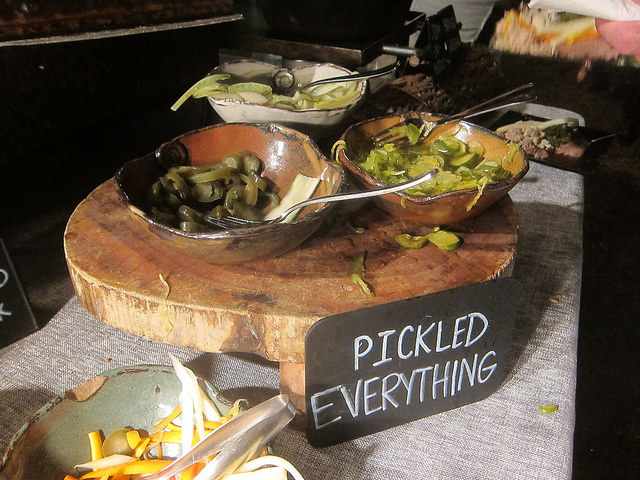 The spread was courtesy of a cadre of smokemasters and included whole hog from the aforementioned Rodney Scott, chicken from Drew Robinson of Jim 'n' Nick's, beef short ribs by John Lewis of the still under-construction Lewis Barbecue in Charleston and lamb from Border Springs Farm's Craig Rogers.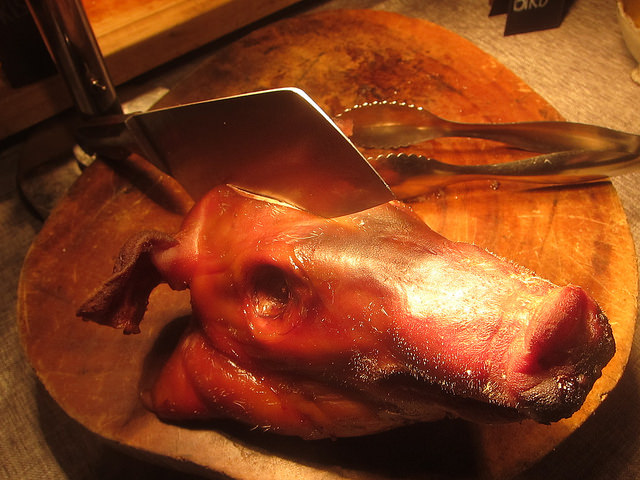 After sating themselves on wine, beer and smoked meats, Music to Your Mouth attendees were handed small bags containing dessert to go and escorted across the street to another open field for the big surprise musical act. This year's featured performer was Charles Kelley of the multiplatinum-selling country group Lady Antebellum. While the band is currently on hiatus, Kelley has decided to put together another smokin' group of musicians and take a road trip performing in support of his new solo album.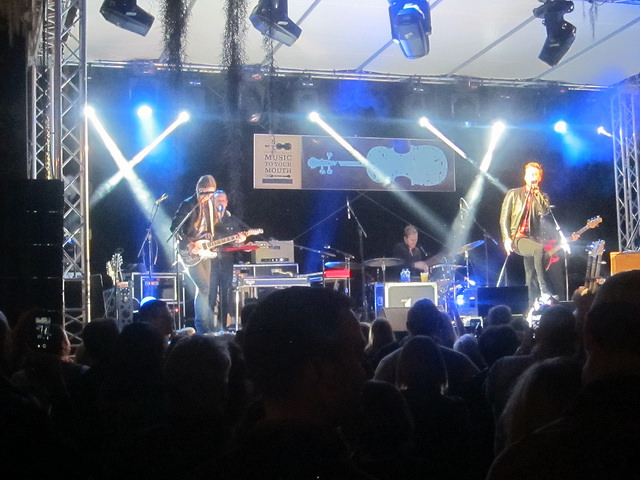 The assembled crowd was quite taken with the personable and impossibly good-looking Kelley as he ran through a repertoire of Lady A hits, rockin' cover songs and cuts off his own new album. While the Music to Your Mouth show was only the second public performance by the band (and the ensemble did play its way through a few minor train wrecks), the audience sang along in full voice, swaying to the music, clad in plaid shirts and hunting vests looking like any regular old country music crowd. Except that those plaid shirts were likely from Billy Reid and the cheapest vests probably came from Orvis.
Kelley was on to the affluence of his audience. "Y'all can't fool me," he joked from the stage. "You can't hide rich. We rode bikes around this place, and I didn't see a branch askew!" But that's exactly the point at Music to Your Mouth. Once you buy your ticket and make it inside the gates of the exclusive Palmetto Bluff community, all pretentiousness dissipates. Every attendee can enjoy the same attitude of casual perfection, whether you own one of those opulent estate homes or you're just a visiting fan of great Southern food and music. Mark your calendar for the weekend before Turkey Day next year, and start saving your vacation money.