East Tennessee Bacon God Allan Benton Will Not Be Stopped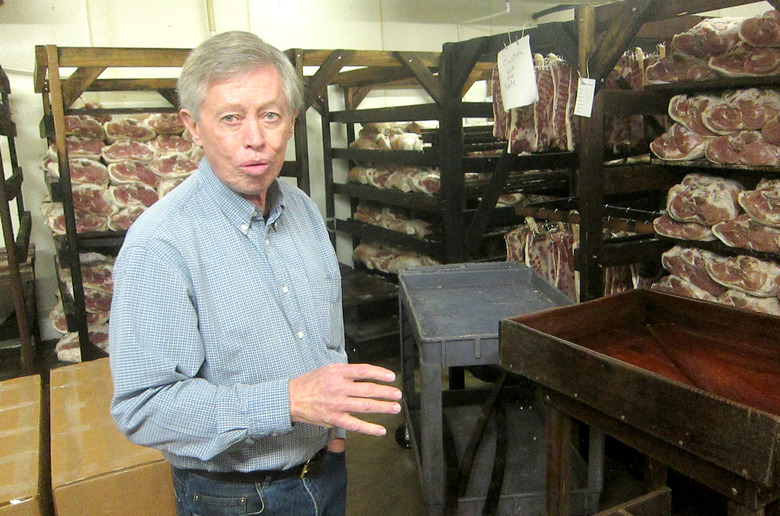 Nashville-based writer Chris Chamberlain profiles chefs and restaurants with particular talents for classic and reinvented Southern dishes. Now, he's taking his investigations another link up the food chain as he travels to visit with some of those chefs' favorite farmers, ranchers and purveyors from across the South. In a new Food Republic series,  Southern Grown , find out what makes these suppliers so special that chefs will go the extra mile to use these products in their kitchens.
Despite his reputation as one of the premier artisans of smoked meat in the country — and the ardent admiration of noted chefs and legions of fans who buy his hams and bacon through mail order — it's hard to get Allan Benton to give himself any credit. "Aww, it's not a difficult business," he drawls in his self-effacing way. "It's not rocket science. If it was, I couldn't do it."
Indeed, what this humble man from East Tennessee is doing is replicating an extremely low-tech process that he learned many years ago from his grandparents. The secret to Benton's Smoky Mountain Country Hams comes from simulating the difficult environment that his grandfather encountered putting up hams over the winter to feed his family. Since 1973, Benton has been creating some of the most delicious cured hams and smoky bacon using the same basic method he saw during his mountain upbringing.
"We were hillbillies, and we always killed hogs on Thanksgiving," Benton recalls. "Unless it was raining. So I run my equalizer room colder than most folks do, because it was wintertime when we hung our hams." After curing the pork legs with a simple rub of salt and brown sugar, Benton ages his hams for at least eight months and as long as 18 months for his delightfully funky Tennessee prosciutto.
When he first started out in the ham business in tiny Madisonville, Tennessee, Benton felt pressure to release his products much more quickly. "I was trying to sell quality up against other people who were quick-curing their hams in 80 days," he says. "I told my dad that I would need to switch to a shorter cure if I was going to survive. My dad said, 'Son, if you play the other man's game, you always lose.' So I decided to make the best I could and quality would eventually win out."
Chefs including David Chang, Sean Brock, Linton Hopkins, John Besh and Hugh Acheson agree with that sentiment. In a 2006 interview with John T. Edge for Gourmet, Chang told Benton exactly what he thought of his dedication: "You're a hero to us. Your stuff is the ultimate old-school product. We can smell the work you put into it. Sometimes when you ship us a ham, we can see handprints on the box. We know that the person who packed our box trimmed our ham."
Unlike other Southern artisans who trade on the heritage status of their ingredients, Benton emphasizes the history of his process. After years of trading with one local supplier, he now sources his hams and bellies from a variety of hog farmers across the country to keep up with demand for his products. "I grew up in rural Virginia," Benton explains. "We didn't have to have enough flat land to grow the corn to feed a hog, so we had to turn them loose to feed in the fall when there wasn't much growing. Those hogs finished their lives on a diet of acorns, but we didn't think a thing about what that did to the meat."
At least not until Benton found himself sitting on a panel discussion at a Big Apple BBQ Block Party a dozen years ago where he heard New York Times columnist and self-proclaimed "hamthropologist" Peter Kaminsky talk about Spanish hams that were finished on acorns and brought $250 to $300 apiece on the open market. "Man, I felt my ears stand up like a rat terrier's when they told me how much they were getting for those hams! I told Kaminsky I was gonna buy a book on those pigs and started looking for pasture-raised hogs." For years, Benton had a reputation for producing some of the best hams available, but his supply of pigs began to dry up. "Everybody is looking for those same hogs," he says. "Now I'm a lot more guarded about my sources."