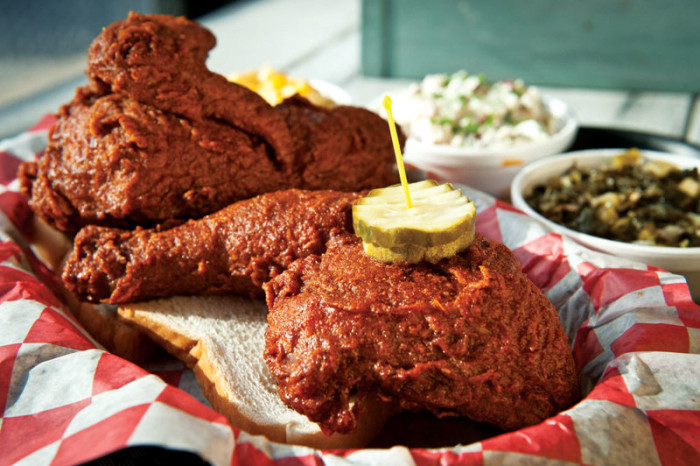 In theory, hot chicken is simple to prepare. The original Nashville dish consists of a chicken breast, thigh or wing marinated in buttermilk, breaded and sauced with a heavily spiced, cayenne pepper–based paste and pan-fried before being served with pickles over white bread. It is, however, a dish that is challenging to prepare well. Around 20 restaurants in Nashville specialize in serving renditions of hot chicken, each altering the ingredients ever-so-slightly to affect the various levels of heat that are offered (which range from overwhelmingly hot to hallucination-generating.) Prince's Hot Chicken Shack — the most storied of all the city's joints and the place generally considered to have created the dish over a half-century ago — famously guards its recipe by prohibiting camera crews anywhere near the kitchen.
Despite hot chicken's immense regional popularity, the Music City staple has yet to receive much national exposure. Few restaurants outside Nashville even serve it. Peaches HotHouse in Brooklyn advertises Nashville-style hot chicken as the centerpiece of its menu, but the cayenne-dusted bird lacks the spicy, pastey moistness that's necessary to claim authenticity. Philadelphia's Kevin Sbraga recently rolled out his take on the dish — he traveled to Nashville for three years and tried out 22 different recipes and techniques before settling on a final result — at his second restaurant, The Fat Ham. His is an inspired attempt at replicating the Nashville classic, though Sbraga doesn't seem too concerned with replication. He makes the dish his own by adding fresh dill and heaping on ranch dressing. The wetness and skin crispiness are both there, though the stinging heat doesn't stay on the tongue for too long, failing to create that lasting (pleasurable) burning sensation that hot chicken aficionados have come to crave. That said, it's Philly's best fried bird. Chicago chef Dustin Tripp is planning to take over the former Johnny Grill space in Logan Square to open Georgia Mae's — a Nashville-style "meat and three" with a focus on hot chicken — soon. New York bar owner and restaurateur Ravi DeRossi also flirted with the idea of opening a hot chicken-centric spot in the East Village earlier this year, but plans fell through.
One similarity that all these venues share is the lack of a Nashvillian in the kitchen. That's where Carla Hall comes in. Born and raised in Nashville, Hall has made a career out of cooking Southern cuisine on television, appearing on multiple seasons of Top Chef and co-hosting ABC's The Chew. She's planning to open her first restaurant — a Southern comfort food kitchen in New York City specializing in Nashville hot chicken — and is turning to the public for help. She is working on crowdfunding $250,000 in donations through a Kickstarter campaign for operating costs. With less than two weeks left to go, Hall has raised just over $75,000.
Of course, we must address the biggest question on everyone's mind: how good is the chicken? At a food truck preview event yesterday, Hall offered samples of her boneless hot chicken tenders, alongside cornbread and collard greens. The chef utilizes the unorthodox ingredients of habanero and sugar as part of her hot brine. She also uses a "secret hot oil" formula that includes sweet paprika and garlic powder, which cut the traditional thick layers of cayenne pepper. Hall's version is unique in that the majority of the spice comes from this oil rather than the chicken's skin. Served dripping with healthy amounts of the hot oil (experts know to use the accompanying white bread to soak it all up), the chicken features a contemporary kick with the addition of these ingredients and prevalence of the oil. Though the chef played it safe on test day and dished out tenders best described as "mild" heat by Nashville standards, the spice mixture lingered in the mouth for a good 10 minutes after consumption. That alone is reason to consider a donation.
Bonus! Editor's top picks for hot chicken in Nashville:
Hattie B's
112 19th Avenue South and 5209 Charlotte Pike, hattieb.com

Prince's Hot Chicken Shack
123 Ewing Drive #3

Pepperfire
2821 Gallatin Pike, pepperfirehotchicken.com

Bolton's Spicy Chicken & Fish
624 Main Street and 2309-A Franklin Pike, boltonsspicy.com

400 Degrees
319 Peabody Street, 400degreeshotchicken.com
​Read these Southern food stories on Food Republic: