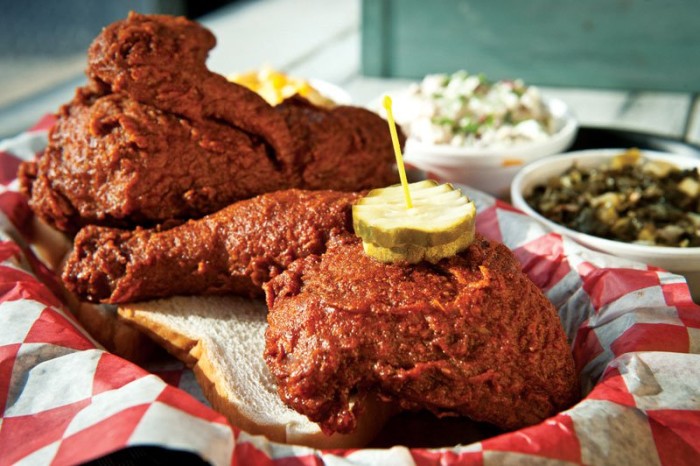 Iam driving around Brooklyn on a muggy summer afternoon, anxiously refreshing Google Maps in hopes of finding a way to avoid the borough's jam-packed streets. Riding shotgun is Nashville chef Matt Bolus, a former James Beard Award nominee, who is visiting New York for just two days. The rush-hour traffic is all that stands between the two of us and our ultimate goal: a hot chicken feast at Bed-Stuy favorite Peaches HotHouse. I wipe off the fresh grease that's thoroughly encased my steering wheel. The reason for this slippery mess? Well, we've just devoured a hot chicken feast at Williamsburg's Meat Hook Sandwich Shop. That's right: two full hot chicken meals in the span of less than two hours. But why?
The Background
I've been unhealthily obsessed with hot chicken since discovering it during my freshman year at Vanderbilt University. In case you haven't had the pleasure, the original Nashville dish consists of a chicken breast, thigh or wing marinated in buttermilk, breaded and sauced with a heavily spiced, cayenne pepper–based paste and pan-fried before being served with pickles over white bread (as Bolus eloquently puts it, "a pickle and some nice, shitty white bread are essential. Don't get fancy"). More than 20 restaurants in Music City specialize in serving renditions of hot chicken, each altering the ingredients ever so slightly to affect the various levels of heat offered (which generally range from overwhelmingly hot to hallucination-generating).
Biting in yields a burn quite unlike any you've ever experienced. The spice sticks to and around your lips and lingers for long, long minutes, scalding both your tongue and the back of your throat. Your eyes water with tears of pain, your sinuses are immediately cleared and your entire face feels some sort of masochistic pleasure … and that's just from a medium heat level. Bolus sums it up best: "It's amazing in that you taste something so spicy but at the end of the day you just want more and more." Hot chicken truly does give new meaning to the expression "Hurts so good."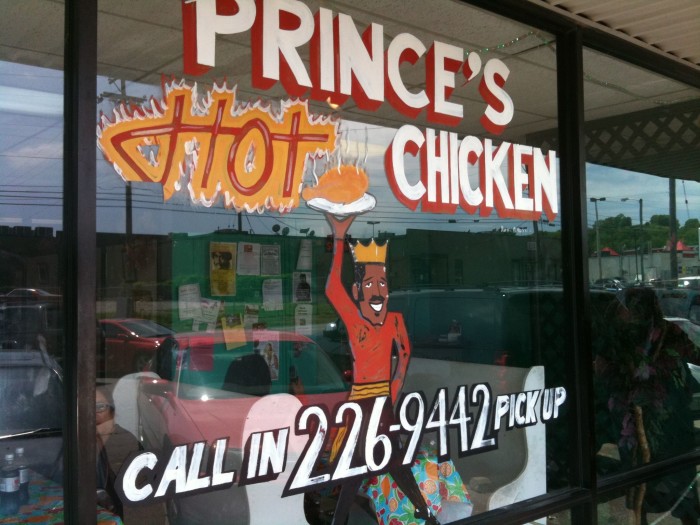 The history of hot chicken in Nashville stretches all the way back to the 1930s, when a man named Thornton Prince allegedly came home to his girlfriend after a particularly late night out — having spent it with another woman. As revenge, his girlfriend cooked him a fried chicken breakfast topped with an incredible amount of spicy pepper. Her plan backfired when Prince liked it so much that he created his own recipe and opened a restaurant. Today, his great-niece André Prince Jeffries runs Prince's Hot Chicken Shack, the most storied of all the city's joints. She often warns her customers about the perils of ordering anything hotter than medium. Her shack (it's literally just that — a shack) famously guards its recipe by prohibiting camera crews from coming anywhere near the kitchen. Bolus says similar practices are commonplace around town: "No one's going to give you a recipe. Even if someone started telling you, I wouldn't believe them."
The Idea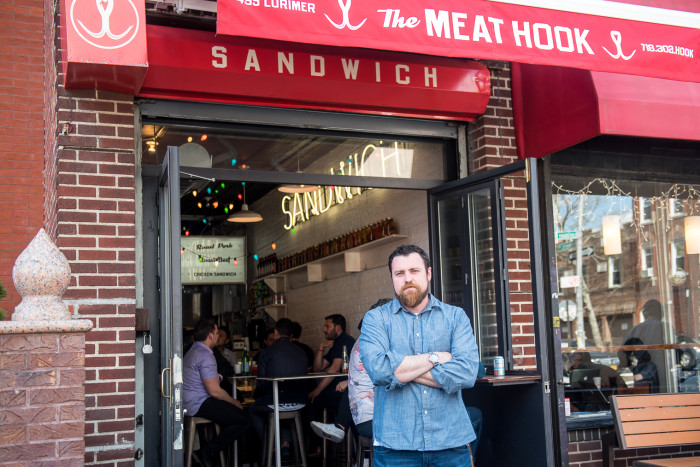 Bolus is one of Nashville's most respected chefs, having helmed the kitchens at local staples Watermark and Flyte before opening the much-acclaimed 404 Kitchen in the city's rapidly expanding Gulch neighborhood in 2013. The restaurant was soon nominated for a James Beard Award for Best New Restaurant. He grew up in nearby Knoxville and immediately became enamored with hot chicken — as many locals do — upon relocating to Nashville. "When I first moved to Nashville, everyone kept bugging me, like, 'Try this, try this.' Eventually, I just went to go eat it because I was tired of hearing about it. I didn't know what it was, and I wanted to know." When Bolus informed me of his impending trip to New York, I proposed a hot chicken crawl to see how the Big Apple's interpretations of the dish stacked up to the big boys in Nashville. Naturally, he was elated.
Hot Chicken in 2015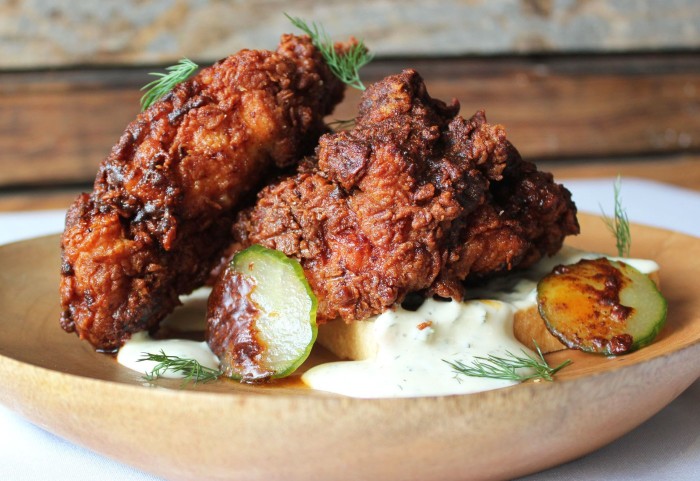 Hot chicken is firmly entrenched in the history of Nashville. A ridiculously exhaustive and comprehensive article has even been penned on the complete roots of the dish and its importance to the city. Hot chicken has, however, slowly begun to find its way onto restaurant menus around the country — and even overseas. Kevin Sbraga rolled out his take on the bird — he traveled to Nashville for three years and tried out 22 different recipes and techniques before settling on a final result — at his second Philly restaurant, the Fat Ham. Linton Hopkins serves a "silly homage to Prince's Hot Chicken" at his Holeman & Finch in Atlanta. You can also find a worthy version of the dish elsewhere in the city at One Eared Stag. Over in Chicago, Dustin Tripp is planning to open Georgia Mae's — a Nashville-style "meat and three" with a focus on hot chicken — soon. And Noma alum Aaron Turner recently opened Belle's Hot Chicken … in Melbourne, Australia. Clearly, this type of chicken has some wings.
This brings us back to New York City. Carla Hall made waves last year when she announced her intention to open a hot chicken–centric Southern restaurant in New York, and a recent update has her opening the doors at some point this fall in Red Hook. As for existing city venues serving some style of Nashville hot chicken on a daily basis, there are just two: Meat Hook Sandwich Shop and Peaches HotHouse, both in north Brooklyn. I mapped it out: A 2.1-mile drive is all that separated lunch number one from lunch number two. What an ideal Wednesday afternoon.
Nashville's Best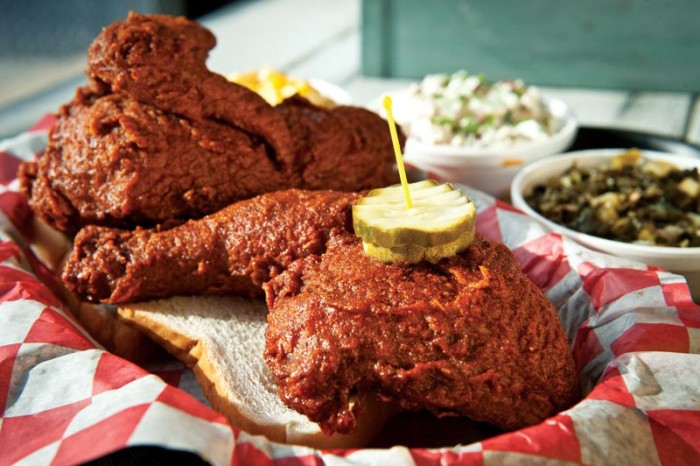 Sure, there are around two dozen spots that serve hot chicken in its birthplace of Nashville, but which one reigns supreme? The answer is, of course, the subject of much debate. Longtime residents vouch steadfastly — and often, quite stubbornly — for Prince's, while many argue that Bolton's Spicy Chicken & Fish has since surpassed the originators. Others prefer the inventive combinations (think hot chicken with waffles and sweet apples) at Pepperfire or the lesser-known 400 Degrees. The younger generation shows a proclivity towards Hattie B's, which is one of the newer kids on the block, having opened in 2012. Armed with a central Midtown location (and having since expanded to a second site), a rotating selection of beers on tap and an outdoor patio, Hattie B's has officially put the "cool" in hot chicken, often drawing hour-long lines of locals and tourists alike during peak times.
Hattie B's is also Bolus's (and my) personal favorite: "Consistency is the name of the game. They've got a great crispiness, and if I order medium heat, I get medium heat every time," he says. "At the end of the day, I think Bolton's has the best flavor. But the few times I've been and ordered a medium, it's never the same." He's also got a strong opinion on Prince's: "I like spice, and I like heat, but I also want you to use quality ingredients. I feel like Prince's is hot just for the sake of being hot." Those are some fighting words for the very creators of the dish.
Stop One: Meat Hook Sandwich Shop
We arrive at Meat Hook Sandwich Shop with open minds and empty stomachs. A satellite of the popular butcher store Meat Hook a few blocks away, the sandwich shop is minuscule, consisting of just a dozen or so scattered metal stools, a few tables and an overhead menu touting about eight options. Obviously, we go straight for the hot chicken sandwich, recently described by New York Times restaurant critic Pete Wells as "chicken that can bring your whole day to a dead stop for a few minutes." It's worth noting that hot chicken is rarely found in sandwich form in Nashville.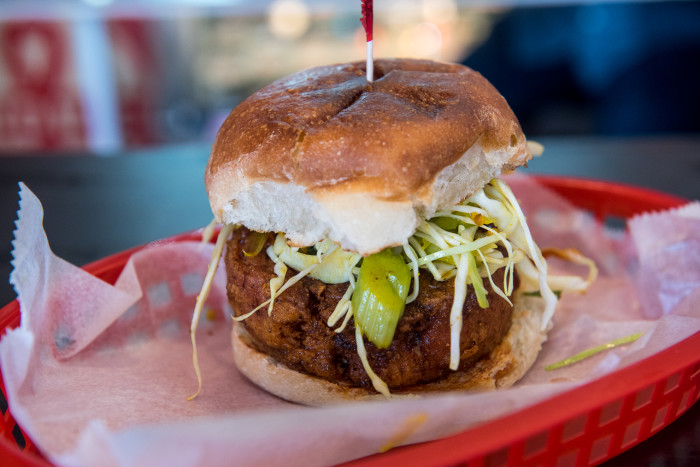 Made from an impressively thick cut of deep-fried thigh meat, the sandwich oozes hot grease that quickly seeps into its bun. It's decidedly different from any type of hot chicken presentation that either of us has seen: For starters, the sandwich features a wetter spice than you'll find in Nashville, as the chicken has been brined in a hot-sauce bath of sorts. This cuts down on that lingering burn sensation for which hot chicken enthusiasts profess unequivocal amounts of love. The sandwich is also topped with slaw. In addition to the restaurant's apparent usage of cayenne, brown sugar and either onion or garlic powder, Bolus points out a few novel ingredients that he picks up on: mustard seed, cabbage and "maybe some cumin and coriander." Regardless of the sandwich's lack of adherence to Nashville tradition, Bolus comes away pleased. "I'm pretty damn impressed, actually. There's great balance, great heat and great seasoning. It's the appropriate hot to me — we're four, five bites in and I'm still eating." Success.
Stop Two: Peaches HotHouse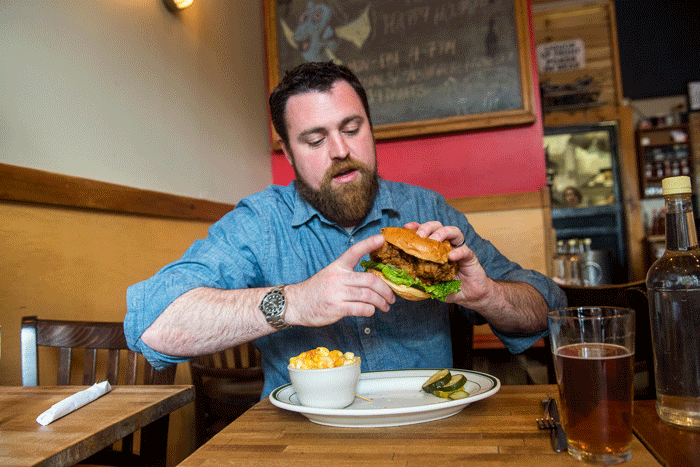 We arrive at Peaches HotHouse with open minds and slightly fuller stomachs. Open since 2010, the establishment is one of a few "B+C Restaurants" from partners Ben Grossman and Craig Samuel. The latter informs us that he "proudly claims to have coined the term 'Nashville-style hot chicken.'" Samuel describes research trips to Nashville and envisioning just how the dish would translate to the New York — or in general, northern — palate. As such, he readily admits that each of the three levels of heat offered at the HotHouse is taken down a notch or two from those available at most of Nashville's well-known hot chicken haunts. With that in mind, I spring for the extra hot while Bolus opts for another sandwich (which he orders hot).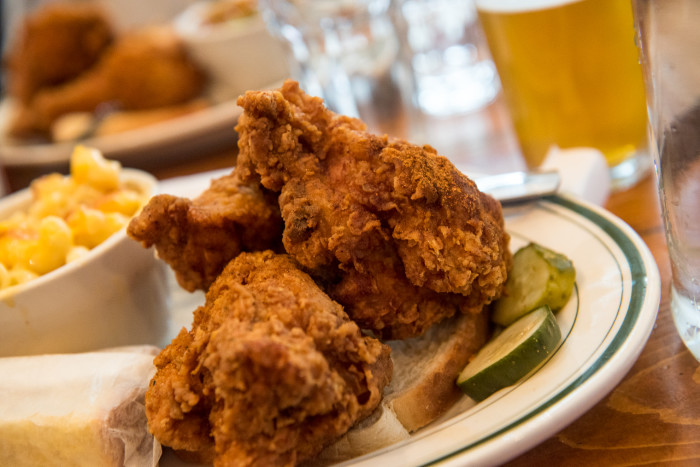 If wet, messy chicken is the name of the game at Meat Hook Sandwich Shop, the chicken at the HotHouse looks like it's endured a drought. There's no hot paste-y layer atop its skin and certainly no liquid dripping down and moistening the bread, as is customary in Nashville. The chicken comes out looking like a normal fried bird; there's no indication of its impending spice. At closer glance, we're able to make out some dry spice worked into the skin and wonder if it's waiting in hiding, preparing to unleash full spice havoc.
This chaos is real, albeit inconsistent. There are certain bites that are flavored with the HotHouse's spice blend significantly stronger than others, though the skin achieves a perfect crispy coating throughout. The bites that do leave us gasping for air — and requesting glasses of milk — feature a zing that is foreign to any of our previous experiences with hot chicken. "It's hitting me really hard on the tongue," says Bolus. "I wonder if it's in the brine. Maybe it's a Scotch Bonnet. It's not strictly cayenne, as it's just not dark enough." While Samuel — surprise! — refuses to divulge much at all about the recipe, a waitress spills the beans and reveals that there's ghost pepper in the mix. Foreign, indeed. Though as Bolus and I have learned over the course of our Brooklyn afternoon, different doesn't mean any less satisfying … even if we do leave the HotHouse looking disheveled and with little desire to eat anything in the near future, apart from a handful of Pepcid tablets. Just as Samuel declares, "Hot chicken is not a clean dish. You walk away from Hattie B's and want to go home and take a shower." Well said, sir. Well said indeed.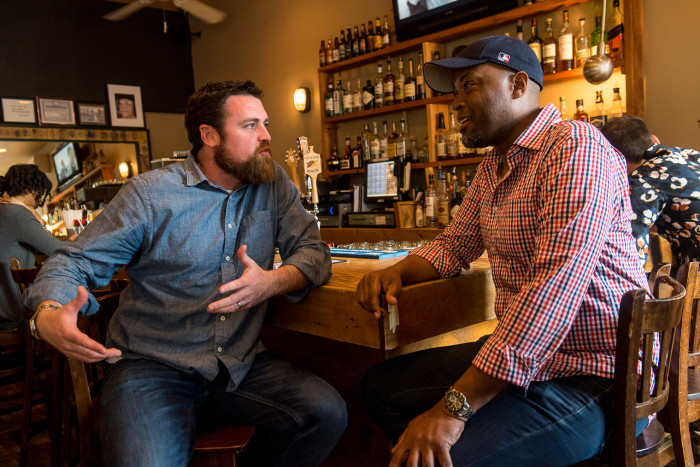 Aftermath and Future
Neither Bolus nor I can claim to be native Nashvillians. But as city transplants — he as a current resident and I as a former college student — with strong opinions about our beloved hot chicken, we are quick to compile an extensive list of grievances regarding our two afternoon meals. Too saucy here, too dry there, not hot enough elsewhere, too unconventional everywhere. The list goes on. Lifelong Nashville residents might be proud of us, even if they are still unable to agree on the best hot chicken in town. That being said, we come away recognizing the quality and unique spins that each of the two restaurants has applied to a dish that we both believe will soon explode in visibility and popularity outside Nashville.
"I've been with some guys who insist on getting the really hot one and you see the color leave their faces, along with a little bit of drool. They're like, 'I can take it, I can take it,' then they sit there like they're on heroin," says Bolus. Sounds pretty terrible, doesn't it? But wait, there's more. "Then the next time they go, they get the really, really hot one." Now that, ladies and gentlemen, is the beauty of hot chicken.