Introducing Craig Deihl And Cypress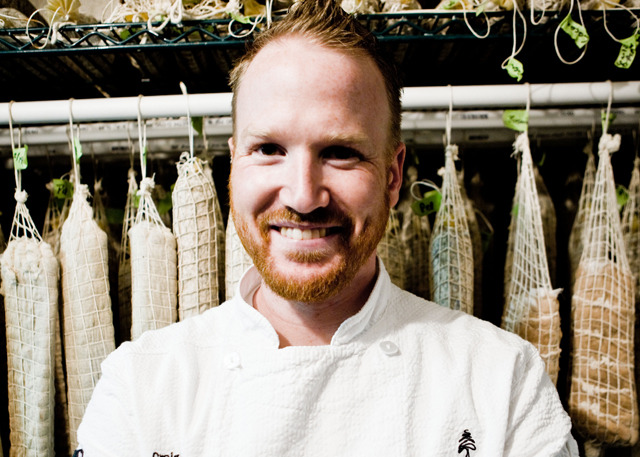 Chef Craig Deihl
For its size, there is probably no city in America with a hotter restaurant scene than Charleston, SC. With a host of chef-driven establishments serving their interpretations of Lowcountry cuisine and farm-to-table cooking, foodies are filling Southwest Airlines flights to Charleston, packing along their meticulous itineraries of OpenTable reservations and loose-fitting "eatin' pants." In fact, Charleston chefs were the recipients of James Beard Awards as Best Chef-Southeast for three years running from 2008-2010 with Robert Stehling, Mike Lata and Sean Brock taking home the medals.
Another semifinalist for that award over the past two years was young chef Craig Deihl, and his restaurant Cypress has earned a place on those "eatineraries" alongside Stehling's Hominy Grill, Lata's FIG and Brock's Husk and McCrady's. Cypress offers a sophisticated yet comfortable atmosphere for diners to experience Deihl's take on what he calls "globally influenced Southern food."
With a menu that emphasizes seasonal and local ingredients whenever possible, Deihl infuses striking flavors into traditional Lowcountry cooking. Although the bill of fare changes frequently depending on the availability of the best quality ingredients, visitors to Cypress can always depend on some classic dishes that Deihl couldn't take off the menu if he tried. Perennial favorites include a starter of sashimi tuna and oysters served with a cilantro-lime glaze and pineapple wasabi, and an entrée of certified Angus filet of beef with Boursin cheese, fingerling potatoes, asparagus and Madeira sauce.
Deihl also has a particular fondness for charcuterie and is a fierce proponent of whole-animal preparations. He has been a leader in efforts to restore the popularity of smaller heritage American Guinea hogs, specifically for use in his charcuterie plates. Even though these pigs weigh about a quarter as much as a traditional hog, Deihl claims he can get more back fat off of an 80-lb. Guinea than a 300-pounder. Not only are the Guineas easier to work with in the kitchen, they also contribute a wonderful gamey, earthy flavor to the dishes, thanks to their diet of foraged acorns, chestnuts and other natural feed.
The kitchen at Cypress uses the pigs for traditional sausages and bacon, but also render the fats to prepare lard for baking biscuits as well as hocks and jowls for flavoring dishes. Pig Trotters make frequent appearances on Cypress's bar menu. The will also be a part of the new Monday Burger Night that seeks to provide "Iconic American Redneck junk food" for diners who want to experience Deihl's cuisine in an even more casual environment at a lower price. Bar customers can expect house-made foot long hot dogs and an outstanding selection of burgers in the comfortable 35-seat bar area.
Deihl has experimented with other affordable methods to share his food with hungry Charlestonians while taking advantage of other opportunities to employ his snout-to-tail philosophy of cooking. He set up an "Artisan Meat Share" program based on a CSA (community supported agriculture) model where participants could pay a very reasonable annual fee to receive a quarterly box of house-cured and smoked meats along with some other treats from the kitchen, like his famous biscuits. These 3½-4 lb. shares allowed Deihl to creatively use parts of pigs, lambs and beef that might not otherwise find their way on the menu as appetizers of entrees. While Artisan Meat Share customers might have been doing the chef a favor in the kitchen, they were more than amply rewarded with treats like coppa, Genoa salami, chorizo sausage, mortadella and saucisson sec.
Charleston's chef community continues to raise the culinary bar with their creative use of artisanal ingredients and their passionate promotion of fine cuisine. At Cypress, Craig Deihl is a worthy addition to the proud pantheon and may soon find himself wearing his own James Beard medal in the near future.
---