14 Great Cookbooks For Home Chefs Who Hate Cooking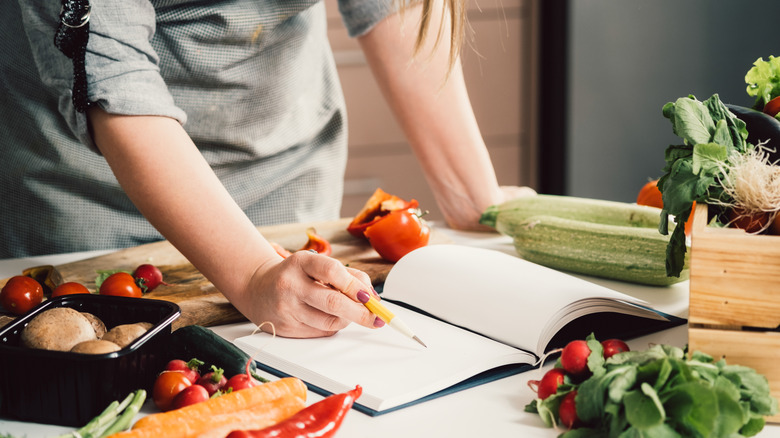 Tijana Simic/Shutterstock
There's nothing like a hot, home-cooked meal at the end of a busy workday. For some of us, gathering around the dinner table is a family ritual and a time to bond over favorite dishes. And for some passionate home cooks, the act of preparing a meal from scratch is a sensual pleasure — a way to reconnect with your physical senses, refine your skills, and create something others will enjoy.
But let's get real: For all too many of us, cooking is a drag. Maybe it's because we never learned to cook properly, or maybe we tried and simply didn't enjoy it. Or perhaps you do enjoy cooking, but not at the end of a 10-hour workday with your kids moaning about how hungry they are and how they hate everything you make. But don't worry — you're not doomed to spending the rest of your life eating takeout or TV dinners. If you want to enjoy all the benefits of home-cooked meals without spending a lot of time or brainpower in the kitchen, it's absolutely doable! A number of creative, easygoing, and helpful cookbook authors have your back. 
Let's take a look at some great cookbooks written just for you: The home chef who needs to be dragged into the kitchen kicking and screaming!
101 Sandwiches: 101 of the Best Sandwich Recipes on the Planet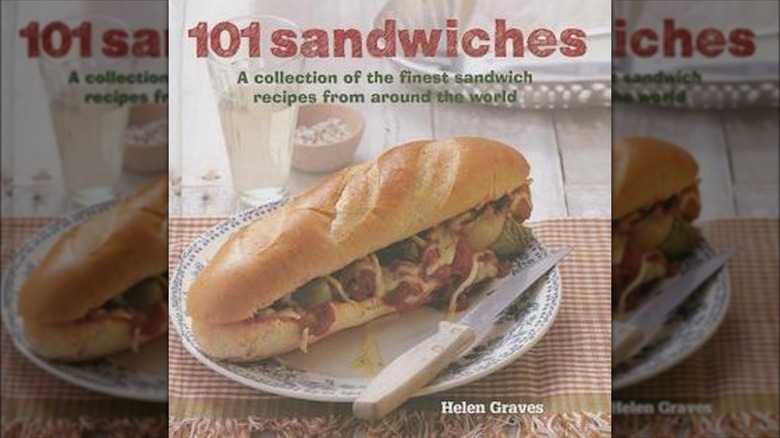 Dog n Bone
Even if steaming and sautéing are way above your pay grade, you've probably made a successful sandwich or two. Or even hundreds, since sandwiches are one of the easiest and most fail-proof dishes you can make — put stuff between bread slices (or on top of a single slice), heat (or not), and you're done. And there's zero guesswork — if it looks like it's ready to eat, it is.
But if cooking isn't your jam, chances are your sandwich inventory is pretty limited. We all love a good peanut butter and jelly (or ham and cheese and grilled cheese) sandwich, but if that's all you're eating or feeding your family, mealtimes can quickly get boring. You don't want or need a Cordon Bleu cooking course, but some easy inspiration to liven up your sandwiches would be a serious game changer. If this sounds like you, check out "101 Sandwiches: 101 of the Best Sandwich Recipes on the Planet" by Helen Graves. And it really is a global guide to sandwiches, featuring everything from BLTs to Japanese fried noodle sandwiches. While not all the recipes are one-step wonders (some do involve actual slicing, dicing, and cooking), the book also offers quick tips for turning classic sandwiches into something new and exciting.
The I Hate to Cook Book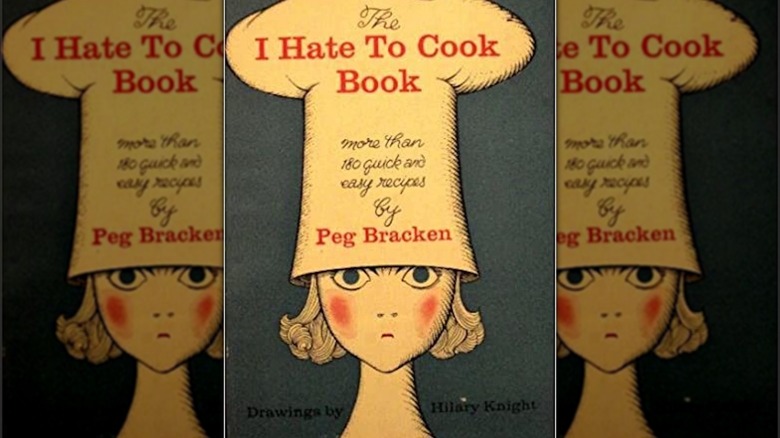 HARCOURT BRACE & WORLD
If there's a canon of cookbooks for the kitchen-averse, this 1960 classic written by humorist Peg Bracken and updated in 2010 by her daughter, Johanna Bracken, would be its cornerstone entry. Written in an era when it was simply assumed that married women would take charge of all the family's food preparation, it made waves (and earned legions of fans) by cheekily broadcasting the unspoken truth polite society didn't want to admit: Not all women are domestic goddesses — nor do they want to be one.
And Bracken wasn't shy about proclaiming her hatred of the kitchen. "We live in a cooking-happy age," she wrote (via Eater.) "You watch your friends redoing their kitchens and hoarding their pennies for glamorous cooking equipment and new cookbooks called Eggplant Comes to the Party or Let's Waltz into the Kitchen, and presently you begin to feel un-American." Consistent with this vibe, she offers straightforward, simple recipes that require few steps and little or no knowledge of cooking techniques, such as a stew in which cubes of raw meat and vegetables are just mixed into canned mushroom soup and baked. The humor and ingredients (lots of canned soup) feel very mid-century — but if you have to cook for older relatives or enjoy retro kitsch, this would be a good choice for you.
The Can't Cook Book: Recipes for the Absolutely Terrified!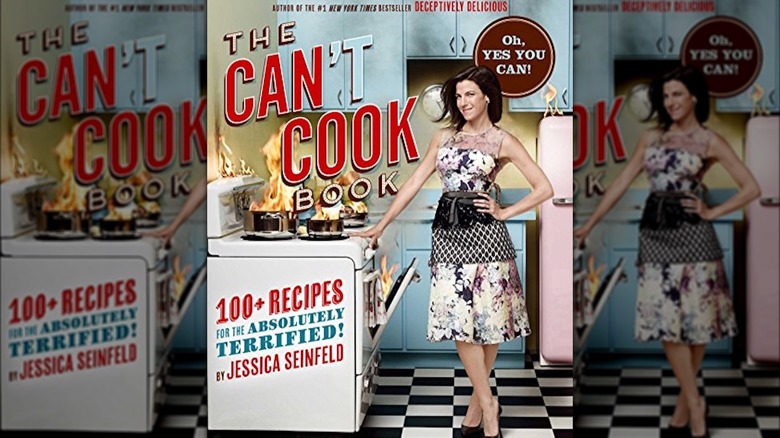 Atria Books
If you get hives just hearing terms such as "poach," "braise," and "chiffonade," "The Can't Cook Book" would be a solid choice for you. While author Jessica Seinfeld (yes, she's Jerry's wife) has written multiple other best-selling cookbooks for home cooking enthusiasts, she wrote "The Can't Cook Book" specifically for total novices. In short, she designed and wrote her recipes with the assumption that you know absolutely nothing about cooking and need a lot of gentle hand-holding and cheerleading as you navigate from the refrigerator to the cutting board to the stove. 
The book's 100 recipes feature deceptively simple classic dishes, such as roast chicken, lemon salmon, rice pilaf, and flourless fudge cake, that you can serve to even your foodie friends without looking like a total noob. The book starts with the absolute fundamentals: The basic cooking equipment (such as measuring cups, spoons, knives, and pots and pans) that you'll need for cooking, along with basic techniques such as how to quickly and safely chop onions and zest citrus. The recipes spell out in detail (and with humor) the techniques that will be used, potential challenges the recipe presents, and how to forestall these. They even come with links to instructional videos in case you find yourself still stumped.
Jacques Pepin Quick and Simple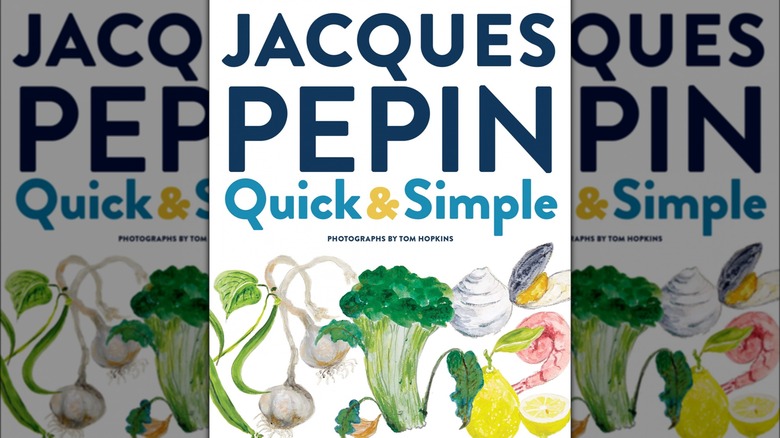 Harvest
Cooking enthusiasts and Francophiles consider Jacques Pépin a hero for good reason. Still actively cooking and writing in his 80s, Pépin is a classically trained French chef who began his professional career as a restaurant intern at age 13 before rising through the ranks to cook in some of the top restaurants in Paris and even serve as the official chef for the president of France. Not content to rest on his laurels, he moved to the United States, earned bachelors and masters degrees from Columbia University, and continued his culinary career in recipe development, restaurant management, and culinary education, authoring multiple cookbooks and hosting numerous TV shows.
With these credentials, Pépin seems like the last person on earth who'd be interested in writing a cookbook for rank beginners. But as fans of his cooking shows can confirm, Pépin never lets himself fall victim to the curse of expertise — he understands his fans don't know as much about cooking as he does and prefers making cooking look accessible rather than aspirational. "Jacques Pépin Quick and Simple" offers 250 beginner-friendly recipes featuring affordable supermarket ingredients, along with instructional videos. So if you'd like to learn to make braised beef shanks in red wine sauce while watching along with a master chef — and have dinner ready in under an hour — "Jacques Pépin Quick and Simple" is a great pick for you!
My Drunk Kitchen: A Guide to Eating, Drinking, and Going with Your Gut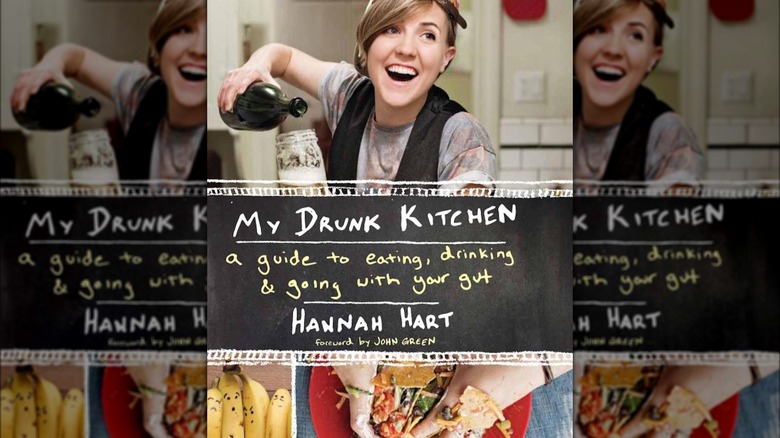 Dey Street Books
It's been scientifically proven that boredom is a creative muse in disguise — with nothing interesting to do, the human mind seeks out new creative outlets. As acclaimed writer Neil Gaiman told BBC when asked for his advice for would-be writers, "You have to let yourself get so bored that your mind has nothing better to do than tell itself a story."
And as evidenced by Hannah Hart's cookbook, "My Drunk Kitchen: A Guide to Eating, Drinking, and Going with Your Gut," boredom can also inspire culinary inspiration. The book began as a gag: Hart, bored by her job and life in general, made a goofy video of herself hosting a fake cooking show while drinking heavily. The video went viral, turned into a book, and the rest is history.  Don't expect a comprehensive course in home cooking, though – reviews have noted that the very simple recipes are more like suggestions to be riffed upon at will. But this is part of what makes this book beginner-friendly — you can't really mess up instructions that aren't there to start with. So if your hatred of cooking stems from a deep-seated fear of breaking the rules or making mistakes, "My Drunk Kitchen" might be just what you need to move past that phobia. And the drink recommendations that come with each recipe won't hurt either.
A Man, a Can, a Plan: 50 Great Guy Meals Even You Can Make!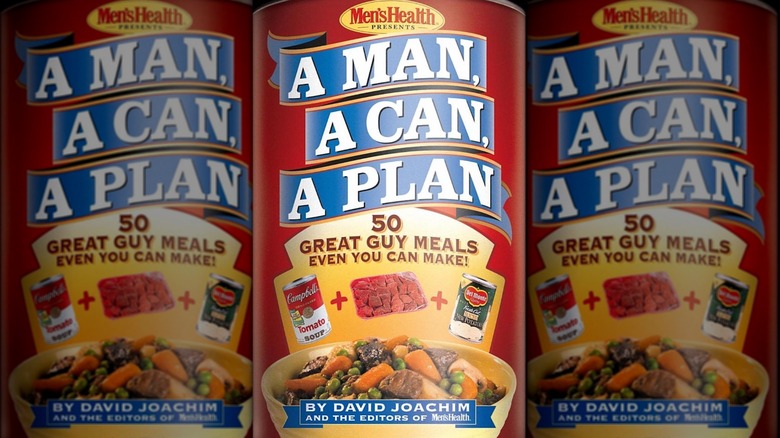 Rodale Books
If you truly hate to cook and your idea of making dinner is opening a can and heating its contents, we have some good news — you can now take your cooking to a new level without acquiring fancy new skills or equipment. In "A Man, a Can, a Plan," veteran cookbook author (and James Beard Award winner) David Joachim offers up 50 super-simple recipes featuring common canned foods amped up with a small number of other, easily available ingredients. A recipe for 50's-style creamed chicken, for example, combines canned chicken, canned mushrooms, canned cream of mushroom soup, sautéed onions, and sour cream, which are to be heated together and served over noodles. 
As this recipe suggests, the flavor profiles in most of the dishes are pretty basic – indeed, outright bland to some reviewers, who said they had to doctor them up a bit to make them interesting. But cooks who know and care enough about flavor profiles and food preparation to tweak new recipes aren't the intended audience for this book. And judging from the title, neither are women (though female readers might enjoy a good giggle over the section on what to cook for lady friends the morning after).
I Dream of Dinner So You Don't Have To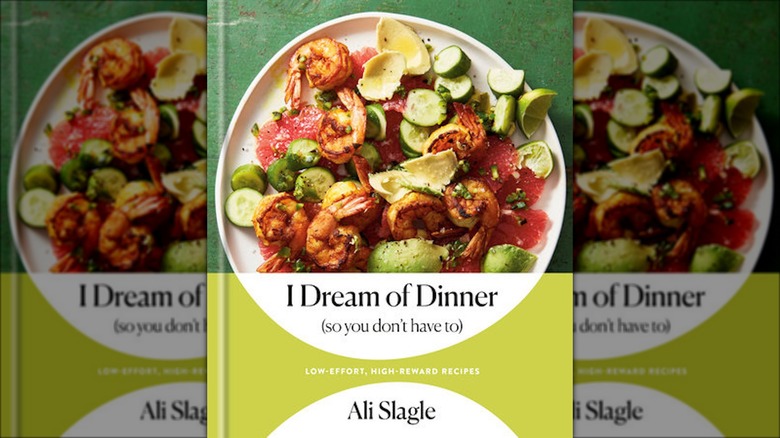 Clarkson Potter
Even if you're a pretty-good cook, weeknight dinner prep can be stressful. There's nothing worse than coming home after a long day of work with a menu plan in your head, only to find that you're missing a key ingredient or two. And this leaves you with two choices: Head into rush-hour traffic again to get the missing ingredient, or settle for something simple and boring.
If this sounds familiar, "I Dream of Dinner So You Don't Have To," written by recipe developer and New York Times contributor Ali Slagle, may be your solution. Slagle offers simple, flexible recipes and tips for substitutions so you can make the most of what's already in your refrigerator and pantry — it's intentionally written to help you avoid those wasteful trips to the supermarket for that one ingredient. Its organization is also focused on the practical concerns of busy home chefs: Each chapter focuses on a basic ingredient or ingredient type (such as chicken, pasta, or seafood), and recipes are classified by cooking technique (such as roasted, quick-cooked, or raw dishes). So if you know what you want to cook and how much time you want to spend, just flip to the appropriate section — chances are, it'll give you inspiration to get something on the table quickly and easily.
The Starving Artist Cookbook: Illustrated Recipes for First-Time Cooks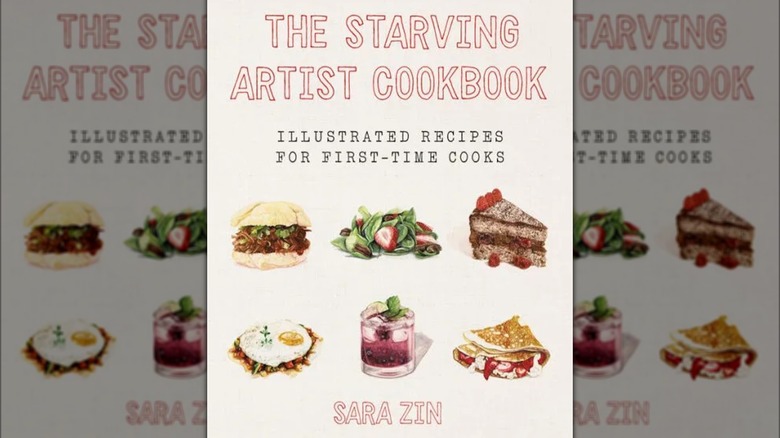 Countryman Press
Culinary professionals often say most people eat first with their eyes — the more visually attractive a dish is, the more diners will crave it. If you love gazing at display cases of decorated pastries, or paging through lavishly illustrated cookbooks — but shudder at the prospect of actually cooking from them, you'll have a number of reasons to enjoy "The Starving Artist Cookbook: Illustrated Recipes for First-Time Cooks."
First, author Sara Zin is a new cook herself, so all the super-simple recipes in the book are informed by her own experience learning her way around the kitchen. So if Zin says a recipe is easy enough for a novice cook, you can feel safe believing her. Second, rather than relying on photos to illustrate the book, Zin — an illustrator by profession — offers her own hand-painted watercolors of her creations.  Third, if you dislike cooking but would rather not resort to shortcuts involving a lot of canned or instant foods, Zin focuses on preparing simple dishes from scratch – these include popovers with strawberry butter, and quinoa with garlic kale and eggs. The recipes are easy, and the hand-painted illustrations remind us to give ourselves permission to take things slow and keep them simple.
Manifold Destiny: The One! The Only! Guide to Cooking on Your Car Engine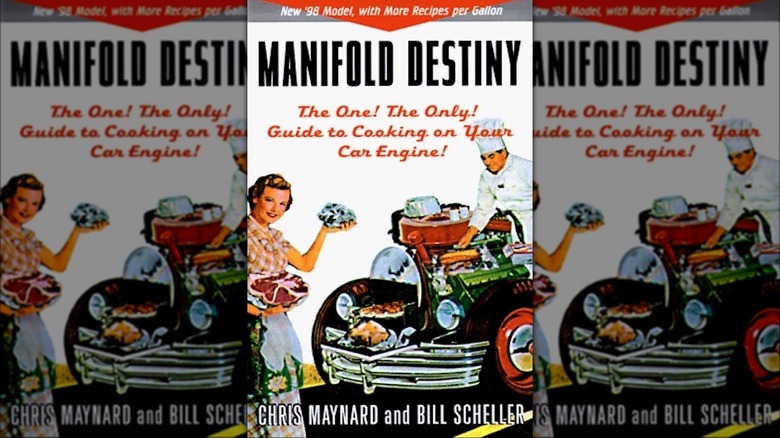 Villard Books
It's a regrettable fact that every home-cooked meal comes with a pile of dirty dishes afterward. And if you're not blessed with a cooperative spouse/partner/bunch of kids to take on dish duty, then you're basically stuck with a double dose of chores with every meal. For some of us, the very idea of facing down this workload is enough to make us head to the nearest fast-food drive-through.
In 1989, however, Chris Maynard and Bill Scheller had an idea: If you're going to be driving around in any case, why not use your car engine — a good, consistent generator of heat — to cook your meal for you? Thus was born the idea for "Manifold Destiny": Wrap food and seasonings securely in multiple layers of heavy-duty foil, place carefully on the car engine and secure with bailing wire, then drive around until done. Rather than estimated cooking times, "Manifold Destiny" gives estimated distances — for example, venison cutlets will be done in 55 to 85 miles, assuming an average speed of 55 miles per hour. And no, your food won't smell of exhaust or gasoline — provided your car is in good operational order. The book was updated in 2008, and while it still offers an easy and fun alternative to slogging away in your kitchen, it still leaves open a bunch of questions: As a reviewer on Goodreads wondered, can you cook on the engine of a hybrid car? Or what about electric vehicles? Curious (non) cooks want to know.
Two Dudes, One Pan: Maximalist Flavors from a Minimalist Kitchen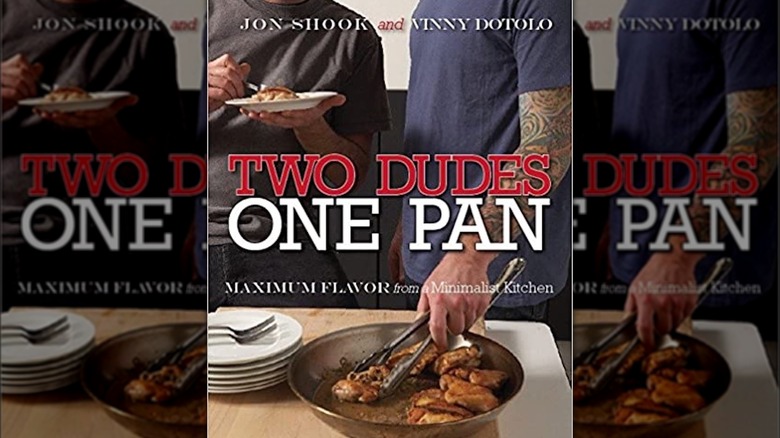 Clarkson Potter
Yes, the title alludes to "Two Girls, One Cup" — but "Two Dudes, One Pan" is at heart a serious cookbook by two critically acclaimed chefs (Jon Shook and Vinny Dotolo, founders of the buzzy Los Angeles restaurants Animal and Son of a Gun). And don't worry, it's not complicated — just strategically planned to ensure each recipe packs in as much flavor as possible using as little equipment as possible. As the title suggests, all the recipes can be made in a single pan, making this book a good resource for those with small kitchens, a limited amount of cooking equipment, or those who just hate doing dishes.
While "Two Dudes, One Pan" claims to offer easy recipes featuring inexpensive, accessible ingredients, some reviewers on Goodreads found some of the ingredients (such as dandelion greens and branzino) impossible to obtain in their area. And recipes that two top chefs consider easy may not be so easy for many home cooks. "It's definitely not a book for a person just learning how to cook or someone living on a tight budget," one reviewer warned. But if you're a proficient (but lazy) cook looking for pared-down ways to make fancy-sounding dishes such as sake-soy sea bass with baby bok choy, this could be a great pick for you. As one reviewer noted about the book, "really great for folks who don't want to necessarily deal with the headache of reservations at Animal or Son of Gun in Los Angeles."
Prison Ramen: Recipes and Stories from Behind Bars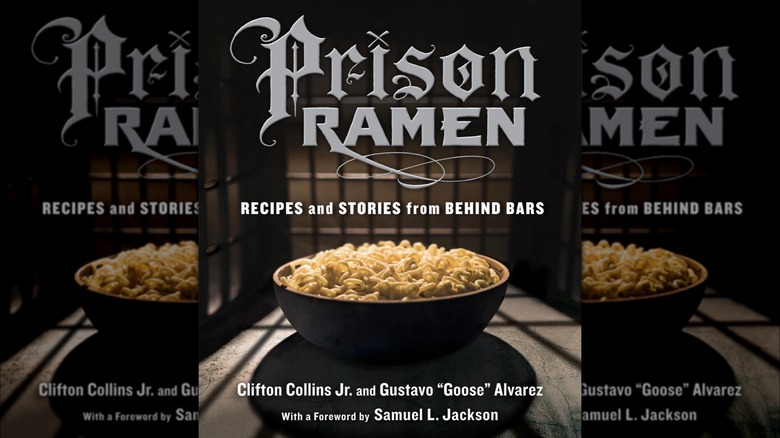 Workman Publishing Company
Instant ramen is a lazy cook's best friend. It ticks all the right boxes: It's cheap, it lasts nearly forever in the pantry, and it's almost impossible to mess up. Best of all, even if it's overcooked or undercooked, it offers a big comforting dose of carbs and umami. It's just what you want to eat if you're feeling a bit down or lonely — or otherwise uninspired.
For all these reasons, instant ramen has become a treasured commodity in prison commissaries. "That's everybody's staple in prison. No matter who you are, you're cooking with ramen," former inmate Gustavo Alvarez, co-author of "Prison Ramen," told WBUR. And with lots of time on their hands and a craving for anything other than bland, mass-produced institutional meals, Alvarez and his cohorts got seriously creative with their ramen, combining it with whatever other foodstuffs they could obtain to create novelties including ramen tamales (one of which served as an effective hiding place for a contraband cell phone) and orange porkies — pork rinds simmered in orange flavor Kool-Aid and served over ramen and rice. By necessity, all the recipes in "Prison Ramen" are super-easy and require nothing more than bowls, spoons, and a microwave to make. Whether they inspire you to up your ramen game or remind you to stay out of prison at all costs, you'll come away inspired by the knowledge that creative, out-of-left field ideas can flourish just about anywhere.
Help! My Apartment Has a Kitchen Cookbook: 100+ Great Recipes with Foolproof Instructions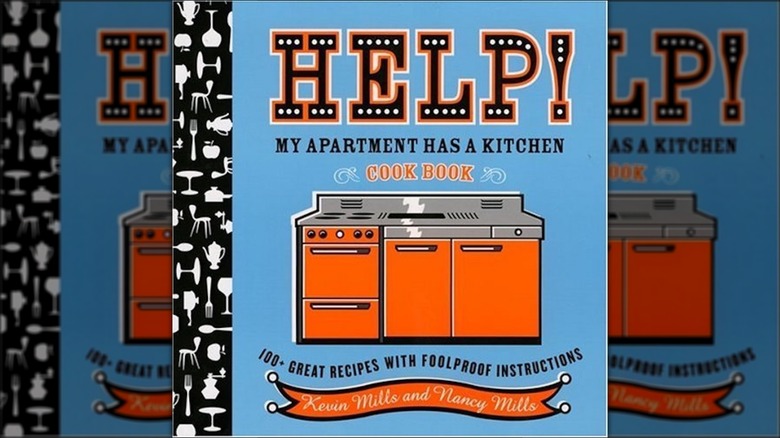 Harvest
Parents of young adults know their parenting duties don't end when the kids move out — fledgling adults will almost inevitably keep coming back for advice, support, and money! And once they move away and realize nobody's going to make their favorite dishes for them, many will call home begging for recipes and guidance. "Help! My Apartment Has a Kitchen," co-authored by the mother-and son team of Nancy Mills and Kevin Mills, was born from this common experience. "My mom had the idea for this cookbook. I think she figured that if she could teach a kitchen illiterate like me to cook, there was no one who couldn't learn," Kevin Mills explained.
As its title suggests, this book is intended for complete beginners, such as college students living on their own for the first time, or young couples who've never had to cook regularly before. It sets out to demystify the process of getting meals on the table, spelling out everything from basic kitchen equipment to how to shop for meat and vegetables. Recipes are classified by level of difficulty, from "very easy" to "easy" to "not so easy." The authors let their individual voices shine through, with Nancy Mills offering "Mom Tips" on cooking technique with many of the recipes, and Kevin offering cautionary tales of his own kitchen disasters — and how you can avoid them.
Microwave Cooking for One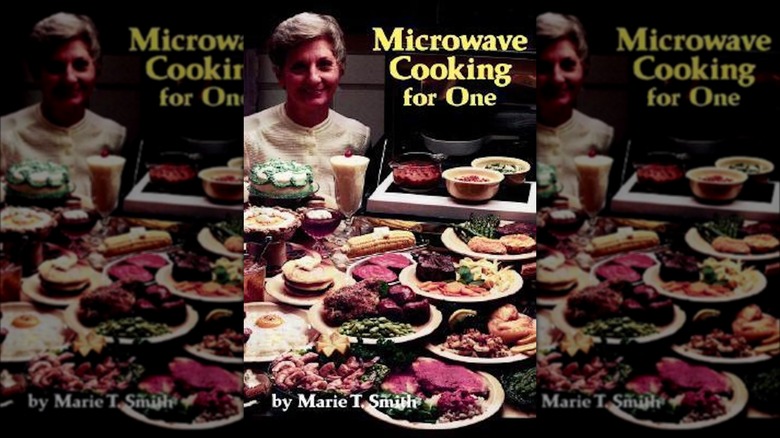 Pelican
While cooking for a bunch of picky eaters can be tough, getting motivated to cook just for yourself can sometimes be tougher. Most recipes are designed to feed four or more people, and unless you're skilled at scaling down recipes or willing to eat the same four meals in a row, pulling out a cookbook and a bunch of pots and pans hardly seems worth it. But living alone is no longer as rare (or thankfully, stigmatized) as it used to be, and solo diners deserve to eat well at home too. For these reluctant cooks, there's "Microwave Cooking for One" — a volume of recipes for everything from mulled wine to steak, all of which are quickly cooked in the microwave.
And yes, this 1986 book has been called "the world's saddest cookbook" and been mocked in endless memes as a lifestyle guide for lonely losers. But there's a huge difference between being alone and being lonely, and even social butterflies sometimes need to cook just for themselves. The book's author, Marie T. Smith — realizing the then-newish microwave oven could make cooking easier, faster, and more agreeable for empty nesters and other singles — rigorously tested more than 300 recipes for the book. Not all the recipes are clear winners (microwaving frozen fried fish, for instance, is an ultra-efficient way to make your whole house smell like, well, fish). But microwaved steak was surprisingly good, even though it still needed an old-fashioned stovetop sear at the end to look even remotely appetizing.
The Best Simple Recipes: Foolproof Recipes That Cook in 30 Minutes or Less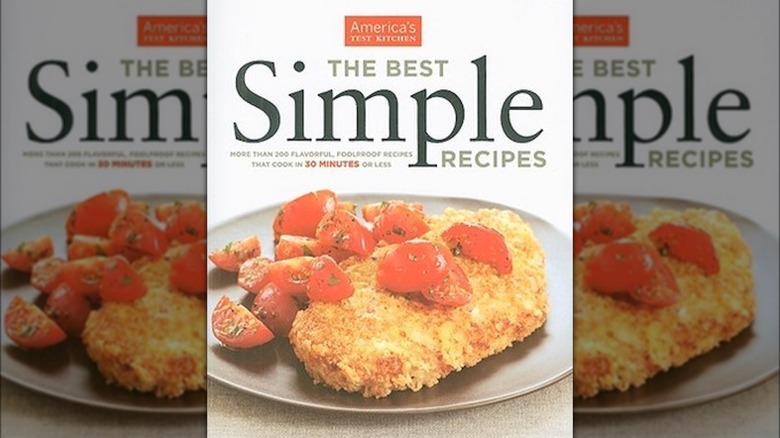 America's Test Kitchen
It's easy to look at the title of this book and feel a bit cynical. The best recipes? According to whom? And a whole, actually edible meal in under 30 minutes? Yeah, right. But there's good reason to believe this book actually delivers on its ambitious promise: It was written by the team at America's Test Kitchen — the PBS cooking nerds who go through literal decision trees in developing each recipe, systematically eliminating less-than-optimal options until they've nailed down the perfect techniques and set of ingredients for each dish.
And the rigorous attention to detail that's made America's Test Kitchen's TV shows and books a hit with serious cooking enthusiasts can also benefit those who'd rather not cook at all. Because if you really must drag yourself into the kitchen to cook, at the very least, you want to feel confident the recipe in front of you will work. The America's Test Kitchen team not only tests its recipes multiple times, but sends them to a group of 60,000 volunteer home cooks to test in their own kitchens — and only those that get the highest ratings from these home chefs get published. Recipes feature short ingredient lists, simple techniques, and brief headnotes explaining why that recipe works. Reviewers call it a great book for both beginners and seasoned cooks who want a good meal without a lot of work.