40 Easy Weeknight Meals, From Chicken To Fish To Noodles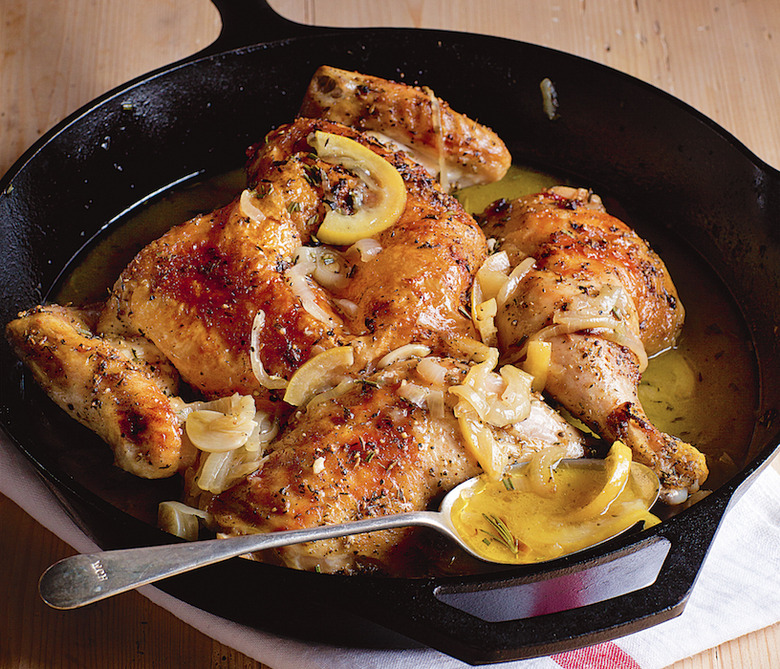 For your time-saving convenience, here are our 40 easiest weeknight meals. There's lots of quick-cooking fish, shrimp and tofu, simple chicken preparations, easy-to-make vegetables and plenty of raw (but no less satisfying) options. Looking for something to do with a pack of poultry? Trying to cut down on meat? Craving a tasty, rib-sticking bowl of noodles? There's something here for you.
Recipe: Ina Garten's Skillet-Roasted Lemon Chicken
I can't tell you how many times I've made this! I have the butcher butterfly the chicken, so all I do is grind the thyme, fennel seeds, salt and pepper, mix it with olive oil, and brush it on the chicken. When the lemon slices are roasted and caramelized, you can eat them with the chicken.
Recipe: Poached Salmon With Dill Sauce
The key to flavorful poached salmon is flavorful poaching liquid. I use a combination of white wine and chicken stock flavored with a little onion, garlic, lemon and dill because I find that simply using water saps flavor from the salmon. Lemon slices in the water help the salmon keep its shape and color, and zest adds a nice floral tartness that complements the fish's richness.
Recipe: The Definitive Shoyu Ahi Poke
This is the classic poke, the one that you probably think of when you hear the word. It showcases the evolution of the dish over the decades, with the more prized ahi tuna replacing bony reef fish, the nutty richness of sesame oil stepping in for 'inamona, crunchy raw yellow onion replacing the limu, and shoyu (soy sauce) — a staple in Hawaii, thanks to the Japanese-influenced culture — for salt. At popular poke counters, you'll find this base mixed with all sorts of seafood, such as salmon, kajiki (blue marlin), or abalone, and even non-seafood, like tomatoes or edamame.
Recipe: Sweet Potato And Pomegranate Soup
Sometimes I find sweet potato soup a little too sweet, but not here — teamed with citrusy sumac, sour pomegranate, aromatic cilantro, and crunchy roasted peanuts, it is what a bowl of fun should look like!
Recipe: Pan-Fried Okra With Caramelized Onions And Yogurt
The Gujarati people love okra, especially in a yogurt and chickpea sauce that we call kadhi. It sets a Gujarati heart aflutter. Okra can turn gloopy when cooking, though, because the seeds don't like moisture very much. I've found the best way to deal with this is to fry the okra on a high heat and in small batches so that they crisp up nicely. You can then toss them with the onions and cover with the sauce just before serving.
Recipe: Crab Fra Diavolo
As boys, my uncles Michael and John often went crabbing in Barnegat Bay off the coast of New Jersey with their cousins. They'd bring back the day's catch to my great-aunt Mary's house, where she would make a marinara sauce, throw in the cleaned crabs, and then serve them straight from the pot with either pasta or bread. This recipe is inspired by their memories; even with shelled crab for ease and hot pepper for kick, the sentiment is the same.
Recipe: Healthy Quinoa Chili
Bowls of hearty whole grains topped with healthful, delicious fare are a trend that will outlast any fad pastry or rainbow this-or-that. Join food stylist and recipe developer Anna Hampton as she explores the wide world of ancient strains, gluten-free options and other filling, fiber-rich grains that pair beautifully with fresh vegetables, home-fermented foods and lean proteins for a meal that looks as good as it tastes. This quinoa chili recipe is as hearty as a stew gets.
Recipe: Baked Salmon With Oranges And Thyme
Oranges of various types are available most of the year in Sicily, but the most popular, the blood orange Tarocco, can only be found in the winter months. Salmon stands up well to the sweet flavor of orange, and married with the thyme and pepper, this incredibly simple dish becomes more impressive than the sum of its parts.
Recipe: Steak, Green Pepper And Blue Cheese Sandwich
When I first saw this sandwich in Spain, I immediately thought of Philly cheesesteak. It had steak piled with caramelized peppers and onions and I thought, "I bet blue cheese would be great on that." Turns out I was right. The savory sharpness of blue cheese tempers the sweetness of caramelized onion and pepper while standing up to hearty steak.
Recipe: Tamarind Honey Shrimp
Iranians love all things sour: lemons, limes, pomegranate molasses, young plums and tamarind. I especially love tamarind because you can use it so well in savory cooking and balance it with sweetness to create something really delicious. In this recipe, I simply mix tamarind paste with honey to make a marinade that has lots of flavor without much effort. These shrimp are also great to skewer and are easy to cook on the barbecue.
Recipe: Spiced Udon With Crispy Tofu
Time-saving tip: Steam the vegetables over the saucepan you are cooking the noodles in so they cook at the same time.
Recipe: Fresh Spinach And Paneer
My grandfather was an eccentric man. He wore polished patent shoes and a sharply cut suit and smelled of jasmine behind his ears. The week he retired, he signed up for a three-month round-the-world cruise to celebrate. Before he left, he received a courtesy call from the kitchen head of the ship to see whether he had any dietary requirements. "I really like Indian vegetable curries," he said, and sent over a whole shipping container of Indian greens to travel with him until his return.
Recipe: Spicy Roasted Cauliflower Tacos
Make the chipotle sauce with sun "cheese" and skip the honey to make this vegan.
Recipe: Quinoa Stir-Fry With Garlic And Pineapple
Stir-fried rice is one of my favorite Asian dishes. However, it's not always the healthiest, so I swapped in quinoa for added protein and nutritional value. I borrowed the cashew and pineapple idea from my college roommate, who made some of the best fried rice. The five-ingredient sauce melds everything together to create a flavorful, hearty entrée or side dish.
Recipe: Hawaiian Grilled Cheese
Hawaiian pizza is one of our guilty pleasures — gooey mozzarella, sweet-tart pineapple, savory ham, and spicy tomato sauce...aloha, mmmm! We turned this classic pizza combination into one heck of a grilled cheese sandwich by using fresh, high-quality ingredients and adding a splash of love.
Recipe: Keema With Peas
Actually, keema is the only Indian beef recipe I've ever heard of, period (though about half the time I go with lamb intead). As opposed to whole pieces of meat, ground meat really allows garam masala to penetrate, resulting in an extremely flavorful dish. When I make it for friends, I call it "keema-it's-like-Indian-chili-but-better." When I'm home, I ask my mom to make it because her version, even blindfolded with one hand tied behind her back, is still way better than mine.
Recipe: Goat Cheese And Gruyère Frittata
What's really nice here is the way the two cheeses play off each other. The sharp, tangy goat cheese gets very soft, and the stronger Gruyère becomes melty, but each maintains its own identity. Peppery arugula ties it all together. The cooked greens wilt into the cheesy frittata, and the bright arugula side salad cuts through the richness of the frittata and makes this a complete meal.
Recipe: Hong Thaimee's Kale Fried Rice
This recipe is Thai with a twist. It's inspired by khao pad kana, or fried rice with Chinese broccoli. As a proud New Yorker now, I love to introduce local flavors and ingredients into traditional Thai dishes, and here kale from the Union Square Greenmarket steps in. We live in a global world but can eat like locals. Support local farms!
Recipe: Chana Dal With Golden Garlic Tarka
Chana dal, otherwise known as chickpea lentils, come from splitting and skinning black chickpeas (the most popular variety in India). Because they belong to the chickpea family, they're naturally very delicious and need little teasing before they turn into a gorgeous-tasting dal.
Recipe: Tomatoes Stuffed With Tuna Salad
This tuna salad will keep in the refrigerator for a couple of days, but the flavors are best at room temperature, when the salad has just been made. Tomatoes should always stay out of the fridge. The cold saps their flavor and texture.
Recipe: Chilied Eggs On Scallion Rice
I first had these steamed eggs with an Asian twist in Thailand, and they are a great hangover cure! It's now a family favorite, not only for breakfast but for any time of day.
Recipe: Rick Bayless's Chipotle Rice With Shrimp
Shrimp overcooks quickly, so this is one rice-cooker dish you don't want to let sit around; prepare it shortly before serving.
Recipe: Taiwanese Three Cup Chicken
The eponymous "cups" of this recipe denote equal parts soy sauce, sesame oil, and rice vinegar. It's a potent, salty and savory braised chicken dish with these ingredients along, but the dish really gets its signature from the sheer volume of garlic cloves, thick pieces of ginger and fresh basil leaves for flavor. This recipe's name might underscore the fact that most recipes were passed orally in Taiwan, rather than written, until recent generations. After one taste of it prepared elsewhere, it is quite irresistible to try re-creating at home. This dish shares some similarities with Hakka-style preparations and red-braised styles of cooking, but its use of basil is refreshingly distinct. It has been enjoyed in Taiwan as a quintessential Taiwanese dish for quite some time.
Recipe: Lemon-Herb Gulf Shrimp With Dilled Orzo
The best shrimp you've ever eaten isn't frozen or imported — it's right here in the good old US of A. Specifically, along the nutrient-rich Gulf Coast, which is home to plump, meaty shellfish in extraordinary abundance.
Recipe: Tagliatelle With Asparagus And Parmesan Fonduta
This entire dish is right out of Rose and Ruthie's River Café playbook, with just a few tweaks of my own. They taught me how to make fonduta, a silky sauce rich with crème fraîche and egg yolks. It takes less time and just a bit more effort than tomato sauce and turns a plate of pasta into an elegant and impressive meal. Get yourself some asparagus spears that are as thick as your pointer finger — not those thin or sprouty ones — and you'll enjoy the juicy slivers in each bite.
Recipe: Caprese Pesto Kale Salad With Crispy Tofu
This salad is not only easy to make but also packed with protein, nutrients and Italian flavors. Bites of fresh mozzarella are mixed with sweet cherry tomatoes, baby kale, tofu crispy enough to be mistaken for croutons and a flavorful basil pesto dressing.
Recipe: A Very Simple Salmon Burger
We wanted moist, flavorful salmon burgers that tasted foremost like salmon and that could be made in advance and cooked up for a quick and delicious dinner. Many salmon burger recipes use canned salmon, but since the salmon is the star of this dish, we found that it was well worth the additional modest expense and effort required to make our burgers with fresh salmon. Burgers made with canned salmon were lackluster (to say the least) and mushy, while those made with fresh salmon were moist and full of flavor, with an appealing, chunky texture. A food processor made quick work of chopping the salmon into pieces.
Recipe: Chicken Larb
Also known as lap and lahb, larb is a minced meat salad and the national dish of Laos. Some Lao and Thai versions include fish sauce and some favor mint over cilantro (some use both), but the core of the dish remains a chopped salad of lightly spiced pork, beef, chicken, or duck brightened with fresh herbs. It's great for potlucks because you serve it at room temperature.
Recipe: Hot-Smoked Salmon, Egg And Lentil Salad
A wonderful light summer lunch. Everything can be prepared well ahead and then assembled just before serving. Hot-smoked salmon has a great texture, more akin to poached salmon than smoked. Some adventurous cooks hot-smoke their own fish, but I'm keeping this quick and simple.
Recipe: Turkey Feta Burgers
Looking for a healthier burger alternative for lunch or dinner? By using ground turkey and switching up your usual burger game for something packed with fiber, vegetables, protein and calcium, you don't have to feel guilty about chowing down. Maybe even casually slip another onto your plate. It's good for you. You can easily fire these off on a grill pan or cast-iron skillet if your barbecue is hibernating.
Recipe: Wild Mushroom Quinotto
When I was traveling in Peru, I came across this truly delicious (and healthy) version of risotto using quinoa in lieu of the traditional arborio or carnaroli rice. Being a huge risotto fan, I played around with this substitution using different seasonal vegetables, but I always tend to come back to this simple mushroom version. The flavor is nuttier with earthiness from the mushrooms, and it has more texture than your traditional risotto. With quinoa's nutritional value, I love that I don't feel guilty when I whip this up on a weeknight.
Recipe: Rustic Tuscan Bean And Sausage Soup
Turn to this recipe when it's cold outside, you don't particularly feel like going out and you need something warm and comforting in your belly. This soup is brilliant for adults and children at any time of the day. It contains lots of carbs to keep you going, and the best part is it's even better the next day, so make a bit extra!
Recipe: Creamy Shrimp Fra Diavolo
Translated from Italian, "fra diavolo" means "brother devil." Not sure why the "brother" part, but for certain the "devil" part has to do with the spicy kick this dish has. The creaminess of the coconut milk tones down the kick just a tiny bit, so if it's not enough heat for you, feel free to add some more red pepper flakes.
Recipe: Corn And Goat Cheese Quesadillas
A quesadilla (from "queso," the spanish word for cheese) is a tortilla "sandwich" containing cheese and any of a wide number of spicy filling ingredients that is grilled, fried or toasted and usually served with salsa. We cooked these quesadillas in a frying pan, but you can cook quesadillas, one at a time, in a heated sandwich press if you have one.
Recipe: Grilled Pear, Roast Beef And Blue Cheese Sandwiches
With its unique texture from the pear, coupled with the blue cheese, this sandwich offers a hint of autumn and is a nice nibble while watching the game.
Recipe: Grilled Shrimp With Lime Powder
This rustic Turkish-style parsley sauce unlocks not only the flavor of seafood but of grains, vegetables and chicken, too. The shrimp get a dose of intense citrus flavor from bittersweet dried lime powder. If you have dried limes, you can grind them in an electric spice grinder. You can also substitute the zest and juice of 2 to 3 fresh limes, if necessary. Use a good-quality extra-virgin olive oil in the sauce and serve with rice or another grain.
Recipe: Barley Risotto With Blue Cheese And Spinach
This recipe was born out of a gentle spring evening with a few fridge ingredients knocking around and the prospect of a meal for one alone at the kitchen table. Sometimes you come up with the best ideas when you're in your own company. Even though the recipe serves two people, I ended up eating the whole pot.
Recipe: Yellowtail Sashimi On Rice
Besides curry rice, this is my youngest son Matthew's favorite dish, and he requests it often. "Cha" means "tea" in Japanese, so chazuke by nature (if not the name alone) signals a dish involving tea (in this case, green tea). But we don't drink green tea, so it's not something we have lying around — and typical farming families had drank up their tea at tea break.
Recipe: Avocado And Chorizo Toast
Wake up your taste buds with this fiery alternative to the sausage sandwich – my perfect food for the morning after the night before. The quality of the bread will really make all the difference here; you want something with a good chewy crust and character. If you don't find sourdough, then halve and toast some ciabatta or baguette instead.