10 English Language Food Resources For Your Trip To Paris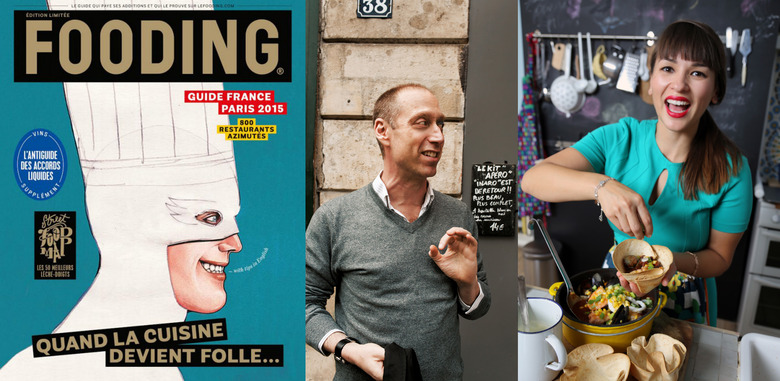 All this week Food Republic has been covering the spectacular (and in many ways dramatically underrated) food culture of France. When our editors and writers reported on the scene in Paris, they didn't go blindly. They did some homework, which is how they came up with this list on links, which originally lived in a Google Doc. It's a diverse mix of English-language resources used for digging into the famously clandestine city of bakeries, pastry shops, bistros, cafes, markets and bars. The little red book known globally as the Michelin Guide might have a lock on the market, with their annual stars shaping (well, confirming) the city's top restaurants. But a lineup of scrappy professional and semi-pro publications, bloggers and scions of social media fills in the holes pretty nicely.
1. Le Fooding | lefooding.com/en
You can think of this annual guidebook as the anti-Michelin. Led by a team of young and passionate reviewers and editors, the magazine-like soft cover reviews 400 restaurants in Paris, as well as 400 throughout the various Departments. While the guidebook offers only limited English reviews (still worth checking out for sure), the English-language website offers a database of reviews, searchable by neighborhood, as well as the occasional feature and good-looking people telling you their favorite restaurant.
2. Chocolate and Zucchini | chocolateandzucchini.com
Talk about a food blog that rode the popularity wave to the top — Paris-based food writer Clotilde Dousoulier has been penning the best French, French-style and all-around delicious recipes for more than a decade. With eight cookbooks published and an entire section of Chocolate and Zucchini dedicated to helping the English-speaker navigate Paris' vast culinary resources, Dousoulier has a wealth of know-how, insider tips and useful vocabulary to jump-start your French food adventure.
3. Paris By Mouth | parisbymouth.com
The writing on this established website is sharp, straightforward and packed with vital information like the best time to visit a restaurant, the essential dish to order and how to exactly find what you are looking for (Paris streets can be trouble). Some listings offer links to other web reviewers (some featured below). Channels listed at the top break down the content into essential categories like Restaurants, Bakeries & Pastries, Wine Bars, Ice Cream, Craft Beer and Chocolate. And, yes, there is a Cheese channel as well. Also, Paris By Mouth organizes food tours.
4. The Paris Kitchen | thepariskitchen.com
Not to be confused with the abovementioned, former chef/restaurant public relations and consulting master Wendy Lyn's The Paris Kitchen invites you to "eat like an insider," because that's just what she is. The Wall Street Journal called her "one of the top 10 culinary guides in the world." Put away your Michelin guide (which she helped launch in the United States) for now, at least, and start your private culinary tour on her website.
5. David Lebovitz | davidlebovitz.com
Lebovitz, an American cookbook author and pastry chef living in Paris, moved to the city knowing only one French phrase ("pain au chocolat"). It's worked out quite nicely, as he's amassed a giant following built on his prolific, attitude-packed writing style and sharp recipe development. Paris travelers should pay close attention to the My Paris section, which details his favorite restaurants and, of course, places for pain au chocolat.
6. Rachel Khoo | rachelkhoo.com
Blogger, author, cook and host of BBC's Little Paris Kitchen cooking show, Rachel Khoo is a culinary citizen of the world. Check out any of her global travel guides, classic and yet oh-so-stylish fashion section, abundant recipes (including a fully stocked vegetarian section) and books you need to read. With four of her own books published in a dozen languages and a fifth to be released this February, few have ever put a culinary degree to such a cornucopia of uses.
7. Dorie Greenspan | doriegreenspan.com
Looking for the definitive guide to eating out, dining in and the who's who of Paris dining? No list of French-English culinary resources would be complete without longtime food writer, noted cookbook author and James Beard Award-winner Dorie Greenspan's eponymous blog. With a wealth of recipes, discoveries in eating and cooking from all three of her home turfs (Paris, New York and Connecticut) plus an extensive French glossary to demystify anything that might possibly be holding you back from a long, satisfying relationship with this beautiful cuisine.
8. Alexander Lobrano | alexanderlobrano.com
A native of Boston, Lobrano moved to Paris in 1986 and never looked back. He served as the European correspondent for Gourmet from 1999 until it closed in 2009 (also known as the greatest job ever that will never be a job again). His bestselling book Hungry For Paris is required reading and features his favorite 109 restaurants reviewed in a fun and witty way. He also updates his website frequently with restaurant reviews, all letter graded.
9. The Hip Paris Blog | hipparis.com
Hip Paris is a one-stop shop packed with hip answers for all your modern queries. Looking to rent a chic apartment while you're in town with friends or family? Searching for a gallery opening, the latest dining trends or any number of posts tailored to providing the best possible Parisian experience? Perplexed by the intricacies of online dating in the city of love? Answers to all these questions, even where to get a great French craft beer, all in one convenient, easy-to-navigate place.
10. Patricia Wells | patriciawells.com
Wells is a cookbook author who splits her time between Provence and Paris, and wrote the landmark Food Lovers Guide To Paris, which is now in its 5th printing. Her website is a wealth of information, from recipes to dispatches from restaurants, both classic and modern.
Also see: 10 French Food Instagram Accounts You Should Be Following Right Now